Patio
Readers' choice: The Live Oak Music Hall & Lounge
Critic's choice: The Bearded Lady, 1229 7th Av, FW
It's not big, but this outdoor hangout in a converted house off hot and happenin' West Magnolia Avenue is perfect for people-watching or just plain chilling. The picnic tables are spaced so that you can have your privacy –– but only if you really want it –– and the sumptuous plants and flowers are totally homey.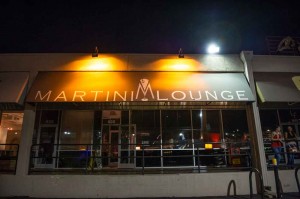 Rooftop Patio
Critic's choice: The Live Oak Music Hall & Lounge
This big, beautiful patio offers tons of seating and a stunning panoramic view of downtown. (Don't worry. A tall iron railing keeps you from drunkenly plummeting to your death.) Best of all is the namesake tree that provides welcome shade during the day and lights up all Christmas-like at night.
Bar Bathroom
Critic's choice: The Abbey Pub, 2710 W 7th St, FW
Everyone who's ever been out for a drink in West 7th knows about the bathrooms at The Abbey. They're clean and spacious, and the soap dispensers are always full.
Country Music Bar
Readers' choice: Billy Bob's Texas,  2520 Rodeo Plaza, FW
Critic's choice: The Finish Line, 12037 Camp Bowie Blvd W, FW
If the Stockyards scene gets a little too Urban Cowboy for your taste, turn your pickup around and head west to The Finish Line, where the people who actually live in the country (or at least the hinterlands of Aledo, Azle, and beyond) go to drink, smoke, and two-step. Featuring a live band that's tighter than the blue jeans on Mel McDaniel's baby, this way-west honkytonk gets crowded without the glitz, glamour, and sweat of the historic Northside neighborhood.
Music Open-Mic
Critic's choice: 1919 Hemphill, 1919 Hemphill St, FW
If you want to get a feel for the style and direction of new music, you gotta go where the youth is: In this case, that's 1919 Hemphill. In addition to hosting national and international touring bands, this venerable DIY venue has a Wednesday open-mic night filled with local teens and twentysomethings working out their sounds. On an average night, a surprisingly diverse selection of genres and experience levels will be on display.
Comedy Open-Mic
Critic's choice: Q Live! at Embargo, 210 E 8th St, FW
Whether you're a seasoned comic looking to test out new material or a neophyte with dreams of becoming the next Louis C.K., the downtown Fort Worth venue provides a low-pressure environment on late Tuesday nights for both funny people and, y'know, people who think they're funny. Q Cinema puts on the event, but comics of all persuasions and with all kinds of material are welcome.
Nontraditional Music Venue
Critic's choice: World of Beers, 5005 S Cooper St, Arl
Now that Flying Saucer is no longer holding regular music events, this South Arlington taproom is the best place to enjoy fine suds while catching some low-key live music. With the vast beer selection on hand, you can pair quaffs with tunes — does the performer remind you of a pale, Belgian-style wheat beer or a dark, chocolaty stout?
Karaoke
Readers' choice: Sarah's Place,  5223 Camp Bowie Blvd, FW
Critic's choice: The Mule Pub, 5731 Locke Av,  FW
When practically every dive and carpet bar in town has karaoke eight nights a week, where do you go when you want to sing The Beatles? Or Linkin Park, for that matter? Whatever scores your rock 'n' roll fantasy, The Mule on Sunday nights is where you want to be to belt out the best of Bad Co., get fancy with Reba McIntyre, or remind the bar that in the late '90s, there was a song called "Break Stuff" and that you know every word. The DJ wields a gong, too, so there's some modicum of quality control, though you'd have to go out of your way to motivate him to bang it.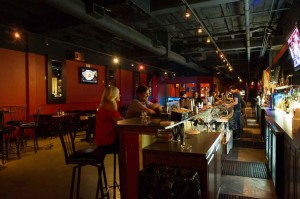 Band Name
Critic's choice: Sonic Buffalo
The music these young guys play –– heavy, melodic, grungy rock –– is as loud and original as their name. One Sonic Buffalo is as good as a herd.
Local Music Show in Last 12 Months
Readers' choice: Quaker City Night Hawk's album release at Magnolia Motor Lounge
Critic's choice: Holy Moly at Billy Bob's Texas
Billy Bob's has seen its fair share of rowdy shows over the years, no doubt, but The World's Largest Honkytonk ® never saw anything like this Holy Moly gig. By the end of the blazing Fort Worth cowpunks' hour-long set, a mosh pit broke out, reportedly the first of its kind to ever form in the Stockyards institution.
Club DJ
Critic's choice: Dub Commission
Though "dubstep" has become a dirty word –– mainly because the electronic-music subgenre has gone mainstream –– Dub Commission is not to be feared. This six-year-old, 10-person collective is committed to underground sounds. Spinning mostly at Froggy's Boat House, DC wants you to know that there's more to e-music than disco versions of Top 40 songs. And that it's all danceable.
Recording Studio
Critic's choice: Eagle Audio Recording Studios, 911 S Main St, FW
Eagle has been around for years, but the relatively recent addition of engineer Britt Robisheaux is keeping its clientele current and sounds cutting-edge. The gear and recording room can still achieve that classic rock vibe that Eagle's known for. And if you're going for sonics that will still shine when the sheen has worn off the trend du jour, make your landing at Eagle.
Bar Snacks/Bar Food
Readers' choice: The Bearded Lady
Critic's choice: Brewed, 801 W Magnolia Av, FW
Ah, gastropubs! Who says the English haven't contributed anything to cuisine? This bar and coffeehouse has a huge selection of craft beers, and the staff will whip up a coffee concoction (alcoholic or not) to satisfy your caffeine fix. They take the same care over the food, and while they like to crow about their duck-fat fries, the bangers and mash feature some truly decadent taters playing off peppery house-made sausage. It's enough to make even a native Londoner say, "Lovely!"