Add thespian to J.T. Hodges' list of talents. The Fort Worth musician will be featured in the world premier of Finding Christmas, a Hallmark Channel original movie at 8 p.m. on Sunday. The movie is part of the network's "Countdown to Christmas" holiday showings.
Others in the movie are Tricia Helfer (Battlestar Galactica), Mark Lutz (Ghost Whisperer), and Cristina Rosato (Perfect Plan).
If you're wondering whether Hodges is any good, The New York Times reviewed Finding Christmas and said it is "most notable, though, for the presence of J. T. Hodges, normally a country singer but here an actor. Mr. Hodges, a newcomer to the acting thing, is surprisingly good, and the script also leads his character to an open-mike night in which he sings a delightful 'Joy to the World'."
Hodges' remake of "Joy To The World" is available on iTunes.
Finding Christmas tells the story of a single mom who's divorced and done with dating. Hodges portrays her brother, Owen, who has also been romantically injured. But brother and sister find love. Not with each other, of course, because this is the Hallmark Channel.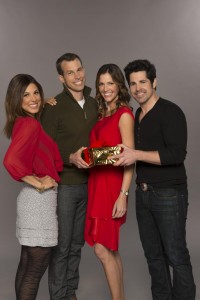 Last year I blogged about Hodges being nominated for the Academy of Country Music Awards New Artist of the Year. Our comments section lit up like a Christmas tree, partly because I criticized his competition Scotty McCreery, but also because some local musicians consider Hodges a musical sell-out who turned his back on Fort Worth and was mean in the studio. Or something like that.
I've talked to Hodges on the phone a couple of times and he seems like a decent guy.
Well, OK, this quote in his movie press release is icky: "I'm very thankful and excited that all of my fans now get to see another side of my artistry."
But, who knows, a press agent might have written that. You can ask Hodges himself. He'll be live tweeting with the movie broadcast on Sunday.
From what I understand, Hodges originally left Fort Worth for El Lay to be a rocker but then veered the other direction and moved to Nashville in 2010 to be a country star. Since then he's toured with Toby Keith, Eli Young Band, and Miranda Lambert and performed at the grand old Grand Ole Opry. He released "Goodbyes Made You Mine" last year and the music video has more than 1 million views on YouTube.