The final winner of last night's Texas Music Showdown almost turned out to be Forty Creek Whiskey.
The whiskey-peddling, Texas Music-loving, buy-a-round-for-the-house kind of guy from Forty Creek, Bobby Camillone, was in the hizzy.
The judges, not wishing to insult him, obligingly partook of his ample offerings of amber goodness.
The panel included KHYI 95.3 "The Range" deejay Brett "One More Shot" Dillon, Texas Music stalwarts Tommy "Yes I'll Have Another Please" Alverson, Larry Joe "Keep 'Em Coming" Taylor, and Dave "Double-Fisted" Perez, along with Fort Worth Weekly's Jeff "No I Never Touch The Stuff" Prince.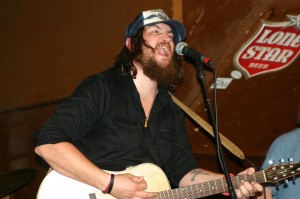 When it came time to pick a winner, well, let's just say some of the judges were decision-impaired, not to mention handicapped in the art of subtle debate.
But the judges finally came to a decision with little blood and only a few tears shed.
America, meet the 9th Annual Texas Music Showdown battle of the bands champion of 2014: Buffalo Ruckus.
The Ruckus squared off at White Elephant Saloon against the surprising come-from-out-of-nowhere Koe Wetzel and the Konvicts.
Dillon described Buffalo Ruckus frontman Jason Lovell's voice as a cross between Pearl Jam's Eddie Vedder and Creedence Clearwater Revival's John Fogerty.
I wondered aloud whether Waylon Jennings and Janis Joplin had hooked up at the Chelsea Hotel in the late 1960s and created a very strange love child with a huge set of tonsils.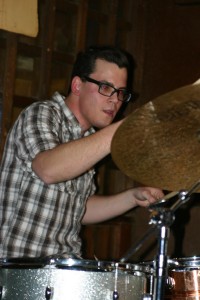 For those under 30: Jennings was the original Texas Music Outlaw.
He broke bad before the phrase was coined.
But the now-dead Texas icon gave up pills and cocaine later in his career and, as Hank Jr. sang in "All My Rowdy Friends Have Settled Down," Jennings began "staying home and loving Jesse more these days."
Lovell's music embodies what would have happened if Waylon had gone worse; if he'd tripled his coke intake, laced his Southern Comfort with LSD, ditched his steel guitar for a screaming axe, gargled with glass shards, and told Jesse Colter to kiss his ass and book herself first passage on the Ankle Express.
Lovell is a wild and funny frontman with a set of pipes that could sandblast a rusted-out John Deere. His set was dynamic, energetic, and unique, although an extended version of "Whipping Post" wore out its welcome before ending.
Wetzel offered a smooth sound, safe set list, solid band, and a confident stage presence. He's what audiences generally look for at Texas Music festivals.
Both bands appealed to the judges.
The question became who would best fit at the Taylor and Alverson music festivals.
The winning band earns an early afternoon slot at both venues. Early afternoon is like the crack of dawn for many festival patrons. The judges' debate centered on which band would most likely woo those crowds.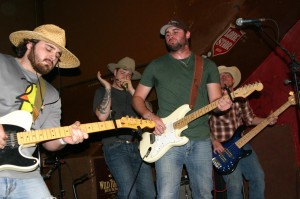 Dillon recruits an odd number of judges to prevent ties. Last night's vote began as 3-2 in favor of Ruckus, then switched to 3-2 in favor of the Konvicts, then 4-1 in favor of more whiskey, and finally reverted back to Ruckus.
Congratulations to both bands for a great show.
Trivia: Did you know Tommy Alverson's first name is actually Tommie? He's always spelled his name with a "y" and didn't learn until adulthood that it was spelled "Tommie" on his birth certificate. He said it must have been a clerical error by someone at the hospital, which makes sense — he was born in Alabama where, well, let's just say there's always plenty of parking spaces available at the local library.