French Cuisine
Critic's choice: Saint-Emilion Restaurant, 3617 W 7th St
There aren't many places in town that demand the respect that Saint-Emilion does. The quaint, homey eatery is still Fort Worth's standard-bearer for classic, elegant French cuisine. Its kitchen is unapologetically old school, favoring heavy sauces and liberal use of butter and wine. The menu has educated the palates of a generation of Fort Worth diners, who were reared on its steak au poivre and duck pâté maison.
Korean
Critic's choice: Umi Sushi and Korean BBQ, 4750 Bryant Irvin Rd
There's still a shortage of Korean eateries in the 817, but Umi Sushi and Korean BBQ holds down the fort with a blend of traditional favorites like bulgogi (thinly sliced beef), kalbi (spare ribs), kimchi (pickled cabbage), and sushi. Korean and Japanese cuisine share an affinity for fermented, vegetable-intensive dishes and seafood, making this the perfect culinary marriage.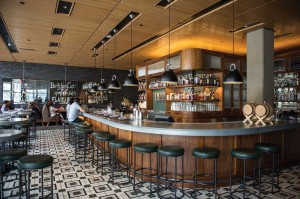 Chinese
Readers' choice: Pappa Chang Asia Bistro, 1526 Pennsylvania Av
Critic's choice: Green Tea House, 3400 Sage Trail, Ste 116
After hitting the shops in Alliance Town Center, head over to the Green Tea House for some pecan chicken, the place's signature dish. The food is beautifully presented, and the menu offers plenty of traditional Chinese dishes in addition to a wide variety of sushi and even pad Thai. This cozy gem is tastefully decorated — check out the artwork hung on the ceiling — and the staff is friendly and helpful.
Mex-Mex
Critic's choice: Revolver Taco Lounge, 2822 W 7th St
Revolver is the very definition of a family restaurant, from the kitchen staff to bartender and host. Beyond that, it's a beacon of creative, authentic Mexican dishes in a swanky, modern setting. Everything from the tortillas to the molé sauce is made from scratch and served fresh. Sometimes that means diners have to wait a little longer, but it's worth it — Revolver is meant to be a slow, soulful experience.
Tex-Mex (Under $10 Entrée)
Readers' choice: Salsa Limón, 929 University Dr
Critic's choice: Trevino's, 1812 Montgomery St
The tiny Montgomery Street joint is more than a great bang-for-your-buck place — it's a must-try for anyone in the neighborhood. The kitchen is a model of consistency, cranking out fresh, flavorful Tex-Mex and Mex-Mex food for the museum-hopping crowd. The staff is fast, friendly, and always accommodating.
Tex-Mex (Over $10 Entrée)
Readers' choice: Mi Cocina, 509 Main St
Critic's choice: Los Vaqueros, 2629 N Main St
Over the decades, three generations of the Cisneros family have provided the Fort with Tex-Mex food like Mama (actually, like Abuelita Kiki) makes. Although many of the lunch specials come in under $10, the really good stuff on the menu is a little pricier. You can get a giant plate of huevos con chorizo with two tamales for a hangover-curing brunch. For dinner, take your pick of platters with way too much deliciousness, like Victoria's Favorite — a sour cream enchilada, a cheese enchilada with chili con queso, and a taco.
Italian
Readers' choice: Nonna Tata, 1400 W Magnolia Av
Critic's choice: Aventino's Italian Restaurant, 5800 Lovell Av, Ste 170
The on-again/off-again family-owned restaurant is a true throwback –– though not outdated. The menu offers classic, authentic Italian fare made from scratch with care. The kitchen and service staff are always spot-on, and the cozy environs are welcoming. It's the kind of place you could go for a special occasion or just a leisurely, relaxing evening meal.
Pan-Asian
Readers' choice: Shinjuku Station,  711 W Magnolia Av
Critic's choice: Brodard Asian Express and Boba Tea, 5005 S Cooper St, Ste 159, Arl
Brodard is one of the few places outside of Haltom City where you can get a trad-itional bánh xèo, the delicate Vietnamese rice pancake filled with shrimp, pork, and sprouts, or shrimp fried with sweet potatoes. The little restaurant in an unprepossessing Arlington strip mall also features egg rolls, edamame, pad Thai, fried rice, and spring rolls served half a dozen ways. Finally, if you're still hungry (or just thirsty), Brodard has 35 kinds of boba tea, smoothies, and slushies.
Vietnamese
Readers' choice: Pho Noodle & Grill, 4601 W Fwy, Ste 214
Critic's choice: Lieu's Vietnamese Restaurant, 3980 Boat Club Rd
Good news, pho-natics. You don't have to drive all the way to Haltom City or Arlington for amazing Vietnamese comfort food — just to west Fort Worth. The trek is worth it, because Lieu's menu is stellar from top to bottom. Most people judge a Vietnamese joint on its pho, and pho really comes down to the broth. Lieu's is nicely salty without shriveling your tongue and savory without covering up the flavor of the meat — you can always add flavor from the usual condiments, but give it a try first. The menu offers an exhaustive list of items for skittish and adventurous diners alike. Don't let the exterior fool you — what's inside will fill you up and send you home happy.
Thai
Readers' choice: Spice, 411 W Magnolia Av
Critic's choice: Happy Bowl Thai Restaurant, 8149 White Settlement Rd
Like some heat in your curry? We dare you to go for Happy Bowl's level 3. Panang curry is the real deal here, but other traditional favorites like pad se ew and the comparatively mild pad woon sen are incredible. It's a perfect hole-in-the-wall dining experience, with waitstaffers who are happy to help you order according to your palate's preferences.
Middle Eastern
Readers' choice: Chadra Mezza & Grill
Critic's choice: Celaborelle Phoenician Restaurant, 2257 Hemphill St
Yes, the place is in a spooky, rickety, turn-of-the-century house. Yes, the waitstaff can be eccentric and unpredictable (or seemingly nonexistent). Yes, chef and owner Youssef Hedary of Fort Worth's famed restaurant family cancels and then reopens his beloved lunch buffet on a whim. (Right now, he's serving only dinner.) But we are under the spell of his always-fresh, marvelously seasoned, and cheaply priced Lebanese dishes, from hummus to falafels to saffron rice to juicy, giant-sized beef and chicken kebabs.
Latin/Caribbean
Readers' choice: Gloria's Restaurant, 2600 W 7th St, Ste 175
Critic's choice: Stay C's Kitchen, 6204 S Cooper St, Arl
This newish, family-owned Jamaican restaurant is making its mark in an area not traditionally known for Jamaican cuisine. Grub is served cafeteria style, with several slow-cooked entrées like jerk chicken and oxtail, plus sides of plantains, mixed veggies, red beans, and rice. All this greatness can be enjoyed in a fitting environment of bright green, yellow, and black walls and the sounds of reggae riddims.
Vegetarian Meal
Readers' choice: Spiral Diner, 1314 W Magnolia Av
Critic's choice: Middle Eastern Combo Platter at Mo's Best Eatery, 4004 Little Rd, Arl
Though Mo's is primarily known for its gut-busting burgers and meat-packed deli sandwiches, the secret star of the joint is the all-veggie Middle Eastern combo platter of tabbouleh, baba ghannouj, and hummus. Handmade by Mo's mother from her family recipes, these salads and dips are refreshingly flavorful for folks who've grown tired of bland Mediterranean appetizers. Mo's hummus is fiery with peppers, the baba ghannouj rich and smoky, and the tabbouleh aromatic with plump garlic bits.