Barbecue
Readers' choice: Billy's Oak Acres, 1620 N Las Vegas Trail
Critic's choice: Billy's Oak Acres
One tip for dining at Billy's: If you want ribs, get there early. And you'll want the ribs, though you should also try to save a little room for the pulled pork. Well, that and the brisket — and if someone at your table has a bite of sausage they aren't gonna finish (unlikely), tell 'em to fork it over. Pretty much everything on the menu will make you pause in wonderment. It's a cozy atmosphere overseen by Billy himself, who cares about the flavor of his meats the way a mother hen cares for her chicks. Nice touches, like St. Arnold's Root Beer on tap and a pleasant view out the huge back windows, make this a great place to take your time and bring the family.
Pasta
Critic's choice: Nonna Tata
Chef Donatella Trotti's pasta is rolled out by hand every day and made the hard way, like an Italian grandmother would do it. The result is a menu of silken stuffed tortellini, soulful spaghetti and penne, and baked pasta dishes that transport diners to Northern Italy with every bite.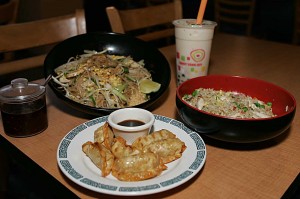 Soup
Critic's choice: The Black Rooster Bakery, 2430 Forest Park Blvd
One of the worst-kept secrets in town is the superb rotating daily soup offering at Black Rooster — it's common for the kitchen to sell out of the stuff before the lunch rush is over. Whether it's the silky-smooth cold tomato basil or the hearty chicken tortilla, the soup is always made fresh and seasoned beautifully.
Chicken-Fried Steak
Readers' choice: Billy's Oak Acres
Critic's choice: Lucille's Stateside Bistro, 4700 Camp Bowie Blvd
Everything about the chicken-fried steak at Lucille's is right. The hubcap-size steak is fork-tender with a crisp batter, and it's slathered in a rich, peppery gravy. The meat tastes like it's never seen the inside of a freezer. It's also economical, since it will keep most human beings fed for about two weeks.
Tamales
Readers' choice: Hot Damn, Tamales!, 713 W Magnolia Av
Critic's choice: Esperanza's Mexican Bakery & Café, 1601 Park Place Av
Tamales are classic, and Esperanza's doesn't mess around with that. Hot, moist, and packed with flavor, these authentic tamales will make you think your grandma is in the kitchen. Have them as a main course or on the side — or go big and buy a couple dozen to go from the connecting bakery. Warning: It may be difficult to exit without a praline or two.
Queso
Readers' choice: Torchy's Tacos, 928 Northton St
Critic's choice: The Pour House, 2725 W 7th St
A bowl of regular "housemade queso" goes for a mere $5.49, but if you really want a tummy-taming experience, fork over an extra $3.50 for the most decadent cheesy goodness around — the "loaded" queso." Seasoned ground beef, pico de gallo, refried beans, and sour cream are mixed in with the cheese and served with warm and lightly oiled chips. Any blocked arteries that result will be well worth it.
Red Salsa
Critic's choice: Mariposa's Latin Kitchen, 5724 Locke Av
Mariposa's has quietly become one of this city's best overall restaurants. Its kitchen is utterly devoted to fresh, creative fare that lies somewhere between authentic street food and upscale haute Mexican cuisine. The thick, intensely flavored salsa is the accompaniment to the standout menu.
Green Salsa
Critic's choice: Taco Diner, 156 W 4th St
Taco Diner offers a fabulous green salsa, but you have to ask for it. The salsa is a blended combo of silky avocado, tomatillo, garlic, and a little spice. The flavor's on the mild side, but that's OK. Ask for a ramekin of the secret, super-hot green chile paste to mix in.
Quesadillas
Critic's choice: Tina's Cocina, 981 W Magnolia Av, Ste D
Tina's Cocina offers a nice twist on the traditional plain cheese quesadilla. Yellow squash, zucchini, corn, and mushrooms get sautéed with some oregano and a little cumin. Then two flour tortillas are stuffed to the gills with a generous serving of the al dente veggies plus melty queso blanco. The whole thing is grilled. The result: glamorous, glorious, Mexican grilled cheese.
Sushi
Readers' choice: Blue Sushi Sake Grill, 3131 W 7th St
Critic's choice: Shinjuku Station
Though it's known more for its izakaya-style appetizers, don't underrate the sushi bar at this stylish Magnolia eatery. The sushi chefs know when to get creative and when to stay out of the way of their superior fresh ingredients. The sashimi halibut with garlic is a masterpiece of simple, elevated sushi.
Cheap Pizza
Critic's choice: Campisi's, 6150 Camp Bowie Blvd, FW
Campisi's has other things on its menu worth mentioning, but its pizza is the reason the Dallas-based chain has been around forever. It's just … correct, even if it's not actually round. Cut into little squares, the pizzas are topped with a nicely spiced sauce and a host of quality toppings (basil, salami, artichoke hearts, feta, and fresh spinach, among many others) over a thin, tasty crust. They're perfect for delivery, for an informal dinner when you don't want to cook, or as finger food for a holiday party.
Gourmet Pizza
Readers' choice: Cane Rosso, 815 W Magnolia Av
Critic's choice: Thirteen Pies, 2949 Crockett St
Fireside has recently been rebranded in Fort Worth as Thirteen Pies, but the things (besides the pizzas themselves) that have made it a high-end dining destination remain: hip location, inviting yet elegant atmosphere, impressive wine list, and cocktail menu. The service is friendly, informative, and fun without being intrusive. You'll still be able to get some Fireside favorites like the Iberian pie (fennel salami, smoked provolone, soffritto veggies, castelvetrano olives, yellow tomato, and old manchego cheese) and the sumptuous, Calabrian chile-spiced Lardo version. But be sure to see what the mysterious 13th pie is all about before you order.
Seafood
Readers' choice: Waters: Bonnell's Coastal Cuisine, 2901 Crockett St
Critic's choice: Waters
Where else in this city can you choose from an expansive menu of oysters from all three coasts? What other non-sushi restaurant has a raw seafood bar? Jon Bonnell's upscale seafood place is unique in this landlocked town. The kitchen shows creative flair on the lunch and dinner menus but with enough restraint to let the ingredients sing.
Fried Chicken
Readers' choice: Lisa's Fried Chicken, 2501 Hemphill St
Critic's choice: Max's Wine Dive, 2421 W 7th St, Ste 109
A place that touts its "award-winning" fried chicken is basically waving a red cape at chicken purists. But Max's lives up to the hype. Whether made with the traditional flour or the slightly sweeter gluten-free batter, the chicken soaks in a jalapeño-buttermilk marinade for a long time before getting its flour coat. Then the bird gets fried "slow and low," as the menu says. Result: The batter is crunchy and flavorful, and the chicken is impeccably moist on the inside. Your entrée comes with awesome smoky greens and home-style mashed potatoes. Or you can get the fried chicken with champagne, because, as they say, why the hell not?
Sandwich
Readers' choice: Magnolia Cheese Company
Critic's choice: Chicken sandwich, The Bearded Lady, 1229 7th Av
This Near Southside hangout is not only one of the hippest spots in town but also one of the best for creative pub grub that won't break the bank. Exhibit A: the chicken sandwich. Dressed up with caramelized onions, feta cheese, and wilted spinach, the Lady's bird simply bursts with flavors.
Hot Dog or Sausage
Readers' choice: Curly's Frozen Custard, 4017 Camp Bowie Blvd
Critic's choice: Peace Burger Dive Bar & Grill, 1228 William D. Tate Av, Grapevine
You'd think this award would go to The Boomstick at Globe Life Park, but eating one of those means you'd have to watch the Rangers, and we don't want to make you sad. Instead, head to Grapevine, where the surf-inspired ice house/greasy spoon has this thing called the TJ Mexi-Dog, a 10" bacon-wrapped beef frank smothered in refried beans, queso, and grilled jalapeños on a toasted bun. Warning: You might need someone to drive you home afterward.
Wings
Readers' choice: Buffalo Bros, 3015 University Dr
Critic's choice: Buffalo Bros
Is it ironic that a place famous for a hot sauce is also downright chilly? You gotta stay warm somehow, and Buffalo Bros' signature wing sauce is as fiery as it gets. The other sauces — barbecue and Cajun — are plenty tasty, too. Ordering a ton of wings won't set you back a lot of money either.
Bakery
Readers' choice: Blue Bonnet Bakery, 4705 Camp Bowie Blvd
Critic's choice: Stir Crazy Baked Goods, 106 E Daggett Av
You've got to love a place that satisfies both your social conscience and your need for sweet treats and sumptuous breads. Stir Crazy's commitment to fresh, organic, locally sourced ingredients and recycled packaging (when possible) sets it apart from a crowded field of excellent bakeries. It's easy to taste the difference between a cake made with cut-rate ingredients and one made with love, creativity, quality ingredients, and a touch of madness.
Desserts
Readers' choice: Clay Pigeon Food and Drink, 2731 White Settlement Rd
Critic's choice: Saint-Emilion Restaurant
If ever there was a good reason to eat dessert first, it would be the Saint's floating island, an airy meringue in a pool of crème anglaise. Or the tarte tatin with caramelized apples, or just about any other item on the elegant dessert menu here. Whichever tasty morsel you choose from the tray will be one of the best things you've ever put in your mouth.
Appetizers
Critic's choice: 24 Plates, 407 W Magnolia Av
It's been around for only a few months, but so far, so good. Chef Beau Johnson's menu of seasonal, rotating little plates encourages the diner to try everything. The menu is diverse, with a good mix of seafood, vegetarian, and carnivore-friendly tapas. The butterflied quail with two runny quail eggs is worth the trip all by itself.
Ice Cream
Readers' choice: Melt Ice Creams, 954 W Rosedale St
Critic's choice: Melt Ice Creams
It may seem odd to find an artisan ice cream store on West Rosedale, but owner Kari Seher reportedly wanted to open her business within walking distance of her home on the Near Southside. A year ago, Seher went off and apprenticed at a creamery in Ohio, then came back to found her dream store. Seher calls her concept "farm to cone." She uses ingredients from local farmers' markets and nearby businesses (Avoca for coffee and Dude, Sweet Chocolate) to create her homemade products. She uses no preservatives, and the six flavors — which vary by the season and Seher's mood — may sell out in an afternoon if the weather's hot.
Frozen Yogurt
Critic's choice: Sweet Frog, 3054 S University Dr
What's the deal with the frozen yogurt shops around TCU? Why don't they last? Recently, Frogberry, Menchie's, and Yo! have all bitten the dust. Well, this national chain (whose name has nothing to do with TCU's mascot) has picked up the slack, and we like its frequent yogurter program and the fact that it sets aside one dispenser to serve gelato. Maybe this time, the yogurt will stick to the neighborhood around the school.
Wine List
Readers' choice: Max's Wine Dive
Critic's choice: Clay Pigeon Food and Drink
A wine list shouldn't be the size of a phone book. Like a jukebox at a dive bar, it should tell you all you need to know about a place. The list at Clay Pigeon is a lot like Chef Marcus Paslay's menu: exciting, diverse, tasteful, and ambitious. Sure, there are lots of high-dollar bottles, but the list also includes plenty of less expensive, delicious vintages as well.
Place to Buy Ethnic Food
Critic's choice: Fiesta Mart, 421 W Bolt St, in La Gran Plaza
None of the Fiesta Marts around town stacks up to the huge store in the heart of La Gran Plaza, just off Seminary Road and I-35. You can't do better for Mexican food items, from fresh breads and cakes to a great variety of specialty fruits and veggies and spices. But maybe you want to make bangers and  mash — well, Fiesta has the bangers. And the McKay's lemon curd. Thinking Thai? Fiesta can't compete with specialty stores but still carries a good variety of Thai spices. Then there are the Mediterranean foods like baba ghannouj, Indian breads and spices, and South American items. A one-stop shop for nearly all your exotic ethnic foods.
Place to Dine Al Fresco
Readers' choice: Joe T Garcia's, 2201 N Commerce St
Critic's choice: Joe T Garcia's
The seating capacity at this longtime favorite has grown to more than 1,000, with tables placed amid beautiful greenery, pools, and walls. Beginning in 1935, the family has built a garden unlike anything else in town. The food may be plain, but the margaritas are great.
Late-Night Dining
Critic's choice: Buffalo Bros
In a landscape dominated by tacos and breakfast joints, Buffalo Bros has a little something for everyone. The kitchen stays open until 2 a.m. every night of the week, serving up booze-absorbing pizzas and fried foods, plus salads and subs for those not under the  influence. The Buffalo cheeseburger is a masterpiece of pub grub, meant to be chased by an adult beverage or two.
Place to Dine Alone
Critic's choice: Miss Saigon II, 6220 Camp Bowie Blvd
With big bowls of pho, friendly yet unobtrusive service, and an interesting mix of Muzak, jazz, and flamenco in the background, Miss Saigon is a nice place to unwind with a casual meal and a book, a sketchpad, or your ruminations on why you're eating by yourself in the first place.
Kid's Dining Venue
Readers' choice: Central Market, 4651 S Fwy
Critic's choice: Central Market
What's the most irritating part of dining out with children? Finding a restaurant that's not dominated by a large mouse or a clown, where the kids can have macaroni and cheese, and you can have a salad or steak or something else that hasn't shriveled under a heat lamp for the past hour. Central Market offers blissful selections of pre-packed goodies. There are an equal number of cooked-to-order items, like a kid-size pizza. Best of all, there's music on the patio many evenings, and you can sit outside with a nice glass of wine or a bucket of beer and let the little critters expend all their after-dinner energy on the play structure.
Atmosphere
Critic's choice: Bird Café, 155 E 4th St
Bird Café nests in the building that used to be home to The Flying Saucer. But the space had a complete makeover, and Bird's five seating areas now include the bar and a gloriously funky private dining area upstairs called The Rookery. The walls are adorned with prints of bird paintings by the legendary Gentling twins, Stuart and Scott, whose work is often compared to that of John James Audubon. The downstairs patio provides a shaded view of the Plaza in Sundance Square, while the upstairs patio features a cozy fire pit.
Car Food
Critic's choice: Railhead Smokehouse, 2900 Montgomery St
Railhead's drive-thru is one of its best features. When you're tired of turning into Rip van Winkle in interminable Whataburger or In-N-Out lines, Railhead's drive-up window is a speedy alternative — you can even call in your order ahead of time, giving you plenty of time to enjoy a brisket sandwich on the drive back to work.
Place to Buy Fresh Fruits and Veggies
Readers' choice: Central Market
Critic's choice: Cowtown Farmers Market, 3821 Southwest Blvd
Where else can you get fresh-from-the-farm food that is literally fresh and straight from the farm? Fruits and veggies at this market in southwest Fort Worth are delivered from farms within a 150-mile radius.
Meat/Seafood Market
Critic's choice: Central Market
No store in the city has the selection of meat and seafood that Central Market has: From bison to fresh duck to Kobe beef and everything in between, there are good reasons you have to take a number at the meat counter. Opposite it is a fish counter stuffed with Chilean sea bass, swordfish, red snapper, several types of salmon, mussels, oysters, fresh calamari … you get the picture. You walk into the store looking for a burger and walk out with chicken, a rack of lamb, two halibut fillets, and half a dozen soft-shell crabs.  Pricey but fantastic.
Food Truck
Readers' choice: Taco Heads, 2700 W 7th St
Critic's choice: Holy Frijole, 1408 W Magnolia Av
Normally parked behind The Usual, Holy Frijole is a step above the rest for its consistently tasty Mexican grub, legitimate vegetarian offerings (the veggie quesadillas are one of the best herbivoric meals you can eat in town), and speedy service. Whether you're getting to-go for the family or starting or ending your evening out, this truck needs to be at the top of your list.
Presentation
Critic's choice: Bite City Grill, 2600 W 7th St, Ste 153
Chef Eddy Thretipthuangsin has worked all over the world. Bite City Grill is the James Beard-awarded chef's newest baby, and the Thai chef is — appropriately — all over the map when it comes to influences on the menu. What all the plates have in common is exquisite attention to detail in presentation and flavors and original mash-ups that look almost too good to eat.
Wait Staffer
Readers' choice: Allison Ham, Max's Wine Dive
Critic's choice: Chris Salvador, Cacharel Restaurant & Grand Ballroom, 2221 E Lamar Blvd, Arl
Cacharel has been the "fancy" restaurant in Arlington for nearly three decades. And for at least half that time, Chris Salvador's been holding court. Cacharel's menu changes daily, and Salvador discusses the specials with aplomb, never once referring to notes. The man's also passionate about vino ­­–– he helps create the wine list. If you make an odd request, like asking for white Zinfandel with your steak, Salvador's response is usually, "I'm here to serve, not to judge." If you earn an "excellent choice" from the Capitan (French for "waiter") who's been working in the industry longer than many current servers have been alive, it probably was an excellent choice.
Host or Hostess
Readers' choice: Kaye Askins, Capital Grille, 800 Main St
Critic's choice: Debra Smith, Shaw's Patio Bar & Grill, 1051 W Magnolia Av
Whatever your dining needs, Debbie's got you covered. Her wit and sarcasm will crack you up, and her kind-hearted nature will make you feel part of the family. She welcomes guests as if the restaurant were their home and says she enjoys her job because of that family vibe.
Chef
Readers' choice: Marcus Paslay, Clay Pigeon Food and Drink
Critic's choice: Brandon Hudson, Sera, 2418 Forest Park Blvd
In a culinary landscape dotted with new chef-driven concepts, Hudson's dressed-up Spanish fare stands out. The menu is stocked with intimate, convivial bites with rare nuances. The food isn't stagey or gimmicky; it's honest and thoughtful. The tapas-style cuisine calls you in for a snack that turns into a meal.
Restaurant
Readers' choice: Clay Pigeon Food and Drink
Critic's choice: Bonnell's Fine Texas Cuisine, 4259 Bryant Irvin Rd
Jon Bonnell drew up the blueprint for his namesake Fine Texas Cuisine when he was in culinary school. After several years working for other people, he opened his dream eatery in October 2001, in the midst of the economic crisis caused by the events of 9/11. The restaurant has become a go-to place for unusual surf and turf, like Oysters Texasfeller, tiny elk tacos, quail, and buffalo tenderloin. Bonnell was one of the first local chefs to plan menus using locally sourced and seasonal items. That philosophy now extends to his West 7th restaurant, Waters Coastal Cuisine, which is arguably in a prettier location. But pretty picture windows aren't everything. The original Bonnell's sets a standard for exceptional service and fine Texas eats.
New Restaurant
Readers' choice: Clay Pigeon Food and Drink
Critic's choice: AF+B, 2869 Crockett St
AF+B is a mixture of home cooking and industrial chic. The décor is sleek and modern, and Chef Jeff Harris takes a resolutely farm-to-table approach to his food, which runs the gamut from comfort classics to truly unusual items. There are several new and fabulous restaurants in the Fort, but many of them suffer from uneven service or produce inconsistent food products. There's something to be said for a restaurant where management places a premium on the total dining experience. "Polished" is the best adjective to describe the service, food, and total experience here.
Fries
Critic's choice: A Fork in the Road, 1821 S Fielder Rd, Arl
It's so hard to do those thick, hand-cut fries right. They can so easily come out gloppy and limp, which is why so many fryheads stick to the shoestring variety. However, this eatery near UTA has figured out how to make those wedges substantial and yet crisp. You can get a generous portion of these when ordering A Fork in the Road's yummy sandwiches and burgers.
Salad
Critic's choice: Caesar salad, R Bar and Grill, 2401 E Lamar Blvd, Arl
R Bar and Grill chef Michael West bring a nontraditional twist to his caesar salad. The garlicky, slightly spicy dressing doesn't quite taste like anchovies, and it's thicker than the washy caesar dressings you sometimes find, so it hangs on to the romaine. Best of all, the salad is accompanied by several large fried green tomato slices instead of croutons.
Nontraditional Burger
Critic's choice: Chop House Burgers, 1700 W Park Row, Ste 116, Arl
Chop House Burgers actually offers three entries for the nontraditional category. There's a portobello burger, with the meaty mushroom standing in for the meat patty. There's an all-veggie burger, with garlicky cremini mushrooms, quinoa, and beans. And there's a Carolina pork burger –– a mix of grilled ground beef and pulled pork, smothered in sweet Carolina-style barbecue sauce. We refuse to choose among them.
Spicy Dish
Critic's choice: Wild Bangkok, Thailicious, 4601 W Fwy
"Spicy" doesn't mean "burns your lips off and sears your tongue." It simply means every bite has a fiery kick, and with Thailicious' Wild Bangkok preparation, every chopsticks-full is also delicious. Along with bamboo shoots, baby corn, bell pepper, and fresh basil, this zesty chile-based sauce also features aromatic peppercorn and ginger-like fingerroot, making "spicy" also "sensational."
Carb-loading
Critic's choice: Swiss Pastry Shop, 3936 W Vickery Blvd
The venerable Fort Worth institution is a natural choice for this category. Start with one of the shop's sandwiches (for lunch) or pancakes (for breakfast). Finish with one of the giant slices of cake that the eatery is famous for. Then take home a cake or pie to eat later. You'll be pleasantly carbed out.
Menudo
Critic's choice: Trevino's
Menudo is kind of like abstract art: It's beautiful to look at when it's cooked correctly, all orange and brown with a near-neon glow that seems otherworldly. Then you put a spoonful in your mouth and taste all the exotic seasonings soaked into the tripe, and you feel so damn good. Trevino's sells menudo only on weekends, and while it probably won't cure your hangover, it tastes so good it'll make you crawl out of bed in spite of your woes — and that's half the battle!
Fast Food
Critic's choice: Taqueria San Luis, various locations
Even if you dine in, the wait between sitting down and savoring delectable tortas, tacos, and quesadillas is barely enough to make a dent in a basket of chips, and the drive-thru is equally quick.
View
Critic's choice: Kona Grill, 3018 Crockett St
From Kona's rooftop patio, customers get a bird's-eye view of the Cultural District and the trees along University Drive.
Soul Food
Critic's choice: Buttons Restaurant
It's been said that soul food feeds both the body and the spirit. At Buttons, you got your chicken gizzards, your catfish, your oxtails, your mac 'n' cheese, your greens in a vat of pot likker, your fried green tomatoes, and your sweet potato pie. All this world-class cooking comes in a beautiful location, with a live music soundtrack that for any given meal might include gospel, Motown, and jazz. Your soul and stomach will be happy.
Restaurant Using Locally Sourced Ingredients
Critic's choice: Potager, 315 S Mesquite St, Arl
We've praised Potager in the past for their exquisite cuisine and radical business model, and now we're giving them the nod for their use of organic, locally sourced ingredients. Fruits and vegetables come from Gnismer Farms, as well as other regional farms and orchards. Grass-fed beef is brought in from Burgundy Pasture Beef in Grandview, while eggs and free-range chickens are sourced from Livestock First Ranch in Denison. There are also herbs growing around the front porch of the little café — and you can't get much more local than that.
Field of One
Critic's choice: Burgundy Pasture Beef, 3326 W 7th St
Nobody is doing it quite like Burgundy. All week long, John and Wendy Taggart offer various meats to take home and cook, plus eggs, cheeses, and other foods from their ranch in Grandview, all sustainably farmed using grass-fed, open-range, no-hormone techniques. Friday through Sunday, they'll cook those burgers for you, and they're some of the best in North Texas.
Best-Kept Secret
Critic's choice: Peach cobbler at Damian's Cajun Soul Café
If there is a cobbler hall of fame, Damian's peach version should be in it. This homemade delight is thick, substantial without being either dry or soupy, full of peachy flavor, and crowned by a spicy pecan topping. Oh me, oh my-o on the bayou.