Monday Night Football opened its coverage of last night's Cowboys game with a beautiful aerial shot of AT&T Stadium, and something became so clear — parking lots waste a lot of surface area. Cars were lined up in rows surrounding Jerry World. But even wider rows have to be left open to allow the cars to pull in and out. Arlington should invent some method of moving large amounts of people back and forth across town. City officials could come up with a catchy name for it, like "public transportation." They could be forerunners in urban planning!
Speaking of transportation, the Cowboys opened the game handing the ball to their very own bus, DeMarco Murray. He's the NFL's leading rusher, trampling over opponents and the record books in the best season of his career. The Cowboys rode a six-game winning streak and sat atop their division.
The Washington Redskins were starting their third-string quarterback, former Texas Longhorns gunslinger Colt McCoy. Now that he plays for the Redskins he prefers to be called Horse Of Few Years McCoy, except on Wednesday nights when he spins jams at Ibiza Night Club in downtown Washington. On those nights he goes by MC Lil Coy (he got his street name for routinely pretending to be shy in an attempt to be alluring, and also for his reluctance to share details about sensitive topics).
It's ironic how running back Joseph Randle's extra nimble fingers couldn't hang onto the football. He lost a fumble in the first quarter. On the bright side, he lifted a gold necklace and an arm pad in the ensuing pile-up.
In 2012, Horse Of Few Years was backup to Brandon Weeden with the Cleveland Browns. Weeden is now Romo's backup.
Horse Of Few Years began the first half in a shaky manner, appearing confused, making poor decisions, and leading his team to only 3 points.  Off Asides learned from an inside source that Redskins owner Daniel Snyder contacted Jerry Jones at halftime and offered to trade Horse Of Few Years and a pile of blankets and beads in exchange for Weeden and Sporadically Sticky Fingers Randle.
Jones refused but borrowed a blanket. The air conditioning is frigid in his suite and he needed something to drape across his legs (preferably something that wouldn't publish photos and file lawsuits later).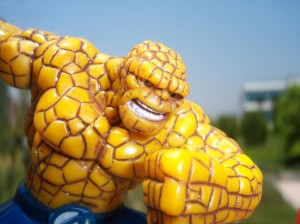 Speaking of legs and fumbles, Murray was churning for extra yardage near the goal line in the second quarter with the Cowboys in control of the game, when he allowed himself to be stripped of the football for the fifth time this season. In the past, he's returned after each fumble and run like a man possessed. I half expected him to turn into The Rock on the sidelines, splitting open his uniform and letting out a roar.
When the Cowboys offense returned to the field, Murray ran for nine yards on his first carry, then caught a 25-yard pass to set up the go-ahead touchdown pass to Dez Bryant, a moment ruined only slightly by hearing announcer Jon Gruden say "How 'bout them Cowboys!"
It's funny how people can drop their keys, cigarettes, pocket change, or babies and think nothing of it. But they get irate if Murray drops a football once every 30 carries as musclebound maniacs crash into him at full speed. At least the hometown crowd didn't boo Murray for fumbling.
The crowd didn't do much of anything (at least it sounded that way on my TV). The Cowboys needed a 12th Man last night, a roaring crowd to further confuse the struggling Horse Of Few Years. But Dallas doesn't have a 12th man as much as a third wheel. The Redskins QB had no trouble communicating with his offense before snaps. Cowboys fans in attendance can only look at themselves in the mirror today and, with much shame, say, "Damn, I'm hungover. Who won the game last night?"
One thing obvious about Horse Of Few Years — he plays very similar to John Elway, not only in the way he slings a pass and commands an offense in crunch time, but also in the way his mouth hangs open, like a mouth breather.  Maybe he should be called Man With Slack Jaw Who Kills Cowboys.
The Cowboys defense could have saved the day by stopping the Redskins on their first drive of overtime and forcing a punt, but all those early season worries about our shaky defense came a-haunting on the week of Halloween. In the post-game interview, defensive coordinator Rod Marinelli sounded defensive as he defended his defense.
"I'm hungry — any pigs in a blanket left on the buffet table?" he said.
Head Coach Jason Garrett sounded equally offended while discussing his offense's offensive inability to protect Tony Romo. The very average Redskins defense sacked Romo five times and roughed him up all night.
"We've not yet seen any blitzes this season," Garrett said. "I thought they were outlawed. We've put a call in to Commissioner Goodell to clear this up. It's not right to let a defense rush so many players. We have to send receivers downfield to catch the ball and that limits the number of players who are available to stay back and block for Tony. It doesn't seem fair."
Owner Jones should be commended for not trading Weeden to the Redskins at halftime. After Romo got knocked out of the game midway in the third, Weeden took over and did well.
Weeden, a former New York Yankees pitcher, wears No. 3 with the Cowboys, which happens to be Babe Ruth's number. So far in Weeden's NFL career, he's played like a baby named Ruth. But when you have Murray and Dez Bryant on your team, a quarterback can look good in a hurry.
So it made no sense to send an ailing and cold Romo back into the game with 1:52 remaining in the fourth quarter and the ball on the Cowboys three-yard line staring at 97 yards to victory.
"This could be the all-time John Wayne performance that I've seen on Monday Night Football," Gruden said.
Turns out it was a performance of The Man Who Shot Liberty Valance, in which a broken Wayne burns down his own house in a fit of drunken rage.
Another unfair blitz took Romo by surprise and he got creamed and fumbled the ball. Horse Of Few Years enjoyed the true John Wayne moment. Redskins 20, Cowboys 17.
P.S. To the Dallas Cowboys cheerleader with blond hair and twinkling eyes who was shown on TV at 6:34 in the fourth quarter: If you feel the same way about me as I do about you, please text me your digits. I like long walks at sunset, romantic comedies, feeding popcorn to each other in public, and whatever else you want me to like.