"Our job is to save these kids. Sometimes you have to give them hard choices," Monk said recently. "I was one of the bad kids myself in school, so I know how it is. But I turned it around. These kids need to turn it around, or they'll wind up in jail because they don't respect the law."
The problem is, Whitmire said, criminalizing truancy doesn't turn kids around.
"School districts use truancy as an easy way out. You ticket a 14-year-old girl and then find out she wasn't going to school because she has no maternity clothes," he said. "Now what good will that ticket do for her?"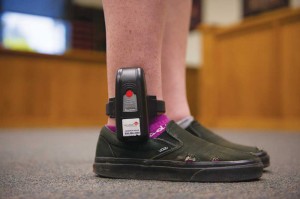 Truancy is only one of the infractions for which school kids in Texas can be charged with misdemeanors. Whitmire, with State Sen. Royce West of Dallas, got a bill passed during the 2013 legislative session to rein in the use of such tickets by school and law enforcement officials.
Those tickets are written by deputy sheriffs or police officers called in by school officials. While many tickets were issued for serious infractions like fighting in school or cursing at teachers, some districts were ticketing students for things as silly as wearing mismatched socks or chewing gum in class.
In many school districts, officers were writing thousands of tickets per year — and the schools and the courts split the income from fines paid as a result.
Thanks to Whitmire and West's legislation, school officials now must take a series of steps before disciplinary tickets can be written. Those include talking with the student, talking with the student's parents, and sending home a note to parents about their child's behavior. The law went into effect during the last school year, and disciplinary ticketing around the state declined substantially.
Whitmire and West wanted to include truancy charges in that system. But Whitmire said recently that truancy courts in Houston and Dallas counties wielded enough clout that the bill would never have passed if truancy were included.
The Houston senator said he's determined to try to change the truancy situation in 2015.
"It amazes me that grown-ups are making the decision to criminalize truancy when it's so obviously wrong," he said. "You wind up with so many instances where the student had no control over things. The kid's mother's car breaks down, and she can't afford to fix it, and the kid misses a few days in school, and the next thing you know both the mother and child are in court getting fined and hit with a Class C misdemeanor. So now they can't fix the car, and they can't pay the fine. Was that a good thing to do to that family? No."
Terra Tucker, a senior policy analyst for the Senate Committee on Criminal Justice, chaired by Whitmire, said that the new law regarding disciplinary tickets is also having an effect on how some school districts approach truancy.
"Some of the schools are sitting down with the kids and their parents and trying to figure out what's wrong. And what we're seeing from that is a drop in truancy cases in those school districts," she said.
But she thinks a lot more needs to be done.
"Sometimes parents are not taking truancy seriously, and some of the judges will do things like order them to attend classes with their children. That will get a parent's attention," Tucker said. "But of course then there are complications with that: What about single-parent households where the parent has other children to take care of? Or working parents living paycheck to paycheck who absolutely have to go to work?"
In such cases, she said judges should dig a little deeper to make sure that the punishments they impose don't do more harm than good.
What Tucker and Whitmire are trying to eliminate are cases in which kids are sent to court when they have a reasonable explanation for missing class.
"Yes, the schools have mandatory filing, but they also have discretion. And that needs to be exercised a lot more than it has been in the past," Tucker said.
Whitmire's plan to move truancy from a criminal to a civil proceeding was the focal point of the recent committee hearing.
Henry, the juvenile justice case manager, was adamant that truancy should remain a criminal offense. "Making truancy a civil matter will lower the standards of holding students and parents accountable for it," he said.
He dismissed the idea that a misdemeanor record could hold people back. "In the 15 years I've been doing this, of all the thousands and thousands of truancy cases I've dealt with, I've never heard one case where someone said their truancy violation hurt them later in life," he said. "Rather, we get the students who come back and say 'Thank you for being tough on me. That helped me straighten out.' "
Henry's tough love extends to weekends in jail. If a student breaks the terms set by the court, a night or a weekend in jail might help teach him or her to toe the line. And 17-year-olds do sometimes spend time in jail.
Scott MacKenzie, a middle school principal in San Antonio, said that intervention by school authorities is the way to curb truancy, rather than automatically taking children to court.
Other principals backed up MacKenzie. Ralph Funk, a Houston high school principal, said that when school officials took time to meet with students and their parents to thrash out the reasons for truancy, almost 75 percent of his school's cases were dropped.
"Relying on courts to solve the issue is not working," said Mary Mergler, a staff attorney for Texas Appleseed. "The response most of the time is to fine the students, which puts significant hardship on the poorer families who are most likely to wind up in court."
Mergler recently requested truancy and graduation data from the 20 largest school districts in the state for a study Texas Appleseed is preparing. Eighteen responded; of those, Mergler said, the districts that relied heavily on court as a method of dealing with truancy had lower graduation rates than districts that relied more on school intervention.
One reason for that, she said, is that the substantial financial burden of fines encourages some parents "to have their kids drop out of school to prevent further fines being assessed against their kids that they can't afford to pay."
In the end, Mergler said, Texas Appleseed "cannot find any connection between criminalizing the kids and fining the parents and better student attendance … . What we are doing is completely counterproductive."
********