At the March Alvarado truancy court, my 16-year-old daughter was among those students answering a truancy summons. An assistant principal from the school was there with a list of her unexcused missed days.
Jacobs asked her if she knew what she was in court for, and my daughter said she did. The judge asked for her school report cards and was impressed that all her grades were in the 90s.
Jacobs then went over the record of days when she was tardy or absent. She had an explanation for many of them, which the judge accepted. But the judge wouldn't forgive the tardies she'd racked up because she'd turned in her parental explanatory note too late. That left 11 unexcused hits.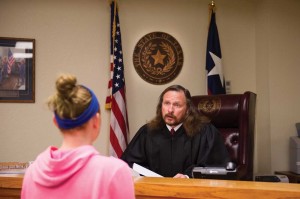 The judge explained that she could fine her $589 per day — totaling more than $6,000 — but that in light of her school work and extracurricular activity and the fact that she had never been in trouble before, she would fine her only $589 and suspend even that, plus she would keep the misdemeanor off her record, if she had no more late days or absences for the remaining 10 weeks of the school year.
My daughter accepted. Then the judge noted that she would need to know her user name and password for her e-mail, Facebook, and other social media sites so  the court could monitor them.
My daughter accepted the terms and left.
The court clerk who checked the user names and passwords said it's important to monitor the kids because they might be "sexting" — sending naked pictures of themselves to others — or talking about drugs, or "any number of other things. We get a lot of information from what these kids share."
Fowler found the report of the hearing disturbing for several reasons. "The judge should never have threatened you or your daughter with the huge fine," she said. "The maximum fine for the Class C misdemeanor is $500 with an additional $89 in court costs. The fine is for the entire offense, not daily, and so threatening you or any other parents with several thousand dollars in fines was not just wrong but would have been illegal had [Jacobs] imposed them."
Fowler was also upset by the demand for e-mail and other social media information, which the judge also obtained from several other students that day. "That is just creepy," Fowler said. "I've never heard of students being required to turn over passwords that way. I do not think it's normal, and I would seriously, seriously question whether there is legal authority that allows a court to require that.
"I'd not only question what it has to do with truancy, I'd have significant concerns about what [the court would] do should they see anything of concern," she continued. "What would they do if they found 'drug talk' on something they were looking through? Talking about drugs isn't something we'd encourage, but it's not exactly a crime, so what happens if they find it?"
Lee Tien is a senior staff attorney with the Electronic Frontier Foundation, a nonprofit devoted to defending civil liberties in the digital world. He sees the social media requirement as invasive, "not only of the student's privacy but that of everyone that the student communicates with."
That several of the students at court that day were required to divulge that personal information was particularly upsetting to Tien because, he said, "There is no obvious reason why it's categorically relevant to truancy or the state's interest in attendance."
Tien added that the judge could be creating a security nightmare, as anyone armed with a student's information could assume the student's identity for any number of purposes.
"I question whether this is even legal," he said. "In California, it's not. Arguably it's the functional equivalent of a wiretap — except [that it involves] online communications, not phone calls. That clearly raises constitutional due-process and First Amendment issues as well as privacy issues. If it's done as a matter of course, it seems completely overreaching and coercive without furthering the interest in attendance."
Jacobs did not respond to e-mails and phone calls asking for comment on potential legal problems posed by the gathering of social media information.
Monk said he has the authority to ask for such information but that he uses it sparingly.
"Each case is different regarding digital monitoring of social media," Monk said. "It's allowed if you think a student might be taking part in activity that might be affecting their truancy, but I tend not to venture too far into that area because I think it's intrusive in almost all cases, in regards to the rights of privacy of the defendant as well as the privacy of the others on that social media site."
*******
Fowler and other advocates were equally horrified at the use of ankle monitors.
"It's astonishing to me that people are still using them these days," she said. "It used to happen, but there was so much community outcry that it was mostly stopped. So it's disturbing to hear that it is still happening in some parts of Texas."
She said that research has consistently shown that intervention and prevention work to curb truancy, "not this tough-love approach. That's been debunked over and over."
Whitmire was astounded to hear of ankle monitors being used in truancy cases.
"I will be honest and say that I have not heard of ankle bracelets being used, so I can only scratch my head and say, 'Sure, why not? Go figure.' The judges using them are probably good friends of whoever has the ankle monitor business."
Tucker, the policy analyst for the senate committee, was more familiar with the approach. "They've got ankle monitors, pager systems to get kids up in the morning, they'll put GPS systems onto kids' phones, all sorts of things.
"We criminalize the kids, get their social media, slap them with things like the ankle monitors in some cases, fine the parents, and you know what? Most people at the school level, the people referring the kids to courts, don't even know that it's happening. We spend a lot of time trying to educate school boards and educators as to what really happens once you send these kids to truancy court."
Monk sees it differently.
"The girl I've got on the ankle monitor has had perfect attendance for the past weeks since it went on. It was my last resort. In her case, it turned out that she had a boyfriend who kept telling her to cut this class or that class, and the only way to stop her behavior was the monitor."
To prove his point, he put the student's mother in touch with the Weekly. The woman said she was thrilled with the monitor.
"My daughter hates it, but I'm a single parent, and that monitor is keeping her in school and out of trouble, so I love it. She was put on a monitor last year as well, and it helped her tremendously."
"In my court, I need to have those kids come out with something positive, not negative," said Monk. "I don't want to see them twice. The young man at the alternative high school who has to report to court every day after school — well, he's doing it for fear of the very real possibility that he'll be sent jail if he doesn't. But at the same time, he is reporting, and if he continues up until November, he'll be able to graduate in December. And so far he's making the right choice for himself."
Unfortunately, Fowler said, Texas school officials are not using the threat of criminal sanctions only as a last resort. She said many districts make it a practice to send a student's file to court as soon as the student has been marked late or absent just three times in a month.
"The data shows that more than half of the school districts are referring kids to court after just three tardies or absences. To us, this is evidence that these districts are not doing any meaningful intervention with the students or their families before filing those cases. They're just sending them off to court."