The recording studio looks like a shantytown, with its walls made of blankets and sheets held together by bungee cords and plastic clips. It sits on top of Astroturf in a huge room with high ceilings and exposed air ducts, as though someone had set up a sound studio in the Superdome during Hurricane Katrina. In what used to be Supreme Golf's Near Southside testing ground for clubs and shoes, there is now a collection of equipment that looks like props from the set of a '50s-era sci-fi movie, moved to a futuristic control room.
A tall, slender young man in a gray wool trench coat, polished brown loafers, and high-waisted red dress pants is the only one in the room who truly fits in with the vintage recording equipment at Niles City Sound's makeshift recording studio. Leon Bridges appears to have been transported forward in time along with all the gear — but without the same wear and tear. (The reel-to-reel tape machine was once owned by Dan Healy, who used it to record the Grateful Dead.) As the sound engineer rewinds the two-inch tape, Bridges strums a guitar and sings quietly to himself. His music sounds like he looks –– a blend of soul and Southern gospel with a touch of doo-wop that could have been recorded decades before he was born.
Bridges, 25, who grew up in Fort Worth, is almost finished recording his first full-length album. Last week he signed an agreement with Columbia Records to distribute the album worldwide.
Fort Worth is full of music success stories lately, but none have developed as fast as Bridges'. Just six months ago he was washing dishes at Del Frisco's Grille, playing open-mic nights all over town for free, and doing house party gigs for $50 –– if that. Now he's signed to the same record company as music industry luminaries Beyoncé, Adele, and Bob Dylan.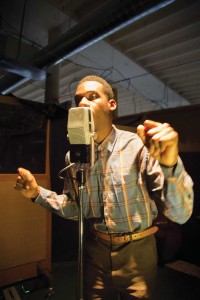 A couple of months ago he released demo versions of two songs on Soundcloud –– and they've already been heard more than 800,000 times. One of the songs, "Coming Home," gets regular airplay on KXT (KKXT/91.7-FM) and on radio stations as far away as London. He was courted by more than 40 other labels around the country before signing with Columbia.
It's no accident that Bridges is poised to be the next big thing in music to come out of North Texas. He owes his meteoric rise to more than just his silken soulful voice, unique sound, and easygoing charisma. His is a story of having the right sound at the right place at the right time. And it didn't hurt that two well-established musicians took him under their wings and rallied the Fort Worth music community around him.
Austin Jenkins and Josh Block, who respectively play guitar and drums for the major-label Austin-based band White Denim, were taking a break from touring. Both have North Texas roots, and they decided to carry out a plan they'd been working on for a few years: to start a studio production company with their friend Chris Vivion, who plays bass in Dallas-based rock outfit PVC Street Gang.
They chose Fort Worth, where Jenkins lives and Block has lived (he lives in Dallas now but is considering coming back to the west side of I-30). The duo had been amassing vintage recording equipment for years but didn't pull the trigger on finding a space to record until they met Bridges.
Jenkins met Bridges at a bar, and the two bonded over their love of Wrangler jeans. By chance, Jenkins caught Bridges' short set at an open-mic night a couple of weeks later. What he heard floored him.
"I thought, 'This guy is writing songs that rival some of the best soul songs I've ever heard,' " he said.
The would-be music producers were looking for an authentic, old sound, and Jenkins convinced Block that they'd found it. Bridges was too good an opportunity to pass up: a guy who does music that sounds like it's from the '50s, recording on gear from the '40s and '50s, in a 100-year-old building.
The pair gathered what amounted to a fantasy draft of local musicians to play on the album, all for free. Local-scene heavy-hitters from The Orbans, Quaker City Night Hawks, Patriot, and many others flocked to the studio on a putting green to help out the talented kid they'd seen blow audiences away at dozens of open-mic nights.
Block, who handles the bulk of the engineering duties, said he knew from the first day of recording that they had found the right person for the company's initial project.
"We set the entire studio up in 12 hours with massive amounts of gear from the '40s and '50s," he said. "Leon walks in, and no one is sure everything even works, and some people are meeting for the first time. Leon was in the hallway rehearsing the singers, and no one had played with him yet. … I was blown away from note one."
Bridges said the most gratifying part of the project is that he's been able to include so many of his friends in the creative process.
"It's been such a good experience, just getting to see all of the songs I've worked up come to life in the most badass way," he said. "It's hard to believe."
 ********