The 100-year-old building that once housed the old golf supplies warehouse is now home to luxury lofts, offices, retail spaces, and the bar/music venue Shipping & Receiving. The square brick structure is the beating heart of redevelopment in the area around South Main Street, between downtown and West Magnolia Avenue.
It wasn't that long ago that the gritty district looked like the setting for a movie about inner-city Detroit, with its rows of dilapidated and abandoned buildings stripped of their copper wiring and with homeless people on every corner. A few years ago, the city and various developers started pumping money into the area.
The area now called South Main isn't quite polished to a shine. There are still a few potholes and rundown-looking buildings. But you're more likely to get rolled by a rogue Prius than a knife-wielding vagrant in that 'hood these days.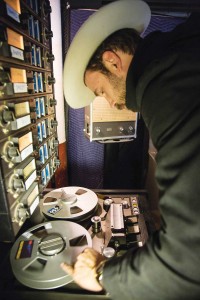 After Jenkins and Block figured out that they wanted to work with Bridges, they had to settle on a space for their studio. Initially, the two were determined to find a place in the Stockyards, because they were infatuated with its outlaw history and free-spirited attitude. But either the real estate was too expensive or the location just wasn't right.
White Denim played Shipping & Receiving in June, and Jenkins approached the bar's owner, Eddie Vanston, about putting their studio in the giant warehouse space behind the bar. Vanston agreed to build them a studio and let them set up and start recording while he worked on it.
Block said he didn't immediately warm to the idea of putting a recording studio in a 1,400-square-foot room with concrete floors and high ceilings, where sound would bounce around like a jet-fueled racquetball. But he was attracted to the neighborhood and its history.
"The reason it took us so long to get our idea out of the Stockyards is that we were obsessed with the history and what that represented for Fort Worth's identity," he said. (Niles City, which existed for a few years in the early 1900s before being annexed by Fort Worth, survives as Niles City Boulevard in the Stockyards.)
"What we weren't doing is thinking about where that identity sits now," Block said. Eventually, he and Jenkins decided, "Let's just do some Stockyards-type shit where it's happening now, and I think that's right here" in the Near Southside.
The space is not without its quirks. The early phases of the project involved a lot of trial and error, figuring out where to put the instruments and the recording equipment. For example, because of a slope in the floor, there was a two-second delay on the sound of the bass for someone standing on the other side of the room. The same thing happened with the drums.
Jenkins, Block, and company didn't want their concept to be just a recording studio but rather a place to re-think how music is recorded and heard. In a normal, modern setting, instruments and vocals are recorded independently of one another. A normal song on the radio will use anywhere from 30 to 300 tracks. Because of the old equipment, Niles City has only eight tracks to work with.
"Everything but the bass, drums, and vocals share a track," Block said. "You can't change a guitar lick if there's a mistake, because it's married to something else. If [saxophonist] Dazey plays something amazing, and Austin hits a wrong note on guitar, we have to let that slide. … On the album's liner notes, the guy who plays the wrong note — his name is on there."
Jenkins said he wanted the recordings to replicate how things sounded in a live setting, which means the band has to be particularly tight.
"I listen to those 1930s and '40s big bands, figuring out how those guys got that great sound with two microphones, one on the singer and one on the 20-piece band," he said. "It's because they played for people. Those guys didn't have to be the center of attention. They are serving the center of attention."
Block, an accomplished studio session drummer, didn't know what to expect from Bridges during the recording process. After one day, he called Bridges a recording "savant," who often can step in and record perfectly in one take.
"One of my favorite songs on the record, he came in and said he wrote it the night before, and no one questioned it," Block said. "Normally I would question it or at least ask to hear it first. But I said, 'No, that sounds great. Let's track it.' "
Block said he recorded ten 30-minute reels full of material.
The record's unusual sound quality has helped Bridges to skip ahead in line in front of more established artists. At a showcase in New York, Adam Levine, singer for Maroon 5 and a judge on NBC's singing contest show The Voice, gave Bridges some advice he's taken to heart.
"He told me to keep recording with those same players in that place," he said. "Don't let anybody fuck it up."
********
On a cold December afternoon at Avoca Coffee shop on West Magnolia Avenue, Bridges was greeted like a celebrity, shaking hands and sharing hugs with customers and staffers. His roommate, Jake Paleschic, an excellent songwriter in his own right, was working the counter. He sang backup on one of the songs on Bridges' album. Another barista working that day, Ele Chupik, sang backup on a different tune.
All of which is to say, that album has been something of a community project. Getting started, Jenkins called in some of Fort Worth music's elite players, such as guitarist Kenny Wayne Hollingsworth of The Orbans; bassist Cliff Wright, formerly of The Orbans; multi-instrumentalist Andrew Skates of Quaker City Night Hawks; and Dazey, who played sax with the Josh Weathers Band for years and has been playing with Bridges for two years.
All of them wanted to play and help Bridges put out an album. They had seen him working his tail off with gigs and were willing to lend their talents without pay –– though Niles City plans on paying them eventually.
"I usually gravitate toward people who work really hard, and Leon is always out playing," Skates said. "He's making the right kind of music. He's not trying to make things everyone else is doing. It's R&B, funky soul stuff. To me it just seems like he's writing songs that are smart and really hip. It makes me wonder why no one else has been doing it."
Jenkins said he was impressed at the outpouring of loyalty that local musicians have shown Bridges.
"Those guys are all in well-established Fort Worth bands," Jenkins said. "They are professional players. For them to come in and play for free, because they believe in Leon's music, is amazing."
Bridges said he was flattered that so many people believed in what he was doing. He credited the close-knit Fort Worth music community with making his album happen.
"Me being in this city where there's not anything else like what I do has helped me stand out," he said. "If I was in Austin or a bigger city, it might be harder. My biggest thing is being surrounded by people who inspired me to be a better writer."
********
Bridges' path to prominence harks back to an older tradition than what is standard in the modern music industry. Nowadays, the artists selling the most albums tend to be either king-by-their-own-hand YouTube sensations or a cradle-to-grave label babies born into a persona and handed a song list before entering puberty.
Jonathan Eshak of New York-based Mick Management also represents Ray LaMontagne, Childish Gambino, and White Denim. Jenkins and Block sent Eshak some of the demo versions of Bridges' tunes.
After hearing the tracks, Eshak said he wanted to work with Bridges and hopped on a plane to Fort Worth to meet him.
"What they did turned out to be magic," Eshak said of the demo recording.
Eshak put the tracks '"Coming Home" and "Better Man" on Soundcloud and sent the link to a friend who writes for the tastemaking Dallas-based international music blog Gorilla vs. Bear. Other blogs and radio stations picked up on the songs, and Bridges' popularity skyrocketed.
Dazey and Bridges were en route to New Orleans to play a couple of gigs when the songs started going viral.
"Everything that happened with that was going on as we were driving," Dazey said. "It's a nine-hour drive. We were checking the count every hour. There would be 400 more. … We were witnessing the reaction in real time."
Between gigs in New Orleans, when Bridges was blowing up on Soundcloud, he and Dazey set up on street corners and balconies in the French quarter and busked for $20 in tip money for the night.
Eshak said Bridges was signed to Columbia due in no small part to the public's reaction to the two songs he released.
"The reason we put out the music online is that we wanted the public to react to it, not just industry guys speculating on what he could or couldn't be," Eshak said. "The public … reacted so strongly to Leon, and the industry reacted to the public."
Eshak said that Bridges' talent is the main reason he's found success, but, he pointed out, there are a lot of talented musicians who languish in their hometowns. Finding the Niles City guys was a huge leg up.
"Every great actor needs a great director," he said. "There are a lot of great records made by developing artists who maybe just haven't found the right people to take them to the next level. He was fortunate enough to find Austin and Josh, but they were also lucky to find him.
"So often you have artists who want careers and [are] willing to do anything to get there, but they don't have a specific identity or vision," Eshak continued. "Leon very much has a vision and found the right people to help him produce the tracks the way they are meant to be heard, and I just think he went about it the right way."
Bridges' album will be released sometime in the next year. Eshak said Bridges will stay on the traditional path and tour the country after the album is out. He already has gigs planned for London and Nashville.
Bridges said his feet haven't touched the ground in months. He was able to quit his job washing dishes.
Had he never have met Jenkins and Block, he said, things would be very different.
"I would have been busting my tail playing gigs for $50, hopefully able to get myself out there," Bridges said. "The plan was, if I didn't do a record with [Niles City], I would have done one with The Texas Gentlemen. That would have been great, too.
"I was dreaming about it," he said. "It's actually happening, me being able to be a full-time musician and getting to travel."
You can reach Eric Griffey at eric@fwweekly.com.