A good-looking young black man who dresses like he has raided his grand-father's closet stands out a little in Fort Worth. One night at the Boiled Owl Tavern, Bridges' high-waisted Wrangler jeans caught the eye of Jenkins' girlfriend. Jenkins is no stranger to that look, and the two chatted for a while about the merits of the blue jeans and old music.
Being the guitarist for a critically lauded band like White Denim keeps Jenkins busy. The band is constantly touring and recording in between appearances on The Late Show with David Letterman, Conan, and Austin City Limits. The band finished a 20-city tour in October and is focusing now on writing new material.
Though he and Block were busy scouting locations for their recording studio, Jenkins still found time one Tuesday night to drop by the Magnolia Motor Lounge. He wanted to check out Quaker City Night Hawks' co-frontman Sam Anderson, who played a weekly gig there with a couple of his bandmates.
In between Anderson's sets, Bridges stepped onstage and, using Anderson's guitar, started playing "Coming Home."
"I remember just thinking to myself, 'Man, I know every song Sam Cooke has ever done, [and] this isn't one of his songs,' " though it sounded strikingly similar to the handiwork of the pioneering soul/R&B artist, Jenkins said. "And I was wondering whose [song] it was. I was shocked that was happening at Magnolia Motor Lounge on a Tuesday night."
Jenkins invited Bridges over to his house and recorded a few songs on Jenkins' phone. The next day he sent Bridges a new arrangement of the songs they'd recorded. After Block heard them, the Niles City Sound crew set out to record a demo for Bridges' material in four days. The project eventually blossomed into a full-length album that took more than two months to record.
"The dope thing about it was, a lot of people have approached me about recording and hit me up and been like, 'I love your sound. It will only cost this much money [to record],' " Bridges said. "Austin was like, 'Let's just do this.' And he didn't charge me anything. … I would not have had the money to do anything like this."
 ********
Even though he's been playing guitar for only four or five years, Bridges has been a fixture at various music venues for years. He wasn't brought up listening to the kind of music he plays now, nor did he begin his musical career writing soul songs. Raised by a very religious mother, he wasn't allowed to listen to secular music. So he'd wait for his mother to go to work and then jam to Genuwine, Usher, and the other '90s R&B artists he adored.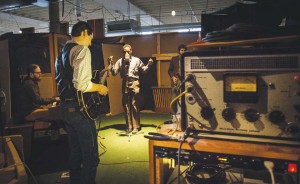 Bridges was born in Atlanta and moved with his family to New Orleans, but he's been in Fort Worth since he was two years old. His first connection to music wasn't as a songwriter or player. Starting at age 10, his passion was dance. He taught himself to dance to hip-hop songs on the radio and continued to pursue the art form through college. At Tarrant County College, he took lessons in ballet, jazz, and modern dance. It was there he discovered his love for songwriting.
"I had a friend who used to bring a keyboard to school," he said. "He would post up in the student center, and everyone would crowd around him, and we'd make up songs about stupid stuff. That's how I developed my writing, just by improvising all of the time."
A friend introduced him to guitar and showed him a few chords. He's self-taught and has been picking up knowledge about the instrument ever since, from friends and YouTube videos.
He started writing songs to hip-hop beats and singing over them, performing them regularly at the open-mic night of the now-defunct coffee shop Stay Wired on West Berry Street near Texas Christian University. His style at that time was more influenced by hip-hop and R&B than old-school soul and Southern gospel.
"That was the first time I ever sang in front of people," he said. "I would hook up my iPod to the PA and play the beat and sing over it."
By the time the coffee shop went out of business, Bridges had become more comfortable playing in public and regularly gigged at The Where House and The Cellar. Luke McGlathery, who hosted the Cellar's show, said Bridges stood out from the pack.
"He was a kid at the coffee shop next door to The Cellar with a guitar, singing little tunes," McGlathery said. "I started hosting the cellar open-mic and … I helped him do a couple of recordings. I introduced him to a lot of cool people and got him booked at a few shows. He blew up on his own after that. … He's another wonder of Fort Worth. He's great."
Sam Anderson invited Bridges to play at his Tuesday gig at Magnolia Motor Lounge. Saxophonist Jeff Dazey said Bridges mesmerized crowds there.
"I remember a bunch of musicians were in the house watching him play, and everyone was like, 'Yeah, that's the guy,' " Dazey said.  "His sound is really earnest. It's not flashy or in your face. It draws people in."
The gigs at the Motor Lounge provided an introduction to The Texas Gentlemen, which Bridges said changed the course of his career. Made up of Dallas stalwarts who also play in other well-known bands such as Larry g(EE), Dovetail, and Jonathan Tyler, the Gentlemen frequently backed Anderson at his weekly gigs. "As time progressed, The Texas Gentlemen approached me about learning some of my tunes, and we started practicing together," Bridges said.
Bridges not only admired the band's sound but also the way they looked.
"They have a consistent sound, like a '70s soul feel," he said. "I was like, 'Man, I want to do something like that, but I want to do '50s and '60s.' … I felt like I needed to do it. There was just nobody doing it. I started listening to a lot of soul music, a lot of Sam Cooke. I just loved the simplicity of it."
It was then that Bridges adopted his signature sound and look. He said another turning point was being booked for the Friday on the Green outdoor concert series, put on by Fort Worth South and Fort Worth Weekly.
"It's really hard to believe, but it's like, damn, every year since I started playing guitar, something better happens," he said. "Boom, started playing. The next year I started playing open-mics. Boom, the next year I'm doing Friday on the Green. And now I'm here."
********