The college football playoff championship game in Arlington means big business for Fort Worth, especially for downtown bars. Sundance Square is ground zero for ESPN's coverage of the big game, which means thousands of people will likely show up in the hopes of seeing themselves on television for half a second. Local bars are bracing for the impact. Droves of rowdy, thirsty football fans will soon be filing in for North Texas' second shot at the national sports spotlight. The last time didn't work out so well for us, if you'll recall…
Sundance Square has changed quite a bit since the last time the ESPN crew set up camp there. The men and women of Bristol converged on what was then a parking lot, during the week preceding the Super Bowl in 2011. Now there's a cool new plaza where, during the summer, kiddos swap strains of dysentery while splashing in the neat-o fountain. More importantly, the roads aren't frozen over this time! Back then, God decided to mock our lack of reliable public transportation by covering everything in ice. (We have done nothing to improve our transportation system, and it's supposed to rain and sleet on Sunday. We're really tempting fate. Just sayin'.)
All was quiet on the square today, aside from the hustle and bustle of the film crew. The on-air analysts were set up in the cozy environs of the Worthington Renaissance Hotel. In the bars…well, they were pretty quiet too. But as Alfred Hitchcock once said, "There is no terror in the bang, only anticipation of it."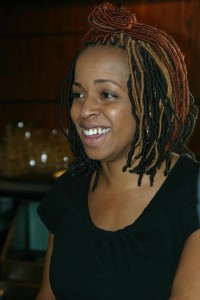 Nevan Pippen, who has bartended at Del Frisco's Grille since it opened on the plaza about a year ago, said she had a good experience with Oregon fans last year.
"They came last year for a basketball game," she said. "I've been looking forward to seeing them down here again."
Oregon fans, she said, were big on craft beer, very polite, and tipped appropriately. She has no idea what to expect from the Ohio State crowd.
Bobby Jones, manager of The Flying Saucer Draught Emporium, said that Eugene, Oregon (home of the Ducks) and Columbus, Ohio (Buckeye country) are both well-known craft beer Meccas, so the Saucer has stocked up on the local flavors. The bar serves about 30 different varieties of Texas craft brew.
"It's a good opportunity to show off some of our Texas beers," he said. "I think there will be a big turnout [this weekend]."
The crowds tend to get a little rowdier at Ojos Locos, a downtown breastraunt with about half a million televisions. During past college games, said bartender Carol Ayala, the crowds were friendly for a few rounds –– until they weren't.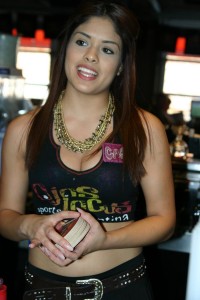 "When they have too many drinks, that's when you see some dissension," she said. "We have two police officers working the door" so nothing ever escalated beyond macho chest pounding.
Pippin said she's not worried about fans of different teams getting too worked up.
"When you breathe the Fort Worth air, it just makes you friendlier," she said.