Dallas cowboys owner and general manager Jerry Jones told The Dallas Morning News that keeping WR Dez Bryant and RB DeMarco Murray will be difficult but not impossible. Both are free agents, and the Cowboys are perennially strapped when it comes to the salary cap.
Both are great players, but Bryant is greater. His upside is huge, and he's on the rise.
Murray is peaking, about to begin the quick slide downward that most running backs experience after their first contract runs out.  He didn't miss any games due to injury this season and became the NFL's leading rusher, but still got banged up pretty good along the way, including fracturing his hand.
He started his season off by fumbling the ball in the first few games, but did well for the rest of the season until it counted most. His fumble in the Green Bay playoff game cost the team a touchdown.
The once-troubled Bryant is now the poster child for redemption and good behavior. And the allegedly straight-arrow Murray is being called an adulterer by former college teammate Brennan Clay, who posted saucy photos and racy text messages online in revenge.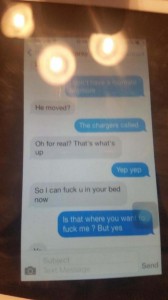 Other teams will obviously court the league's leading rusher, although probably not as hard as the league's leading rusher is courting his former teammate's wife.
Murray will get plenty of offers from other teams (and other women too). The Cowboys should let him go unless they can get him for a discount.
Murray gave us an excellent year and set a bunch of team records, and fans appreciate it. But he's about to go south quicker than you can say Marion Barber. Let another team (and the woman with the Marks-A-Lot eyebrows) have him. Time for the Cowboys (and Clay) to move on.
Am I a sportswriter or a marriage counselor? I don't know. I just hope everyone scores.