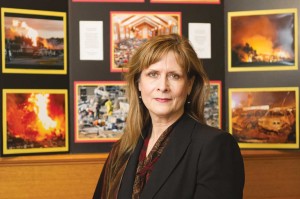 The uproar over that well near Joe Pool Lake exposed more than a public-safety threat for one dam. It revealed gaps in state and federal regulatory systems for dams and drilling.
In 1996 the federal Bureau of Land Management established a rule that forbade drilling on Army Corps property within 3,000 feet of dams. But the Southwestern District of the Corps didn't change its own policy to match that until 2011. Even now, the Corps has no power to stop drilling on private property — unless it can prove such drilling is a threat to public safety.
In a memo to other Corps offices about the 3,000-foot setback, Thomas Kula, commander of the Corps' Southwestern Division, noted that when the agency was buying land and building dams, it acquired only "minimum interests" in real estate needed for a project. "[P]rivate land downstream of the dam is frequently in close proximity to the dam structures," he wrote, but the Corps "has no direct control over development of oil and gas production underlying these lands. … There is currently no statute or regulation which clearly provides USACE with authority to prevent exploration and drilling activities in those locations," even in close proximity to "major structures."
Kula ordered Corps offices in his division to scrutinize fracking within 3,000 feet of a Corps dam or water-control structure. If the Corps determines that a well would pose a risk to the dam, he wrote, the agency can take legal action regardless of who owns the land or mineral rights.
The study kick-started by the Joe Pool gas well is aimed at finding out whether increased geological pressures from fracking could cause shifts along natural faults, weakening dam foundations. The three-year study is also looking into whether disposal wells — where drillers dispose of toxic drilling wastes by shooting them back into the ground at high pressure — can trigger earthquakes. Other studies have suggested a strong connection between disposal wells and quakes in Texas and other states where quakes were virtually unknown until shale gas development began.
Initially, the Corps study didn't focus on whether the extraction process itself — in addition to the fracking — could trigger seismic activity, Vazquez said. But that topic became a focus of the Corps' research.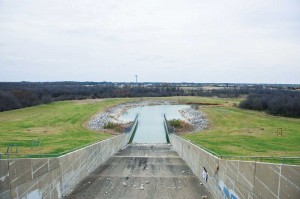 Reed said she was present at a briefing when city council members discussed a Corps request that the city place a moratorium on extraction as well as fracking  — that is, stopping gas production at already-fracked wells. Both city and Corps officials deny that was requested.
"The Corps wanted [Grand Prairie] to put a moratorium on extraction," said Reed. "I went to that briefing. The city manager spoke up and said, 'If they want that, let them do it. We're not going to get in on this. The Corps can put a moratorium on it.' "
Three XTO Energy gas wells on a single pad site on BLM property continue to produce within the 3,000-foot exclusion zone of Joe Pool's dam. The Corps' own moratorium, like the city's, affects only fracking and drilling.
Jim Cummings, Grand Prairie's environmental services director, said the wells are barely within the 3,000-foot restrictive area.               "They have four permits left that they haven't drilled," he said. "That's the only pad site that has been affected."
If the Army Corps study shows that the wells are a threat, Cummings said, the city council could take action to stop production there, but he wouldn't speculate as to their specific action.
More people throughout the country are growing concerned that the earthquakes happening in areas of shale gas production are indeed related to gas drilling.