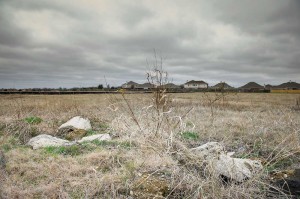 Blogger and drilling activist Sharon Wilson, who helped advise the Westchester group, said that she's sure there's a link between extraction and seismic activity.
"They are saying that not only fracking can damage a dam, but also extraction, which makes sense because that causes subsidence," she said. "They haven't said the earthquakes in this area are caused by extraction, but you know they've got to be."
A study published last year in the scholarly journal Earth and Planetary Science Letters concluded that the extraction process is likely the cause of the suddenly common earthquakes in the Eagle Ford Shale near San Antonio.
******
A turquoise rod sticks up about two feet above the surface of an enormous dirt field. The rod marks Chesapeake's well near the Joe Pool Dam, which wasn't plugged until April 2014. The Oklahoma-based energy company had planned to drill up to four more wells on the same pad site. The problem was, the site was less than 850 feet from the dam, and residents like Carl Dimon, who worked for Exxon as a petroleum engineer for more than 30 years before he retired early in 1995, were concerned for public safety.
"I wrote a letter to the Corps and asked, 'Are you aware this well is being drilled within 850 feet of this dam? Do you have any studies that indicate that is safe?' I do that because, in spirit, I'm still a registered professional petroleum engineer, and our code of ethics says we should be concerned with public safety. God only knows what happens if that dam fails."
When the Corps replied to Dimon's letter, he said, they told him they had no knowledge of a drill site that close to one of their dams.
Chesapeake sent the federal agency a form letter — not addressed to any specific individual — just like those sent to other residents in the vicinity of the well.
"It very likely ended up in the trash," said Read. "They sent [the Corps] the same form letter they send to residents to inform them of drilling in the neighborhood. They claim that meant the Corps knew what was going on.
"The right hand doesn't always know what the left hand is doing," she said. "[The Army Corps] knew nothing about fracking on a well in 2010. That was the revelation that came out of conversations I've had with people from the Corps. They couldn't do anything anyways, because the site was on private land."
Texas Railroad Commission records confirm that Chesapeake was planning to drill the four additional wells on what the company called its Corn Valley pad site. E-mails obtained from the Corps show that Chesapeake was preparing to move forward with the additional drilling even after the Corps enacted its moratorium.
Susan Read said state records show the well never produced. Dimon believes that Chesapeake put lives in danger for a well that was never going to be profitable.
"I'll tell you, Chesapeake flat-ass lied about how much gas they were going to recover," he said. "It has not been the economic windfall it was reported to be."
The years since haven't been good for Chesapeake, which has all but disappeared from the Barnett Shale. Company officials declined to comment for this story.
Now a developer is planning to build a housing development on the site of the abandoned well.
The city will not require soil or groundwater testing for the 43-plus-acre plot that was used for shale gas mining operations between 2010 and 2014. A city staffer told Westchester residents that the $60,000 price tag for testing was too high. Nor will the developer be required to disclose the land's past to prospective homebuyers.
******