South Main Street, in the Near Southside, is currently in the early stages of an $8.6 million reconstruction process that will see the street rebuilt with wider sidewalks, street trees and lights, safer pedestrian crossings, and bike lane improvements. Though the overhaul is still in its early stages, the project has been in the making for years in an effort to bring the street's physical design in-line with a safer, more dense, walkable feel as the central city redevelops.
Even in these initial stages of the project, there are numerous other developments either underway or announced that foreshadow the next phase of South Main's rejuvenation. In the interest of catching up with the latest goings-on in the area, I took a stroll around to document the progress happening along the street.
Unsurprisingly, quite a few of the area's projects involve the rehabilitation of historic buildings. In this regard, South Main is arguably even richer than its successful neighbor, Magnolia Avenue. In its heyday, South Main was more built-up than that other storied Near Southside street. Every couple of blocks, there's an old brick warehouse or commercial building with a shiny new rendering on a sign out front, advertising its impending redevelopment.
Among the historic redevelopments I came across were the old Anderson Furniture building, at the intersection of South Main Street and Pennsylvania Avenue, which is planned to be rehabbed into upstairs office space and ground-floor retail/restaurant space, with the potential of a third floor added as well. Directly across the street, a historic Coca-Cola bottling plant office building is being incorporated into the High Point project which will surround the old red brick building with 227 new apartments.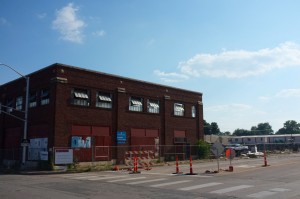 A couple of blocks away on neighboring Bryan Avenue, just north of the intersection with Dashwood Street, I came across a 1950s-vintage industrial structure with an arched roof, which has just been transformed into an office and restaurant space. And on the opposite corner, a little structure that had most recently been windowless and deteriorating is being opened up into another hip restaurant/bar space.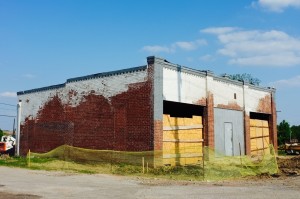 Just around the corner, back on South Main itself, a building just south of Dashwood Street that's been bricked over into something resembling a bunker now advertises a forthcoming redesign complete with a rooftop deck. Further north, at the intersection with Leuda Street, a banner hanging above the All Needz Plumbing space tell of an elaborate forthcoming redesign that calls for luxury lofts along that building's top floor.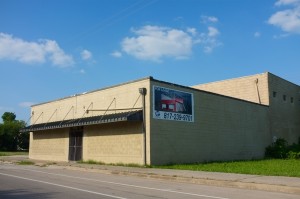 Closer to downtown, an old building with a vintage Texaco sign out front will soon become a new craft brewery, located among the early pioneers of the area like Shipping & Receiving, Stir Crazy Baked Goods, and The Salon Upstairs. I also couldn't help notice that these blocks feature steadily increasing amounts of art, as locals are painting elaborate murals on several blank walls, adding splashes of color and design to the neighborhood.
There's more happening as well, such as the recently announced Taco Heads restaurant and the expansion of the bakery. All of this new activity showcases a truth of city planning: development and transportation design are deeply linked. The city is rebuilding South Main Street for pedestrians and cyclists in addition to cars, and the development is following suit, with bricked-over windows and barren parking lots replaced by shaded storefronts and upstairs apartments. Time will tell how many of the newcomers will last, but the interest in South Main is only going to be increasing from here on out.