The man would exude sex appeal if he didn't weigh 300+ squishy pounds and prance around in no shirt.
He's a professional athlete who goes by the name "Super Porky," and he's really good at his job.
A recent trip to Texas' southern neighbor provided a couple of sports experiences I felt compelled to share with the Fort. Sports are an important part of every nation's culture, so when I travel, I like to explore ballgames along with food, museums, and serpentine passport control queues. This time, my native hosts assured me that watching the performance of the large man in the tight pants and his cohorts represented a thoroughly Mexican experience. Super Porky, aka Brazo de Plata, is an icon in the world of Lucha Libre professional wrestling.
I won't pretend to understand all the nuances, so I'll just offer a few entertaining details and the recommendation that if you find yourself in the México D.F., consider a trip to Viernes Espectaculares at the Arena México. It is pure entertainment.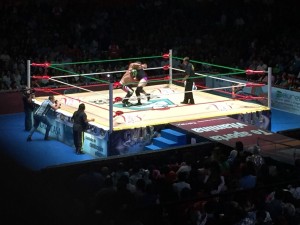 What it's not, technically speaking, is sport. Like U.S. pro wrestling, it's a pre-planned performance under a sporting veneer. However, that doesn't mean you won't see a lot of athletic ability on display. Some of these men and women show amazing acrobatic talent, diving and flipping through and out of the ring with impressive precision and serious hops. Even Super Porky could balance himself on one of the ropes using only his belly (something I can't seem to unsee).
The show's producers at CMLL appear to understand the concept of brand consistency. If you're going to do something, do it all the way, every time, and don't stray from your core message. That message is "over-the-top" and they do it well enough to have generated consistent crowds for decades. I'd peg a lot of the fans as hardcore attendees, judging by the number wearing masks and branded shirts. They participated noisily when goaded by performers. We sat near some aficionados with horns and drums who reveled in receiving acknowledgment from wrestlers whose names they periodically chanted.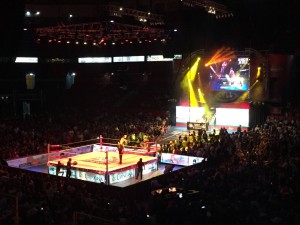 Multiple video screens and lights pump up the energy level within the nearly 60-year old arena. Full-volume music choices included ZZ Top's LaGrange and plenty of selections I didn't recognize. Stands outside the arena sell souvenirs. I got my 8-year old niece a pink mask.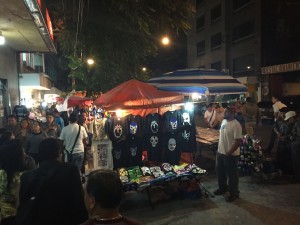 Inside, you can buy soup or nachos from an in-seat vendor. That's not a misprint where I meant to type "super nachos." The lady's tray contained instant soup plus chips/cheese that looked just like the ones you'd have bought at the old Arlington Stadium. You might also fancy tortas, bagged chips, churros, or 32-ounce Victoria beers.
In the ring, the half-dozen bouts consisted of five 3-person tag team matches and a single one-on-one affair. Six women competed in the night's first fight, which set the tone for the evening (and tag team contests everywhere) with a plethora of blows struck from the ropes and by contestants inside the ring who weren't supposed to be there, according to what might pass for rules.
Selectively observant referees play a big part in the evening's proceedings. In the second bout, a point deducted for kicking turned a one-sided contest into a disputed draw. The disagreement took the form of continued fighting after the decision.
Wrestler Disturbio earned disqualification after "accidentally" hitting the referee while crushing his opponent. The official raised the victor's hand as the latter lay incapacitated on the canvas.
Super Porky, who had a brief WWE stint stateside a few years ago, entered doing stripper poses. He ended his team's bout when he pinned an adversary by sitting on the poor guy. Earlier, he had rubbed that rearmost part of his anatomy in the face of a competitor who had no doubt drawn the short straw backstage.
The last couple bouts included more great characters. Bárbaro Cavernario was a shaggy caveman who would have looked at home in a Geico commercial. Marco Corleone provided eye candy for the ladies with occasional ab flexes in his tight red trunks. He absorbed every blow directed at him without flinching until, of course, he didn't and got thrown from the ring. A red-bodysuited wrestler kicked his teammate after a disagreement over who would fight.
The last bout also included an unmasking, which is apparently considered a great dishonor for the de-masked wrestler. At one point an Australian (maybe) in a mask had interrupted a previous bout and stomped on a sombrero. He was challenged to a "mask vs. hair" bout, but declined the challenge. In such a bout, the loser would have either been unmasked or had his head shaved, depending on how he normally presented himself. Hopefully we'll get to see that drama next time.
One test the show fails is that of political correctness, which I justified overlooking by ascribing it to cultural differences. Two little people in costume accompanied wrestlers to the ring. One of the little persons ended up getting dragged into the ring and flung around a bit in retaliation for unknown offenses. An effeminate man with a pink ribbon in his hair reveled in getting spanked (literally) by his opponent. He came on to one of the other wrestlers, forcing the latter to apologize to the jealous female teammate who was apparently his significant other. And, of course, the male wrestlers entered the arena surrounded by scantily clad females.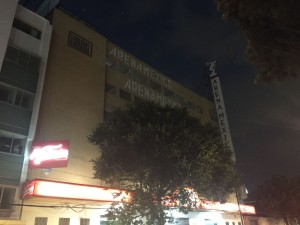 If you'd like to learn more about the bout I saw, CMLL posts results and photos on its official website. If you find yourself in México City and want to get tickets to see wrestling at the Arena México or a few other venues, Ticketmaster can hook you up. The dollar is strong right now against the peso, so it might be a great time for you to pick your favorite Técnico (hero) or Rudo (villain) and mask up.