When I first pulled up to HopFusion Ale Works' Near Southside location I had to double-check my GPS. There wasn't much sign of life among the shuttered warehouses and buildings along Broadway Avenue. But after a few glances up and down the street, I saw a banner with HopFusions's telltale bluish-green logo. Inside, I could hear the sporadic clinging of hammers and power tools.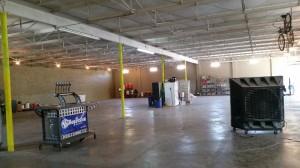 I entered a door ino the sweltering, open air-building and was greeted by a sweaty but upbeat man named Macy Moore. This was the man I had come to meet.
When I messaged Moore a week earlier, I knew his brewery was far from complete. Being in the purgatory between a dream and a completed brewery made HopFusion the perfect setting to tell the story behind each air-conditioned tap room tour and pristine bomber of beer.
Moore described the 8,700-sqare-foot space as if it were finished.
"We're taking out these garage doors and putting in glass and aluminum doors," he said. "This whole side will be a tap room. There will be a big bar, 20-feet-long, over there."
But for now, the vision remains all in his head. HopFusion will be serving frothy beers to fans sometime before April 2016. Our conversation turned towards his day to day work.
"The most surprising thing has been the time," he said. "You hear people describe it, but when you're in the midst of it that's a really long time. A lot of people, when they find out what I'm doing think it's just about the beer. It is, but the life that we're leading right now isn't about beer. It's about trying to deal with contractors, permitting, the city, architecture, mechanical engineers. You have to wear so many different hats."
By trade, Moore is a visual artist. He caught the brewing itch six years ago when he started homebrewing in his kitchen. Slowly, conversations with a close friend, Matt Hill, began turning to the idea of opening up a brewery. From the get-go, Hill and Moore shared a vision that HopFusion would blend their passions for art, metalwork, bicycling, beer, and a key ingredient.
"It's not just about the beer," Moore said. "It's about the experience."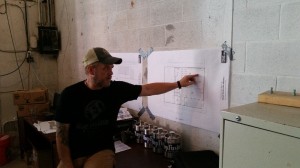 It's hard to tell now, but in several months, the HopFusion experience will be centered around vibrant hand-painted murals, hanging bicycles, and beers that are as beautiful to look at as to drink. Moore has always had an eye for color and each beer recipe has been rigorously tested for a distinctive hue.
Feisty Blonde is a honey vanilla blonde that pulls a subtle sweetness from Florida orange blossom honey, Mexican brown sugar, and a touch of vanilla. The honey is mostly present in the back end and the beer will be a welcome addition to fans of lighter profile beers. Steampipe black rye IPA is 14 percent rye. Moore is a fan of this grain and it shows in the feisty, mildly spicy brew. The Hairpin is a mild IPA that won't leave your lips puckering, and the Fur Slipper is a hearty milk stout that's so easy to drink you wouldn't believe it's almost 10 percent alcohol.
As the building comes online, so is HopFusion's staff. Co-owner Hill plans to start working for the new brewery along with Chuck Epperson, the brewery's part owner and financial officer.
The work has been harder and more time-intensive than Moore imagined — and he thought it would be intense.
"You have to put everything into it, all your savings," he said. "There are some days I'm out 12 hours busting my ass, but I'm working for something that has meaning. I didn't have that feeling when I was working in corporate. It's a really good feeling to work for something that's going to matter.  So you just work harder."