When you attend a Dallas Stars game, you might say "Wow, that video they play before the game looks awesome!" You might laugh a lot during a TV timeout when ersatz game show host Daryl Reaugh awards a player 25,000 points for preferring steak over sushi. You could even declare, "Wow, Jamie Benn's really cute without his helmet."
After making those observations about what you've just seen on the big center-hung video screen, you might then wonder "How do they do all this stuff?" The answer: Media Day.
Thursday, the Stars took their whole team to Cedar Park, Texas to begin training camp. They have to marshal massive amounts of gear and personnel to make the move happen. Earlier in the day, an undertaking nearly as large preceded it. That's the one that yields you your player features.
You don't actually see a lot of media at Media Day. It's mostly for the Stars' in-house productions. They set up a dozen or so video and photo stations scattered throughout a darkened Frisco Dr Pepper StarCenter. Top players like Jason Spezza and Jamie Benn visit every spot, while young players likely to spend the season in Cedar Park or junior hockey don't have to make the entire circuit.
Stars Vice President of Production and Entertainment Jason Walsh and his department bear the responsibility for putting on the event. They want to try to shoot almost every element they'll need for the entire season. Why do they go to the trouble?
"The players' time is valuable," explained Walsh. "During the season, the guys play so many games and attend so many practices and team events that their time with families is at a premium. We respect this and want to get in, capture the needed content, and get out of their way."
On Media Day, Walsh's group will have been at the facility since 5:00 am after a full day of setup the day before and weeks of planning.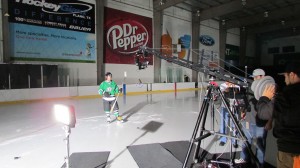 Walsh said, "This is a project that requires every video resource we have in house and significant help from outside the organization. It takes a month or so to visualize all the needed elements from every department in the organization. Marketing, corporate partnerships and our foundation all play a major role in how we go about preparing for this day."
At 8:30 am or so, the players started hitting the ice to shoot video elements the Stars can use in-arena, online, and in their television broadcasts. This year, the team added a high-speed camera that shoots at 240 frames per second. The slow motion video it produced looks stunningly dramatic.
After some on-ice photos, the players removed their skates and pads and returned for the next several stations. The various emplacements were numbered and the front office issued each player a card listing which ones he needed to visit. Going in numerical order was not required so long as each player made it to every station they'd assigned him.
They had to get photos made for NHL official head shots. All pro sports leagues shoot such items preseason, so as a player you can always expect that whatever hairdo you had at the beginning of the campaign will follow you throughout visiting arenas for the rest of the season.
Players also posed for photos in team branded shirts, caps, and other wearables for use by the folks who sell Stars merchandise.
Three stations on the Dr Pepper Arena's concourse level involved players saying lines in front of a blue screen. The Stars have to use blue screens rather than the green ones typically used by weathercasters. That's because they wear green jerseys and the technology that removes the green to replace it with a background would also take out the jersey.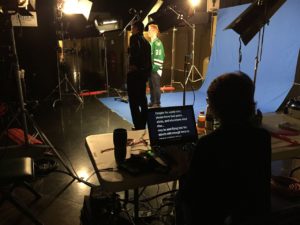 They said lines for marketing and in-game use. Spoiler: if you're at a game this year and the Stars score in the second period, you're going home with a coupon for a free taco. You may also laugh when the player on the video board says "I like tacos."
Another funny moment will come when players hold up a fake mustache while saying lines. This one isn't for a sponsor promotion, though. Pro athletes often look to do more than just entertain. They can can use their visibility to inform and motivate fans regarding charitable causes. The Stars Foundation station creates that sort of content.
Also upstairs, they did interviews for Stars features and Fox Sports Southwest promos and features.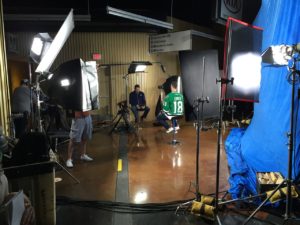 In a room downstairs, a sparkly 30-foot wide banner stood behind two podiums. Players entered this room by twos so they could play a game called "Head to Head." Stars TV/Radio analyst Daryl Reaugh played the part of a game show host, asking questions and allowing players to answer as seriously or flippantly as they desired. Sometimes they got it. Sometimes they didn't and it was still amusing. Reaugh suggested that the best line of the day might have been when defenseman John Klingberg declared "I don't understand this at all."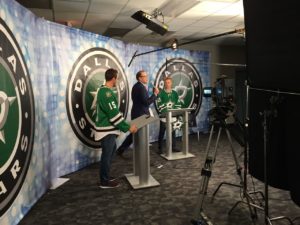 "The whole idea is to give fans a chance to see the players in a different setting, without their gear, and hopefully exhibiting a bit of their personality," Reaugh explained. "The more smiles we can put on fans' (and players') faces, the better."
Razor has mastered the subtle details that traditionally marked the game show genre. He wore a loud tie. He entered the set as if Don Pardo had just introduced him. He improvised awarding ridiculous sums of points for answers he saw as having shot and scored.
"One of the best answers came from (goaltender Antti) Niemi," Reaugh said. The question was: 'Would you rather spend summers in Texas or winters in Finland?' He was up against fellow Finn Kari Lehtonen and he showed quick wit to go along with his lightning reflexes. His answer: 'Summers in Finland, winters in Texas.' Bam!"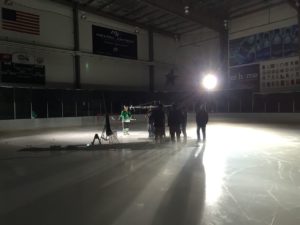 Reaugh even engaged in fake silent happy talk after the game show concluded. That's the part where the audio operator has turned the microphones down on the set but you see the host banter with the contestants as the credits roll. Razor mimicked the effect by mouthing words to the players after he closed each segment. If the players caught on, it was funny. If they didn't, it was funny.
Sports teams have long produced lots of content (like game programs, scorecards, and publications like Dallas Cowboys Weekly), but technology like HD video boards and websites has driven teams to put resources into producing content of all kinds like never before. They do it all to entertain and engage Stars fans like yourself. And now when you see some of that content on the American Airlines Center video boards, you'll be able to say "I know where that comes from – Media Day."
Disclosure: For the last couple of years, the Stars have paid me to help organize the crews and gear for their Media Day setup.