Mexican Breakfast
Critic's choice:  La Tortilandia, 1112 W Berry St
The massive size of the inexpensive breakfast burritos ($3.25) at La Tortilandia may limit their portability, so have a forklift ready if you plan on taking them home. Traditional Mexican breakfast favorites like barbacoa con huevos, menudo, and chorizo dishes provide plenty of fuel to start your day or combat the nastiest hangover. This family-owned spot also serves freshly squeezed juices and horchata.
Brunch
Readers' choice: Rio Mambo, Cityview Centre I, 6125 SW Loop 820
Critic's choice: Bird Café, 155 E 4th St
Bird Café offers soul-satisfying brunch dishes like the Mother and Child Reunion (fried chicken and grits) and the Bird Creole Benedict with fried green tomatoes. Boozy brunchers will want to try one of the gastropub's craft cocktails, like the Bird Mimosa or the Dude Imbibes (Avoca espresso and whiskey). Eat in the spacious dining area or feast alfresco on the place's great people-watching patio overlooking Sundance Square.
Kid's Dining Venue
Readers' choice: Central Market, 4651 W Fwy
Critic's choice: Clear Fork Food Park, 1541 Merrimac Cir
This food park features a rotating fleet of gourmet food trucks set near the banks of the Trinity River and offers a variety of made-to-order options for the whole family. Energetic kids can stretch their legs while waiting for their pizza or burgers. Parents can enjoy a glass of wine or beer from the onsite cantina while listening to live music on Friday nights.
Brisket
Critic's choice: Heim Barbecue and Catering, 201 E Hattie St
It's a good thing Heim holds back on handing out generous portions of its barbecue sauce, because drowning the eatery's signature brisket would be like drawing over a Picasso with Liquid Paper. The superior cut of beef and the painstaking efforts to produce it are evident on the plate and the palate.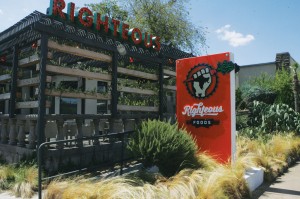 Atmosphere
Critic's choice: Righteous Foods, 3405 W 7th St
Righteous Foods' industrial modern space is open, and its color scheme features vibrant orange hues and warm wood accents. The brightly lit main dining room of Chef Lanny Lancarte's health-conscious eatery is full of colorful paintings by local artist John Holt Smith, and interesting-looking plants hang on a wall that was constructed using reclaimed wood. Herb-filled boxes screen the covered patio and make it a perfect spot to enjoy a freshly made cold press juice.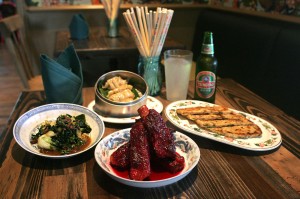 Chinese
Readers' choice: Cannon Chinese Kitchen, 304 W Cannon St
Critic's choice: Cannon Chinese Kitchen
A modern interpretation of traditional Chinese cuisine, the chic Near Southside eatery's menu of shared plates features elegant dishes such as the Heritage Ranch pork-and-leek dumplings, the nine-layer scallion pancake, and duck stir fry. Cannon's location in an old house gives it a cozy atmosphere, and the place is full of retro-modern touches like the richly colorful wallpaper.
Italian
Readers' choice: Nonna Tata, 1400 W Magnolia Av
Critic's choice: Nonna Tata
Nonna Tata's thoughtfully constructed antipasto plates and handmade pasta dishes bring us as close to Italy as we're going to get. The small dining area makes customers feel as if they are indeed sitting in Nonna's kitchen. The limited hours and seating are just part of the charm.