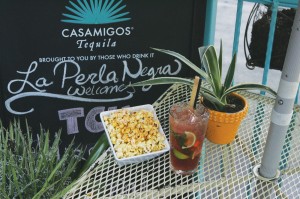 Alfresco
Readers' choice: Joe T. Garcia's, 2201 N Commerce St
Critic's choice: La Perla Negra, 910 Houston St
Healthy eating joints are a minority in the Fort Worth foodiesphere. Newcomer La Perla Negra is setting a healthy trend by using fresh, locally sourced ingredients and Latin-themed dishes that make ample use of seafood and veggies. It's no salad bar, though. You can find a killer Cuban sandwich and enough handcrafted tequila-based cocktails to inspire a Jimmy Buffett song.
Hot Dogs
Readers' choice: Curly's Frozen Custard, 4017 Camp Bowie Blvd
Critic's choice: Fred's Texas Café, multiple locations
Monster burgers, chicken-fried steaks, craft beer — Fred's already served up a lot of gut-busting food before entering hot dog territory. Now its menu includes a rotating "Dawg of the Month." Conceptualized by former Rodeo Goat chef Keith Grober, each one is massive and oh-so-good. August's mutant frankfurter was the Diablo Dawg, a Kobe beef sausage with chipotle peppers, Monterey Jack cheese, crispy onion strings, and Tabasco sauce.
Gourmet Pizza
Critic's choice: Chimera Brewing Company, 1223 Washington Av
Admittedly, there's good competition for this category. But Chimera Brewing Company (formerly Zio Carlo Magnolia Brew Pub) wins on moxie. The Near Southside haven for craft beer lovers serves several adventurous pies like the Brie and Spec or Prosciutto e Funghi. They are all baked to perfection in a brick-fire oven, and the staff is more than happy to recommend a good beer pairing.
[box_light]
Burger
Readers' choice: Fred's Texas Café
Critic's Top 5: The burger creations at 1.) Rodeo Goat (2836 Bledsoe St) occasionally border on outlandish flights of gastronomic fever dreams, but its Chupacabra Burger is as fantastic as the mythical creature for which it's named. As if it weren't already smoldering with fiery goodness from its beef-chorizo patty, it comes topped with even more heat from fried jalapeños and queso asadero, and the hatch chile and smoked lime aioli zap it with piquant goodness. 2.) Fred's Texas Café definitely delivers another burger at least as hot as the Chupacabra. The Serrano Burger provides a great balance of heat to flavor. The patty is stuffed with diced serranos and topped with grilled ones, but the Oaxaca cheese and grilled onions tastefully mellow out a superbly savory, spicy experience. Then there's Barnyard Brawl at 3.) Bronson Rock (250 S Main St, Keller). If you skipped breakfast, this burger's for you. Besides the melty ecstasy of a big slice of American cheese, it comes topped with a fried egg, bacon, and hashbrowns. Sometimes, though, a burger doesn't need to tower with toppings to impress. The Project X from 4.) Charley's Old Fashioned Hamburgers (4616 Granbury Rd) is a perennial fave, whose only gimmick, Tabasco cooked into the meat, is enough to sear your brain with a delicious scorching meal memory. And you can't go wrong with a classic bacon cheeseburger from 5.) Kincaid's Hamburgers (4901 Camp Bowie Blvd). The perfectly seasoned half-pound patty is elevated to must-try by a simple slice of gooey American cheese and pair of crispy, just-crunchy-enough bacon slices. It might not have a lot of flash, but Kincaid's cooks their burgers absolutely flawlessly, which makes all the difference when it comes to delectable simplicity.[/box_light]