Fort Worth Councilperson
Critic's choice: Cary Moon
He's new to politics and could turn out to be a hero or a goat, but Moon has already done something that immediately improved the city council –– he unseated longtime District 4 incumbent Danny Scarth. Moon earned 60 percent of the vote in May, which sent Big Oil's lapdog packing.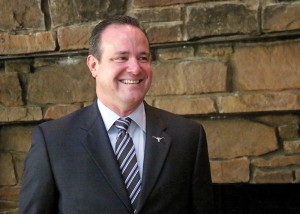 Readers' choices only:
Daycare
Children's Lighthouse, 612 8th Av
Teacher
Dan Russell, Diamond Hill-Jarvis High School
Podcast
Critic's choice: Funkytown Podcast
Founder Jeffrey Lord has been at his project only two years, but he's already racked up a respectable 83 episodes and more than 19,000 unique plays. Guests are from all backgrounds but are mostly creative types (musicians, writers, artists). It may not be the next Serial, but Funkytown Podcast is 100 percent local and full of colorful (and sometimes off-color) banter.
Thing Tarrant County Needs
Critic's choice: a baseball team for LaGrave Field
The resurrection of the minor league Fort Worth Cats in the early 2000s led to the creation of LaGrave Field, a cool ballpark in the shadow of downtown. But questionable executive leadership doomed the Cats. The team fizzled out last year, and now the stadium is in danger of being torn down to make way for developers unless another team comes along.
TV Journalist
Readers' choice: Deborah Ferguson, NBC 5
Critic's choice: Clarice Tinsley, FOX 4 News
Tinsley has been on air at KDFW for 36 years and is still going strong. A household name, she has covered everything from the fall of the Berlin Wall to Operation Desert Storm to the recent Ebola outbreak in Dallas. She knows how to convey the toughest stories professionally, the investigative pieces with vengeance, and the profiles with a passion that shows she truly cares about the people whose stories she is telling.
Sportscaster/Sportswriter
Readers' choice: Dale Hansen, WFAA Channel 8
Critic's choice: Ralph Strangis
So long, Ralph. The play-by-play caller for the Stars since they were still in Minnesota, Strangis, who recently announced his retirement to pursue his creative passions (especially acting), was half of the best broadcast team in North Texas. And arguably all of Texas. Precise, witty, and incredibly insightful, Strangis and Daryl "Razor" Reaugh, who is about to call his 20th season as color analyst for the Stars, were also bursting with passion: for the sport and for the home team. For the squad's 2015-16 campaign, Reaugh will be joined in the booth by Dave Strader, who provided play-by-play coverage for NBCSN during the Stanley Cup playoffs and regular season starting in 2011-12.
Hottest Celebrity (Male)
Readers' choice:  Leon Bridges
Critic's choice: Leon Bridges
Some guys look good. Some guys sound good. And some guys make you feel good. Leon Bridges, 26, does all three and makes it look easy. With a honeysweet voice and lyrics that embody the complexities of love, family, and spirituality, this vintage-clad Fort Worth soul singer has made national headlines, topped charts, and stolen our hearts. His November show at the Majestic Theatre in Dallas is already sold out.
Hottest Celebrity (Female)
Readers' choice: Kellie Rasberry, Kidd Kraddick in the Morning
Critic's choice: Ashley Smith
At 6'1", with long blonde hair and stunning blue eyes, League City native Smith easily fits the description in "American Made," the Oak Ridge Boys' classic ode to wholesome goddesses. But what makes the TCU junior even hotter is when she flashes that gorgeous smile after slamming a spike for the Horned Frogs' volleyball team. An outside hitter, Smith led the team in offense last season with a whopping 333 kills and was just recently named to the 2015 All Big 12 pre-season team. That she also happens to look great in uniform is practically an afterthought.
Print Journalist
Readers' choice: Bud Kennedy, Fort Worth Star-Telegram
Critic's choice: Peggy Heinkel-Wolfe, Denton Record-Chronicle
If you aren't reading Heinkel-Wolfe, you are not as informed as you should be. The veteran gumshoe is a clinic on investigative journalism, and she has been credited with helping Denton pass its fracking ban. She also keeps city council members on their toes and doesn't take no for an answer.