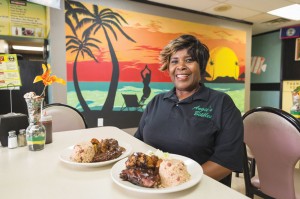 Latin/Caribbean
Readers' choice: Gloria's Latin Cuisine, 2600 W 7th, Ste 175
Critic's choice: Angie's Bikkles Caribbean Restaurant, 1704 Galveston Av
Angie's spot-on spices in Jamaican favorites like jerk chicken mingle well with their accompanying sauces. Exotic dishes like curried goat also possess several layers of spice-packed flavor. Angie's unique drinks, like the sweet sorrel or pine ginger, complement the heat of the fare.
Seafood
Readers' choice: Eddie V's Prime Seafood, 3100 W 7th St
Critic's choice: Pacific Table, 1600 S University Dr, Ste 601
Pacific Table's seafood-focused menu brings Fort Worth diners East and West Coast cold water oysters, a nice selection of traditional sushi, and daily seafood specials at approachable prices in a warm, modern setting. The scallop and ahi tuna salads are standout dishes that make for a light and satisfying lunch. For heartier fare, try the sumptuous San Francisco Cioppino soup, Trout Almondine, or Cedar Plank Salmon.
Bakery
Readers' choice: CC's Cupcake Heaven, 1956 Green Oaks Rd
Critic's choice: Black Rooster Bakery, 2430 Forest Park Blvd
Experience a little taste of France every time you walk into Black Rooster Bakery. The cozy neighborhood spot produces a wide array of sweet and savory baked goods for breakfast, lunch, and dessert. Softball-size croissants, portable mini quiches, scones, and muffins are just a few of the breakfast offerings. Lunch items include sandwiches and soups. To satisfy your sweet tooth, pick up some of the place's cakes, pies, tarts, cookies, and macarons.
Food Truck
Readers' choice: Taco Heads, 700 W 7th St
Critic's choice: Yatai Food Kart, 1311 W Magnolia Av
Tokyo Café Chef Kevin Martinez wasn't on hiatus too long after a fire forced the venerable sushi restaurant to close. He's continued to deliver his unique take on Japanese cuisine through his Yatai Food Kart. You can grab bowls of miso-ramen soup, kimchi sandwiches, brunch bento boxes, and takoyaki from the truck's semi-permanent spot in front of Avoca Coffee on the Near Southside.
Restaurant
Readers' choice: Waters Bonnell's Coastal Cuisine, 2901 Crockett St
Critic's choice: Grace, 777 Main St
Grace offers a consistently excellent dining experience. The downtown touchstone's elegantly serene environment provides an impressive setting for Chef Blaine Staniford's sophisticated interpretation of modern American cuisine. The attentive service is a picture of ghostlike unobtrusiveness. The happy hour bar menu and outdoor patio overlooking Main Street make Grace a fantastic spot for a weekday gathering with friends.
[box_light]
Steak
Readers' choice: Del Frisco's Double Eagle Steakhouse, 812 Main St
Critic's Top 5:
1.) Bob's Steak and Chop House (1300 Houston St) is famous for its dry-aged cuts of beef, and the king of them all is the côte de boeuf, a 22-ounce bone-in prime rib-eye that's lightly seasoned and perfectly marbled. 2.) Del Frisco's Double Eagle Steakhouse  offers a classic steakhouse menu featuring prime beef with great flavor that's admirably seasoned and convincingly seared. 3.) The Capital Grille (800 Main St) has all of the traditional beef cuts, like rib-eye, tenderloin, and prime rib, but what sets this downtown spot apart is its menu of adventurous dishes, like the gorgonzola and truffle-crusted New York strip with a rich cabernet reduction sauce. 4.) Newcomer Rafain Brazilian Steakhouse (2932 Crockett St) is like a meat gauntlet. The West 7th eatery specializes in uniquely Latin dishes, such as the picanha, a bacon-wrapped filet mignon cooked to perfection over an open charcoal pit –– and the staffers will just keep bringing it until you cry uncle. 5.) H3 Ranch (109 E Exchange Ave) serves tender cuts of beef that are cooked over a hickory wood grill for a smoky, mouthwatering flavor.
[/box_light]
Nontraditional Burger
Critic's choice: Kin Kin Urban Thai, 2801 W 7th St
Who says you have to have a bun for a burger? At Kin Kin, a garlic and soy-glazed Angus beef patty is wedged between two sticky rice discs. Sure, it takes a little more effort to eat, but diners are rewarded for their work with interesting textures and flavors.
View
Critic's choice: Campestre Chula Vista, 1950 Menefee Av
In an unlikely spot on the North Side, one that takes you past an old shopping center housing a Pancho's and Thrift Town, you'll find Campestre Chula Vista. Its hilltop location offers a spectacular view of Fort Worth. Chula Vista is Spanish for "pretty view," and this off-the-beaten-path gem delivers the eye candy.
Presentation
Critic's choice: Le Cep, 3324 W 7th St
Any chef who meticulously prepares an entrée's presentation is sure to put the same care into every step of making the dish. Le Cep's courses are a feast for the eyes as well as the palate. The glace dessert is a small mound of pure dark chocolate with a shimmering shell so glassy you can use it to put your makeup on. Bright, golden sprinkles of hibiscus and a small rose finish off the delight, which looks more like a minimalist work of art than a confection.
Dessert
Readers' choice: Swiss Pastry Shop, 3936 W Vickery Blvd
Critic's choice: Lili's Bistro on Magnolia, 1310 W Magnolia Av
The stylish Near Southside bistro comes alive after the entrée course. The Grilled Split Banana is a heavenly caramelized banana topped with creamy vanilla bean ice cream, almonds, fresh strawberries, and chocolate drizzle. The Heaven & Hell Cake is a stack of two moist layers of angel and devil's food cake that oozes rich peanut butter mousse and topped with a dark chocolate ganache icing. Lili's also offers several dessert drinks like root beer floats.
Breakfast
Readers' choice: Ol' South Pancake House, 1509 S University Dr
Critic's choice: The Lunch Box, 6333 Camp Bowie Blvd
You have to look for it a little, but tucked away in the labyrinthine Village at Camp Bowie is a breakfast nook that's light on grease and heavy on nuanced flavor. The brioche French toast is served with the perfect brushing of powdered sugar. The Hollandaise sauce topping the Eggs Benedict is a lively blend of tart and savory. Most of the dishes hover around $7, and there are several outstanding a la carte selections.
Ribs
Critic's choice: Angelo's Barbecue, 2533 White Settlement Rd
There's nothing swanky about Angelo's décor, unless hunter's-lodge chic is your thing. Since opening in 1958, the superb eatery has built a reputation for consistently tender slow-smoked meats (exclusively using hickory) served cafeteria-style. The ribs have a mildly earthy dry rub that's not too salty, and the meat is so tender a stern look can cause it to fall off the bone.
Middle Eastern
Readers' choice: Hedary's Mediterranean Restaurant, 6323 Camp Bowie Blvd
Critic's choice: The Flying Carpet, 1223 Washington Av
After being closed for two years, the Turkish restaurant and hookah lounge reopened last spring with the hiring of Chef Cebriel Demirtas. Dozens of hand-woven Turkish carpets adorn the main entryway, giving the space a distinctly Middle Eastern vibe. Chef Demirtas specializes in traditional dishes like Turkish lentil soup, baba ghanoush, and kebabs. After a few sips of gritty Turkish coffee and a puff from a hookah, you'll feel like you've been transported to a quiet nook in Istanbul.
Soup
Critic's choice: Hanabi Ramen & Izakaya, 3204 Camp Bowie Blvd
This ain't your college dorm ramen. Hanabi serves several varieties of the traditional Japanese noodle soup. The king of them all is the Tonkotsu, which features a thick slice of pork shoulder, a boiled egg, bamboo shoots, green onions, strips of seaweed, and a mound of fresh veggies, all swimming in creamy, rich, and savory pork broth.