Biker Bar
Critic's choice: MacGyver's, 4276 FM 1187, Burleson
It's a little off the beaten path, but so what? You're a biker. Catching a breeze on 35 South and turning onto Rendon-Crowley Road toward Mansfield is a great excuse to hop on your hog. The great bartenders, tarp-covered beer garden, pool tables, shuffleboard, darts, and lots of bike parking make it the best. There's also dancing, karaoke, and ice-cold beer, and the burgers are fantastic.
Gay or Lesbian Bar
Readers' choice: Rainbow Lounge, 651 S Jennings Av
Critic's choice: Best Friends Club, 2620 E Lancaster Av
This Lancaster gem is a great place to pick up a closet case who is "just there to dance" or hang at the bar and chill out. The environment is unpretentious, the drinks cheap, and the staff super-friendly.
Wine Bar
Critic's choice: Kent and Co Wines, 1101 W Magnolia Av
The best thing about Kent and Co is the large selection –– by the bottle or the glass. The worst thing about Kent and Co is, well, the large selection –– good luck deciding what you want. Fortunately, the staff is knowledgeable and willing to answer any seemingly dumb questions, provided you're OK with getting wine advice from someone dressed as a mechanic. The snacks are unpretentious and tasty, but if charcuterie boards aren't your thing, Kent and Co happily lets you bring in your own food. The patio is comfortable any time of the year, and even your four-legged friends are welcome.
Hotel Bar
Critic's choice: Whiskey and Rye, Omni Fort Worth Hotel, 1300 Houston St
Intimate yet spacious at the same time, like a sports bar and a speakeasy all rolled into one, this downtown spot has a lot more going on than the name might suggest. He can have a whiskey flight while she sips a Champagne Cobbler. Or vice versa. No one's judging here. Even the bar snacks are above average.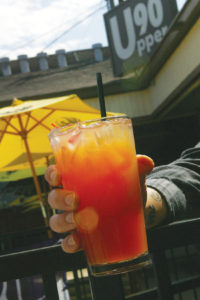 Sports Bar
Readers' choice: Upper 90 on College
Critic's choice: Frankie's Sports Bar, 425 W 3rd St.
This downtown location has been campaigning for the honor on social media, and one has to admit that they have a solid case. Their comprehensive menu includes a Bloody Mary bar on the weekends, cheap prices at lunch, and specials on various drinks every day of the week. Needless to say, they have a plethora of TVs to watch whatever sports you might want, including a row of comfy chairs and sofas in front of their biggest screen.
Gentlemen's Club
Readers' choice: Bucks Cabaret, 2345 Meacham Blvd
Critic's choice: Bucks Cabaret
Bucks knows it's all about the ladies. And the girls here are hot, talented, and friendly. And have we mentioned "hot"? Well, it's true. And it's also true that Bucks' team of pro bouncers keeps the jackassery to a minimum to ensure everyone has a good, fun, safe time. Bucks also offers daily drink specials, $6 lunches, and VIP packages starting at $400.
Beer Selection
Critic's choice: World of Beer, 3425 W 7th St
It's about time that the venerable Flying Saucer got some competition in the craft beer sweepstakes, and this national chain that has been in Arlington for some time finally set up shop in the Cultural District. Hundreds of beers from all over the globe sporting silly names and exotic ingredients (like Dogfish Head's new Choc Lobster, made with, yes, chocolate and lobster) are on tap or in bottles here.
Margarita
Readers' choice: Joe T. Garcia's, 2201 N Commerce St
Critic's choice: Shaw's Patio Bar & Grill, 1050 W Magnolia Av
Continuing in the tradition of excellent margaritas not found at Mexican restaurants, Shaw's are for purists: They're not blue or green but cloudy-clear like an overcast day. That's because they're made with three simple ingredients: tequila, lime, and a little sweetness. Shaw's 'ritas also come in pint glasses (salted or not), and the price is right: $4 during happy hour (3-7pm Tue, Thu-Fri), $5 all day Saturday.
Martini
Readers' choice: Bar Louie
Critic's choice: Thompson's
Sure, you can try to order a vodka martini or some fruit-infused variant, but you may get a funny look from the bartender. Here, the 'tinis are gin-based and stirred with a splash of dry vermouth. They're never lip-puckeringly sour or overly sweet. They're always just right. Plus, the straight-ahead jazz on the radio provides the perfect complement to your classy, and expertly made, libation.