Happy Hour
Readers' choice: Bar Louie, 2973 W 7th St
Critic's choice: Upper 90 on College, 961 W Magnolia Av
From 2 to 7pm Mon-Fri, the Near Southside bar offers $2.50 wells and domestic bottles, $3 16-oz. domestic drafts, $4 swirl margaritas and wines by the glass, and a complimentary nacho bar. And from 4 to 5pm, U90 makes everything half-price.
Bar Bar
Readers' choice: The Boiled Owl Tavern, 909 W Magnolia Av
Critic's choice: Sunshine Bar, 902 W Division St, Arl
Sure, the booths and barstools are a little worn. A cloud of cigarette smoke hangs in the air like the place is being fumigated for fleas the size of small birds. But there's not an ounce of pretension in this dive's nicotine-stained embrace. The 'shine serves good drinks at honest prices, and the place boasts one of the friendliest bunch of regulars in town. If you're looking for authenticity, this Division Street gem has been mostly unchanged since the Carter administration.
Overall Drinking Establishment
Critic's choice: The Grotto, 517 University Dr
Whether you're there to see a show or shoot the breeze, The Grotto is as comfy a lounge as you could want. It's kind of old, so it carries that '80s carpet-bar vibe, and the joint is split into two sections, one for breathing and live music (and various forms of live comedy), the other for cigarettes, and billiards. The Grotto has a pretty sweet little patio, too, as well as a roster of likable bartenders who are glad to see you.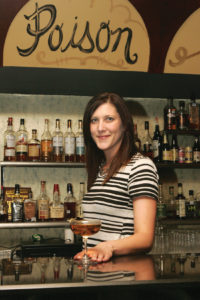 Bartender
Readers' choice: Les Bennett, Chimera Brewing Company, 1001 W Magnolia Av
Critic's choice: Megan McClinton, Thompson's, 900 Houston St
Given that Thompson's cocktails are exquisite, it takes a commensurately skilled bartender to master their creation and presentation. Megan McClinton slings Thompson's drinks with an air of understated flair. She's always on point with a recommendation when you don't know what you want, and she's also great at whipping up on-the-fly drinks that make sense.
Cocktail Lounge
Readers' choice: The Usual, 1408 W Magnolia Av
Critic's choice: Thompson's
Inspired by the downtown bookstore that gave the bar its name, Thompson's literature-centric décor (and secret door leading to the downstairs lounge) are so signature that they might make you forget that the libations here are just as, um, novel. Titled after famous fiction (and nonfiction, like the Killing Pablo, made with Tequila Cabeza, maraschino liqueur, and house-made jalapeño simple syrup), Thompson's cocktails are made with fresh ingredients, many of them whipped up in-house. Add to these delicious concoctions the smoldering sophistication of comfortable leather seating and shelves and shelves of books, and you'll swear you were made to enjoy the finer things in life. At least until last call.
Pub
Readers' choice: Ye Olde Bull & Bush, 2300 Montgomery St
Critic's choice: The Chat Room Pub, 1263 W Magnolia Av
Almost always crowded and joyfully boisterous, the Chat has been a Near Southside institution for years now. The lived-in environs and live-in characters are as welcoming as low lighting and a cold beer on a hot afternoon. The bartenders are always happy to see you and fast with the drinks, the billiards action is hot, and the singles are ready to mingle, though even the folks who are spoken for are at the Chat to party. It's a place where everyone knows everyone, and someone will probably buy you a drink. Be sure to return the favor, or at least share a bite of your sammy from the Gorgonzilla grilled cheese truck parked by the patio.