Bar Décor
Critic's choice: The Boiled Owl Tavern
Some bars go for super-sleek modernity, and some try to make you feel as comfortable as your favorite armchair. The Boiled Owl Tavern is decidedly in the latter category. In fact, with the variety of vintage furniture on hand, your favorite armchair may actually be there. The Owl's dark, earthy color scheme, wide array of vintage concert posters, cozy size, and angular mid-century jukebox all contribute to the feeling of something aged to a rich patina.
Bar Games
Critic's choice: Barcadia, 816 Matisse St
Seems like every new bar has a Frogger, Street Fighter II, or other scuffed-up arcade classic posted against a wall these days. But for our money (carefully inserted into the brown change machine and turned into quarters), Barcadia is still the proverbial King of Kong. And Asteroids, Q*Bert, Paperboy, NFL Blitz, Mortal Kombat, and a host of other coin-op gems from way back when. All that, plus pinball, skeeball, foosball, billiards, air hockey, and giant Jenga.
Patio
Readers' choice: Landmark Bar & Kitchen, 3008 Bledsoe St
Critic's choice: Fixture, 401 W Magnolia Av
Partially covered and equipped with ceiling fans to entice people to chill al fresco even during the worst of summer, Fixture's patio feels like a Zen garden. Maybe it's the gravel. Maybe it's the fresh herbs growing all around. Whatever it is, it generates the kind of serenity not normally associated with places serving deceptively delicious drinks.
Bar Bathroom
Critic's choice: Kent & Co Wines
We don't want to say how many times we've been to this bathroom, because it might reveal an unhealthy inclination toward wine. And drinking. But vast experience has shown that Kent & Co's is always clean and stocked full of paper towels and fancy, sweet-smelling soap. The lighting is good, too, hiding wrinkles and other imperfections that some mirrors insist on proving.
Country Music Bar
Critic's choice: Thirsty Armadillo, 120 W Exchange Blvd
With décor that looks unchanged since the Reagan administration and a dance floor that's feels as big as West Texas, the Thirsty Armadillo is as prime a spot for country music as they come. Some of Billy Bob's biggest local headliners (Casey Donahew, Randy Rogers, and Eli Young, just to name a few) started out at the Armadillo, probably playing to the same crowd of boot-scooters who have been showing up there every weekend for years. But even if your two-step is bumpier than a pair of ostrich skin boots, there's plenty of space to watch the pros. And the ladies behind the bar treat you like family.
Open-Mic Night (Music)
Critic's choice: The Moon Tower, 2811 S Cherry Ln
Headed up by Cosmic Trigger frontman Tyrel Choat, The Moon Tower's acoustic open-mic (9pm-12am Thu) is full of good music (from pros and amateurs alike) and cheap drafts. No cover.
Open-Mic Night (Comedy)
Critic's choice: Hyena's, 425 Commerce St
You know what's funny about Hyena's open-mic night? A few of the comedians! Honestly, if a single person earns some laughs at an open-mic, the night is a success. Luckily, Hyena's usually has some genuine talent bobbing in the sea of amateur schadenfreude. Sure, there are plenty of yuksters to make you cringe, but the ratio of awful to promising at the comedy club's Thursday night joke jam weighs enough on the side of actual laughter to make it a worthy destination.
Nontraditional Music Venue
Critic's choice: Dreamy Life Records & Music, 1310 W Allen Av
A favorite of Fort Worth's music scene, Dreamy Life has been through some growing pains, as they've relocated more than once in their brief existence before settling in at their current location, the equally grassroots Fairmount Neighborhood Library. Besides selling vinyl and cassettes, Dreamy Life has put on a series of interesting live music events, pairing bands and solo performers with documentary screenings and readings by music writers. It's an engaging mix of music and culture that stands apart from the usual shows in bars and clubs.
Karaoke
Readers' choice: Sarah's Place, 5223 Camp Bowie Blvd
Critic's choice: The Boiled Owl Tavern
Think karaoke is for the olds? Guess again, because the Owl's weekly karaoke party (9pm to close Mon) is a riot for drunk crooners of all ages. Sure, it skews a little on the young side, but it's routinely packed with people ready to belt out a wide selection of hits and misses. The line to the mics gets long, so you might want to sign up early. Otherwise, you'll be left singing Spice Girls songs to yourself on the ride home.
Band Name
Critic's choice: Tame … Tame & Quiet
Oh, hush. Not only is the name unique, but it's like a slap in the face once you roll into the club and are greeted by the most blistering, dynamic, and creatively multilayered prog-punk you've ever heard. After a long hiatus, the quartet is recording its third long player, this one with in-demand producer Britt Robisheaux at the new Cloudland Recording Studio. Get ready to receive da noise.
Local Music Show of Last 12 Months
Readers' choice: Polyphonic Spree at Bar Louie
Critic's choice: Summerthon at Shipping & Receiving
Designed to be a celebration of all things #scuzzysummer (think: sunburns, sweat, day-drinking 'til exhaustion, bikinis, Speedos, and personal watercraft), Summerthon was the brainchild of local music collective WIZARDVIZION and Shipping & Receiving, turning the venue's outdoor patio and stage into a delightfully tacky summer wonderland of above-ground pools, Jell-O shots, swimsuits, and party-hardy revelers conjuring memories of '90s-era MTV spring breaks. But besides nailing the vibe, the show featured a cross-county multi-genre lineup designed to maximize the good times. You got rock from Son of Stan, Bummer Vacation, Duell, and Denton's Pearl Earl and rap from Dallas MCs Sam Lao, -topic, and Blue The Misfit, plus Squanto's electro-panic freakouts and DJs throughout the day –– all for the mere cost of free. In the era when adjectives like "craft" and "curated" rule the day, it was exciting to see a party that took "low rent" as a compliment.
National Music Show of Last 12 Months
Readers' Choice: Rolling Stones at AT&T Stadium
Critic's Choice: Rolling Stones
Since at least the Steel Wheels tour (circa 1989), we have been warned that each local Stones appearance was probably the last we would live to see. It's a great way to build some hype, but sooner or later it is going to be the truth. The original bad boys of rock 'n' roll are now well into their 70s. Of course, that just makes their June appearance here all the more impressive –– Mick, Keith, and Charlie delivered a barrage of iconic favorites with the kind of relentless energy, endurance, and showmanship that would be envied by many men half their age.
Recording Studio
Critic's choice: Cloudland Recording Studio
Britt Robisheaux finally has a home. With help from Dreamy Life Records, a collaboration between two F-Dub labels –– Dreamy Soundz and Lo-Life –– the producer has just opened Cloudland. FOGG, Vincent Neil Emerson, Loafers, Jack Thunder & The Road Soda, and Teenage Sexx are just a few of the badasses who've already come through. On tap now is the long-awaited third album by Tame … Tame & Quiet, a.k.a. one of the greatest underground bands ever to call the 817 home. In the immortal words of Sun Ra, "Space is the place." Especially if you're looking for analog brilliance in the Fort.
Bar Snacks
Critic's choice: La Perla Negra, 910 Houston St.
The downtown Latin bar gets this honor for its Tajín-seasoned popcorn, which comes free of charge to anyone who sits down. The amalgamation of chile powder, salt, and dehydrated lime juice gives the corn a combination of spicy, salty, and sour flavors that proves highly addictive. Whether you're ordering beer or tequila, the popcorn makes the perfect complement.
DIY Venue
Critic's choice: Shipping & Receiving, 201 S Calhoun St
Yeah, we know it's not a celebrated, integral community hub that puts on free or donation-based all-ages shows. But in the wake of The Where House's demise, Shipping & Receiving has filled the role of a place with a lot of transformable square footage, from art shows like the Apples New Year's Eve party and May's Bobby on Drums to concerts like WIZARDVIZION's Summerthon. If you have the imagination, the crew, and the resources, S&R will give you the space to realize your dreams. Then there's Niles City Sound, a little pop-up studio loaded with vintage gear whose name you might have seen while reading about Leon Bridges. It's where the Fort Worth singer-songwriter recorded his major label debut, and, yep, it's also at Shipping & Receiving.
BYOB Venue
Critic's choice: Happi Haus, 1921 Hemphill St
Fort Worth's house-show scene is kind of small, but at least there's Happi Haus. Which is actually kind of big. Next door to long-running DIY event space 1919 Hemphill, Happi Haus hosts living room shows that are loud, sweaty, and fun. The week of SXSW is the best time to swing by. Lots of out-of-town bands like to play there on their ways to or from Austin. Just be sure to bring along some bucks with your beers – the hosts of shows like this always accept donations, and the bands onstage really appreciate the help with gas.
Place to:
Get Sidetracked
Critic's choice: Thompson's
Located in an early 1900s-built building and named after a previous tenant (Thompson's Bookstore), Thompson's is truly more than meets the eye and has a lot of bells and whistles designed to ensnare you. First, you'll be taken in by the homey interior, lined with bookcases that are stocked with actual books that you may enjoy while lounging in one of the bar's plush chairs. Read the literature-influenced bar menu, contemplating whether you "get" the references (if you brought a date, of course you do!), while your bartender tenderly mixes your drink using all sorts of fun tools and ingredients mostly made in-house.
Have a Conversation
Critic's choice: The Usual
The bar counter is a little crowded, but the furniture in this dark, cavernous, swanky Near Southside lounge is so spread out, you could heatedly "interrogate" the Foucault–Habermas debate or hypothesize over the ending of The Shining without any other customers even noticing. And The Usual's signature cocktails are so delicious, you might end up shouting down objectors (dumbasses, all) to Thomas Pynchon's Nobel worthiness without having the cops called on you.
Time-Travel without Going Anywhere
Critic's choice: Jazz Café, 2504 Montgomery St
On a street that's increasingly being defined by an encroaching megachurch on one side and a Bass family-led arena project on the other, Jazz Café is a surviving outpost of an older, funkier Fort. The charmingly ramshackle building houses both delicious Mediterranean food and one of the city's longest-running under-the-radar music scenes, as the sounds of live freeform jazz performed by a rotating cast of musicians fills the air. It's a great place to kick back, enjoy a meal, and soak in the ambiance of one of the city's last, best holes in the wall.
Seat for People-Watching
Critic's choice: Starbucks, Montgomery Plaza, 2600 W 7th St
Students, bicyclists, white-collar workers, hipsters, milfs, entrepreneurs, blue-collar types –– you're liable to see any or all of the above here. It's like a cult of pretty people looking for caffeine kicks.
Meet Someone of the Opposite Sex
Readers' choice: Reservoir, 1001 Foch St
Critic's choice: Central Market, 4651 W Fwy
It's surprising there aren't shoppers having sex in the aisles at Central Market. The store is practically designed for bringing people together. The deli section draws customers to browse and discuss important issues, such as whether celery should be added to a tuna sandwich. The salad bar requires people to stand elbow to elbow, shoveling spinach and such into a plastic bowl, providing ample opportunity for interaction for good pickup lines. Here's one for the girls: "Boy, if you were a vegetable, you'd be a cute-cumber." And for the guys: "Can I reheat my eggroll in your microwave?" *blank stare* "No, seriously. You're hogging the microwave. Move over."
Meet Someone of the Same Sex
Readers' choice: Rainbow Lounge
Critic's choice: church
This would have been an unthinkable pick even just a few years ago, when the only out homosexual you'd be likely to find at a church in this part of the country would be the choir director. Fortunately, the breakneck speed at which the LGBT+ community has won mainstream acceptance in recent years has pushed many local congregations to take an explicit stance on a topic that used to be taboo. Many area churches, including Celebration Community Church, Broadway Baptist Church, University Christian Church, Trinity Episcopal Church, and Galileo Church, have made a point of welcoming everyone with open arms. And if you find that special guy or girl in the Eucharist line, you can finally tell Mom the truth about where you met.
Take First Date
Readers' choice: Coyote Drive-In, 223 NE 4th St
Critic's choice: Café Modern, the Modern Art Museum of Fort Worth, 3200 Darnell St
Start at the bar around 5:30pm. It's classy enough to impress but casual enough for skinny jeans, and it overlooks a life-size sculpture of two silver trees near the pond, a great conversation starter (and awkward-silence solution). Now that you've got a drink to calm the butterflies, you can decide if this first date could turn into more. If so, partake in an appetizer from the Café and maybe even catch a flick. You'll seem cultured and cool without being pretentious, a major turnoff, even if you're turned on by Anselm Kiefer.
Day Drink
Critic's choice: Kent & Co Wines
Sipping away the sunshine is a blast at Kent & Co –– the wine and beer are reasonably priced, the service is quick and friendly, the bathrooms are clean, and the customers are chill. There's no hard liquor, which is just as well for day drinking. You can even bring your own food to soak up the booze, ensuring that you're fit to carry on with some serious night drinking.
Drink Alone
Critic's choice: Café Modern
If you're drinking solo every night, you might need to read our recommendation for best place to meet someone of the same/different sex, but sometimes it's nice to have a date with a glass of scotch and unwind in peace and quiet. Café Modern offers a not-too-raucous setting with a view of the museum's reflection pool. The spacious dining area has a full-service bar and makes for the perfect setting to get lost in your thoughts.
Nurse a Hangover
Readers' choice: The Polar Club Cryosauna, 5726 Locke Av
Critic's choice: Brewed, 801 W Magnolia Av
Whether it's a mug of strong black joe or a little hair of the dog, Brewed's got you covered. The Fairmount bar/restaurant serves nearby Avoca coffee to wake you from your stupor and offers an extensive beer list that will help you reboot and rally for whatever the day holds. And if you live in the 'hood, that probably means "more partying."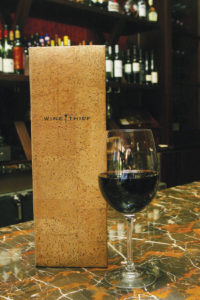 Have a Nightcap
Critic's choice: Wine Thief, Omni Fort Worth Hotel
Fort Worth certainly has no shortage of great bars. Some are loud, some are smoky, some have great live music, some have terrible live music (or karaoke). But for a nightcap, we prefer small, dark, and quiet. As the Omni's oft-overlooked bar, Wine Thief meets the three chief criteria and more, with excellent service and a wonderfully curated wine list. And by "curated," we mean the list is only two pages long. Wine Thief also serves up small bites, including chocolate truffles.
Start Your Evening
Critic's choice: Bar Louie
Whatever it is, Louie's doing it right. Along with a summer concert series that brought some huge regional stars to town, including Polyphonic Spree, Bob Schneider, Bobby Patterson, Reverend Horton Heat, and (Fort Worth's) Vaden Todd Lewis, the massive West 7th bar/restaurant has an exceptional happy hour ($3.25 drafts, $5.25 martinis 4-7pm Mon-Fri) and a crowd of attractive yuppies to keep the vibe buzzing and get you thinking ahead.
Place to Shoot Pool
Critic's choice: Puckett's Billiards, 5707 Crowley Rd
From cheap happy hour prices ($2.50 wells and $2 longnecks) to a whopping 18 billiards tables, Puckett's is the spot in south Fort Worth to sink bank shots and shoot the breeze. And if you feel a breeze while you're there, you may have just had an encounter with Puckett's resident specter, the ghost of U.J. Puckett, the famed pool hustler for whom the joint is named.