Old Guy
Critic's choice: Ernest "Rocky" Rothfelder
At 93, Rocky is the oldest Meals on Wheels volunteer in Tarrant County. That's right. He doesn't receive meals. He delivers them. And he's devoted his life to serving others. He's still an active member in the Lions Club, Fort Worth Elks Lodge, Shriners, St. Luke United Methodist Church, The Day Resource Center, and the Depression Connection for Recovery. (Just reading this list makes us tired.) The lawyer from Haltom City is also lucky in love. He's engaged to a beautiful 83-year-old lady he met at his church — proving that passion can last a lifetime.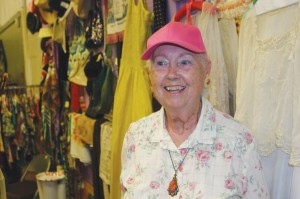 Old Gal
Critic's choice: Jean Klein, New Cattle Barn Flea Market, 8629 Camp Bowie West
For 40 years, the affable Jean Klein sold nostalgia at her long, narrow booth in the southwest corner of the Will Rogers Cattle Barn Flea Market. She dickered gently without being ornery, kept a smile on her face, and became a favorite vendor among customers and fellow junkers alike. After the city began charging high parking fees, customers abandoned the flea market, and it closed this year. Klein decided to retire. Then the bazaar was resurrected on the West Side, bringing back the gray-haired woman with the golden smile. Find her selling wares and spreading joy every Saturday and Sunday in her southwest corner booth.
Underrated Pro Athlete
Readers' choice: Tony Romo, Dallas Cowboys
Critic's choice: Mauro Díaz, FC Dallas
The small-statured playmaker from Concepción del Uruguay, Argentina, wears Number 10 for the Hoops, and in keeping with the spirit of other greats who've worn that jersey number like Pelé, Zinédine Zidane, and Lionel Messi, he has become the creative hub of FC Dallas' offense. Having started his career with the fabled Argentinian team River Plate (he's not the first FC Dallas player to come from there), Díaz has had some trouble staying healthy, but when he's on the field, he's one of MLS' most electrifying players.
Athlete (Almost) Worth His/Her Salary
Readers' choice: Dirk Nowitzki, Dallas Mavericks
Critic's choice: Tyler Seguin, Dallas Stars
Bounced from the Stanley Cup-winning Boston Bruins two years ago for reasons we still haven't been told about, the center from Brompton, Ont., led the Stars in goal-scoring last year and was fifth in the league overall with 37. He's hardly begging for spare change with a $5.75 million yearly salary, but considering that he's only the fourth-highest paid player on his own team and that he's only 23 years old, he's an asset that any NHL team would envy.
College Athlete
Critic's choice: Trevone Boykin, TCU Horned Frogs
After his team was snubbed by the College Football Playoff selection committee last year, TCU's quarterback is poised to lead one of the nation's best offenses on a revenge mission. The West Mesquite High School alumnus will probably head into the season as a favorite to win the Heisman Trophy. The fleet-footed athlete shows a nice touch on deep passes and has the necessary arm strength to fit the ball into tight windows. Look for him to shatter the school's passing records this upcoming season.
Use of Taxpayer Money
Critic's choice: South Main Street reconstruction
The Near Southside's South Main Street has been sitting stagnant for years, the victim of past road widenings, which have eroded the pedestrian infrastructure, but a new reconstruction project pushed by Fort Worth South Inc. is returning the street to its roots as an active, engaging place for people (as opposed to cars). The street's tiny sidewalks and wide pavement are getting replaced by spacious brick sidewalks, trees, lights, and bike lanes. It looks poised to kick off another round of redevelopment in the neighborhood, and it's a great example of using public investment to improve livability in the central city and spur private investment.
Neighborhood Group
Critic's choice: Riverside Arts District
In a few years, when the Race Street Urban Village is one of the city's hottest economic and social hubs, you can thank the folks at the Riverside Arts District. While there are many active neighborhood groups in town, few have done more with less. It's not a finished product yet, but Debby Stein and company have molded the downtrodden area into a place that frequently hosts outdoor markets, art shows, concerts, and neighborhood events.
Watchdog
Critic's choice: Bob Ray Sanders
After 45 years in journalism (first as a political and courthouse reporter for the Star-Telegram in 1969, then as a reporter for KERA before returning to the Star-T in 1990), Sanders announced his retirement last spring. In the second half of his career as a columnist, he openly criticized racial bias and inequality in the legal system and tackled dozens of other controversial issues. He was always forthright but also civil toward and respectful of naysayers. It will take a strong voice, and an even stronger journalist, to continue his fight.
Blog
Critic's choice: The Star Telegraph
The intro says it all: "Have you been appalled by what you see on the 'news' happening in the communities?" Pollution and misuse of public funds are popular issues here. While there's no shortage of topics people are willing to blog about, The Star Telegraph is a reminder that watchdogging still has a place.
Preserver of History
Critic's choice: John T. Roberts
Select any historic building in Fort Worth, and the odds are that local architect John T. Roberts knows its story. Roberts has been involved in historic preservation efforts in the city for years, and he currently serves as the Chairman of the Board of Directors of Historic Fort Worth Inc. He's also done a great deal to bring preservation to the public as the creator of fortwortharchitecture.com, which hosts an exhaustive database of information about Fort Worth buildings, an extensive historic photo database, and an active and lively discussion forum related to matters of development and architecture.
Best Kept Secret
Critic's choice: Farmers Branch Creek Waterfall
Looking for some outdoor serenity? Access the Trinity River trails off Pumphrey Drive (head north from White Settlement Rd/183 in Westworth Village) or Isbell Road (off White Settlement) and make your way northeast along the trail to the waterfall. It might not be Niagara, but it's sure to inspire you to decompress and find your center. You might even cool off with a dip in Farmers Branch Creek.