Customer Service
Readers' choice: Perfect Touch, 3023 Bledsoe St, Ste 103
Critic's choice: Caliber Collision, 2510 White Settlement Rd
A couple of months ago, a Weeklyteer got bumped from behind by a guy on his cellphone. Well, through the perpetrator's insurance company, our Weekly hero took his damaged vehicle to Caliber, whose employees were friendly, amenable, and prompt. They may be among the last people you want to see, but if you have a choice, seek them out.
Barber Shop
Readers' choice: Fort Worth Barber Shop, 3529 Lovell Av
Critic's choice: Fort Worth Barber Shop
Bo Diddley sang, "Shave and a haircut, two bits." Tom Waits croaked out, "I'd guess you'd say I'm on my way to Burma-Shave." And we say, "Head on over to Fort Worth Barber Shop." A trim and a hot-towel shave aren't two bits anymore –– you're looking at about $50 here before tip. But there's no denying this quaint place's Old World charm.
Hair Salon
Readers' choice: Linda's Hair Fashions, 100 Belmont St, Saginaw
Critic's choice: The Salon Upstairs, 207 S Main St
Despite having relocated to the ground floor of the historic Sawyer Grocery building on South Main, The Salon Upstairs continues to be an outstanding place to get your hair done. Owner Vandy Cespedes and her fellow stylists don't hesitate to offer guidance, and the spacious urban-chic interior pairs perfectly with their colorful attitude. It's a place that manages to feel equal parts hip and down-to-earth.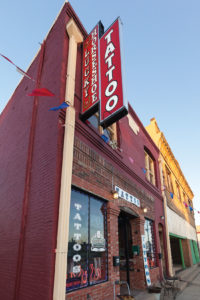 Tattoo Parlor/Artist
Readers' choice: Tattoo Ranch, 108 W Exchange Av
Critic's choice: Lucky Horseshoe Tattoo, 1426 N Main St
Clean and rustic, Lucky Horseshoe is a safe, happy place for either a full sleeve or a tramp stamp or if you're just window shopping. Female friendly, laidback, and sterile, Lucky Horseshoe has artists who can create unique designs or knock out old standbys such as "Mom" or Bugs Bunny.
Thrift Store
Readers' choice: Thrift Town, 2444 Jacksboro Hwy
Critic's choice: Berry Good Buys, 1701 W Berry St
Every time we start to think there might be a better thrift store in Fort Worth, we walk into somebody's house and see an amazing vintage couch, chair, or framed lithograph of an elephant. "Where'd you get that?!" we marvel. "I got it for, like, $8 at Berry Good Buys." Plus, we've actually witnessed Lexus-driving TCU students unload bags of clothes for donation –– there's a pretty good chance you'll find some designer threads. The best part? All proceeds benefit SaveHaven, a local women/children shelter.