Drinking beer and driving your car don't mix. Drinking beer and watching others drive, on the other hand, have long paired well together. The latter assertion is especially true when those other people drive in a contained environment and race each other at a really high rate of speed.
Today, we cover the Texas Motor Speedway as the third installment in our public service series about where to find beer at sporting venues of interest to Fort Worth-Dallas fans. The Fort Worth Weekly staff knows you like beer (we do, too, actually), and don't want you wandering aimlessly trying to locate it when enmeshed in a sporting spectacle. TMS hosts NASCAR events this week and weekend, so we want you prepared as you head to the track.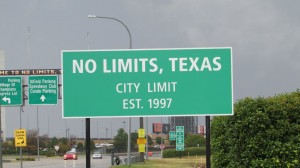 Street signs reflecting the speedway's marketing campaign declare the area "No Limits, Texas." Speed limits may not apply on the track, but knowledge of one's own alcohol intake limits enhances the raceday party experience. Texas Motor Speedway's size (it swells to become the seventh largest city in Texas during a race weekend) and relatively remote location make it a little different from some other sports venues, so you really need to make sure you plan ahead for getting home safely.
Track Media Relations Manager Louis Mora notes, "We have to move 160,000 fans, workers and campers out at once, making access to the facility difficult."
Because of the volume of traffic, post-race roads are rerouted to move in the direction of egress. Mora indicated that if you called a cab, the driver likely wouldn't be able to reach the facility for up to a couple of hours after the race. So your best, and most affordable, option is to designate a driver in advance.
The RV culture thrives in auto racing, so if you plan ahead, you can always drive yours to the track and park it. Sleep it off in your own urban assault vehicle and go find some breakfast tacos Monday. If you're parked in the infield area, you've got a couple of your own beer stands to choose from, plus a Fuzzy's Taco Shop emplacement.
If you don't mind dropping a bit of cash on transportation, you can arrive in a limousine. This option has the added advantage of a bar in the back where you could stock more beer. The track also has a helipad north of the speedway if you can manage to borrow or steal a Chinook or Sikorsky.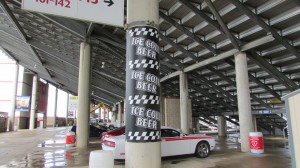 As you depart your chopper and enter one of the gates, you'll no doubt start to think about where to find something beery to slake your thirst. The track has helpfully wrapped signs around columns reading "Ice Cold Beer." These unambiguously indicate you have drawn nigh to a vendor who will sell you some suds.
Lincoln Engstrom is Executive Chef of Levy Restaurants' emplacement at the track. He knows where the beer is. Engstrom said their biggest sellers are the standard domestics, as in most places. The track doesn't have a beer sponsor, so the selection is pretty balanced. You'll find Budweiser, Bud Light, Miller Lite, Michelob Ultra, and ZiegenBock cans at 18 different concession stands. You can add the official beer of NASCAR, Coors Light, to the stands by sections 107, 115, 131, 143, 414, 419, and 429.
Note to brewers : the brewskis sponsorship category is indeed available and I can tell you who to talk to. Let's meet up for a beer (your treat) and I'll clue you in. You could have a huge freaking sign, some clever scoreboard features, and a leg up on pouring rights before the next dirt track race.
A small number of drivers have beer sponsors from the big breweries, so if you want to choose your consumables based on your support for Kevin Harvick (Budweiser, switching to Busch in 2016) or Brad Keselowski (Miller Lite), you have that option.
If a drinker wants to expand her selection beyond the norm, she can find Shiner, Corona, and Angry Orchard at portable carts by sections 115 and 414. The true beer oasis, however, appears by Gate 4, near the start/finish line.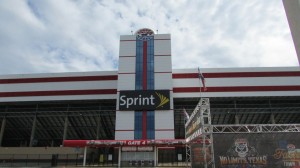 "The real beer star is the local beer tap wall," said Engstrom. "That gives you the full gamut. You've got an IPA, you've got blonde, we've got a couple lagers in there."
"Levy Restaurants, as a premium food service provider, is kind of trying to stay on top of trends," he said. "That's kind of the biggest growing category is these craft brews."
At the Local Texas Craft Beers tap wall, you'll find the above-mentioned Budweiser, Bud Light, Michelob Ultra, and ZiegenBock. You'll also find an assortment of Texas brews in a variety of styles:
• ZiegenBock Dungskier (Houston)
• Audacity Sunset Vienna-Style Lager (Denton)
• Deep Ellum Dallas Blonde (Dallas)
• Franconia Lager (McKinney)
• Grapevine Lakefire Rye IPA (Grapevine)
• Karachi Hopadillo (Houston)
• Nine Band Cactus Cat Kolsch (Allen)
They come in a 22-ounce souvenir cup and cost $12 (regular domestics run $7 or $8). Engstrom's team selects the beers through tastings and consultation with vendors.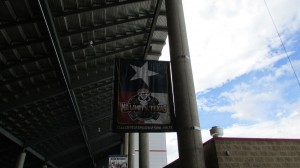 An advertising landmark might help you remember how to find the craft beer stand. Whether you find it awesome or politically incorrect, the nearby Miss Sprint Cup sign is certainly memorable and could speed your successful return to Gate 4's location.
I always feel it's important to check what plans a sporting venue might have in place for ensuring they don't run out of beer.
"We do projections way ahead. In the concessions area in particular, we will overstock, almost by a hundred percent," explained Engstrom. "We'll have trucks sitting on property, refrigerated trucks that have beer sitting there so that never happens."
You can actually take personal responsibility for not running out of beer, as TMS allows you to lug in your own cooler. Few venues allow fans to bring in outside food and beverage of any kind, and almost none allow one to bring alcohol. That means it's a special privilege – don't abuse it and ruin it for the rest of us. Do not bring glass of any kind in that cooler. It needs to measure no more than 14″ x 14″ x 14″ and you can't bring your own alcohol to the suite level, Victory Lane Club or in the Village of Champions.
Here's a fact beer drinkers will appreciate: the speedway boasts capacity for 200,000 spectators. That means, as Engstrom points out, "We have bathrooms for 200,000 people," even if not that many fans show up for, say, a truck race. As long as you don't all head for the same loo, you should find manageable lines.
Whatever kind of beer you end up recycling, TMS policy allows freedom of movement within most areas of the speedway, and fans with any sort of ticket can access any of the craft or big-name brewery beer options. Just don't try to drive after drinking a lot of it – at TMS, it makes sense to leave the driving to the professionals.