Mister Sundance Square seemed to be everywhere at the just completed four-day Fort Worth Film Festival.
Downtown developer Ed Bass was particularly easy to spot on Saturday. Thin, immaculately dressed as always, and sporting a splash of eccentric style —  feathers in his hat and coat — Bass strolled around like a proud papa bear. He knows the value of cinema. The Bass brothers lured the AMC Palace theater as an anchor tenant after they began revitalizing downtown in the 1980s. Multi-screen theaters were pretty much the domain of suburban malls back then.
"When we brought in the AMC with a multi-screen theater, it was their first venture into an urban environment," Bass told the Weekly. "That was a big boost for Sundance Square. It tied us in with the tradition of movies in downtown in Fort Worth. We've really endeavored to make a place here where everybody comes and feels comfortable and enjoys themselves."
He likes that people of all incomes, cultures, and ages come. The area looks amazing with the fountains, lights, and beautiful art-deco buildings.
"Families, young people, old people, everybody comes here, and that's our goal," Bass said. "People like the buildings and they like using them. Everything you want to do, you can walk to. The plaza was the icing on the cake. A real focal point. The crucial test of a public place has proven out, in that it's a place people come to just hang out."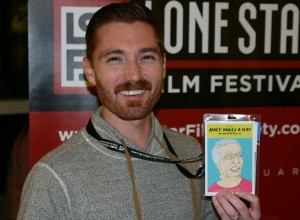 Atlanta-based filmmaker Jared Callahan flew in on his own dime after his film, Janey Makes A Play, was selected for the festival.
"When you get into Lone Star Film Festival, you come to Fort Worth," he said. "The audience is educated, they care, and they want to discuss film with you. It makes it worth it for us filmmakers to fly here. We lean on these quality film festivals to introduce us to the audiences that will care about our stories."
People care, for sure. Quite a few were angry after being turned away at packed screenings. People who buy $150 all-access passes get first dibs. Individual-ticket buyers can and do get bumped. Here's a comment on our web site: "VERY disappointed that I, a non-passholder, was unable to see the 6 pm showing of Carol today … . All seats were taken up by pass holders and ticket holders were treated as a sub-culture, made to wait 45 minutes in line for nothing."
The situation is a minefield. Filmmakers are there to network among themselves, for sure. But they also want to show their products to the regular folks. Indie filmmakers rely on word of mouth. But not everyone can afford $150 or devote four days to the event. Creating a class-war that excludes John and Jane Public from the most popular shows isn't the way to go.
The Lone Star Film Society has an ace up its sleeve: new director Chad Mathews.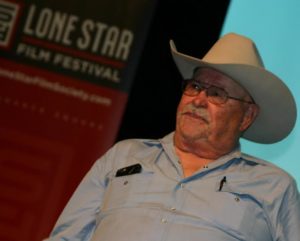 Mathews took over after the previous director departed suddenly. With only four months to prepare, Mathews and a large cast of helpers pulled off a festival that attracted celebrities Malcolm McDowell, Barry Corbin, Joanna Kerns, and Bill Paxton. Movies and events ran on time for the most part.
Mathews is open-minded and a good listener. At the end of an event late Saturday, after most people were gone, guess who was cleaning up empty glasses and bottles, and folding up chairs? It was Mathews, still wearing his suit while working up a sweat. A filmmaker himself, he obviously knows the movie business. Picking up empty cans shows he knows work ethic and humility as well.
This bodes well as the film society prepares for next year's 10th anniversary.