The University of Texas-Arlington men started their victories over some of the best-known names in college basketball at 5:50 a.m.
"We do a defensive boot camp every year and that's kind of where we try and instill toughness and grit with our guys," explained head coach Scott Cross. They held the camp on outdoor courts this year, adding to the grit factor. The timing required a certain resolve, too.
"We had a couple of sessions at, like, 5:50 in the morning. So now you're getting (started) before the sun comes up," Cross explained. "The guys are working, diving on the floor, defensive stance, and everything. It's an hour workout and it's probably the hardest hour they'll ever experience."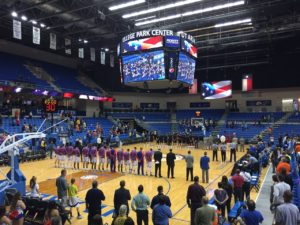 The Mavericks have recorded difficult road wins over Ohio State and Memphis on their path to a 5-1 record this season. They've provided some outstanding individual offensive performances, with Erick Neal and Kevin Hervey winning back-to-back Madness Sun Belt Men's Basketball Player of the Week Awards. However, they lost their top four scorers from 2014-15 and haven't won games this year by outshooting opponents. The Mavs have shot 39% from the field as a team, about the same as their opposition,
"You would think if you shoot under forty percent, you're going to lose basketball games, but the only one we lost was Louisiana Tech," said Cross.
The Mavs have had almost 60 more attempts from the field than their foes, due in large part to a substantial edge in offensive rebounds. They've also had more steals and fewer turnovers. So when you watch them take on their next major conference foe tonight on the Longhorn Network, keep an eye on what happens when UTA doesn't have the ball. Defense has been the key to their fast start.
"I think it's been a big part of it," Cross said. "All the guys buy in."
Texas-Arlington uses a variety of defenses, including three full-court presses to go with a matchup zone and man-to-man in half-court situations. His players and staff choose sets based on the game situation. No matter what, the defenders have to stay active, even when they go to the zone.
"Even though it's the zone principles, they've always got a man," said Cross. "Every one of the offensive players should be accounted for. If they're not, if somebody's running around and nobody's with him, then we've made a mistake. It's all about communication."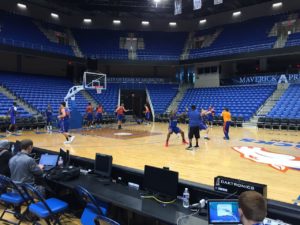 To demonstrate how communication fuels good defense, the Mavericks practice the skill. As they prepared for the Texas game at Monday's practice, when Cross introduced a new concept designed to counter one of the Longhorns' offensive sets he solicited names for it from the players. As the drills continued, a cacophony of "fours" and "I got balls" and "get high posts" resonated through College Park Center, as it no doubt will at Austin's Erwin Center this evening.
"It starts with their voices being loud. We try to encourage it in everything we do."
Some of the first drills the Mavericks run at practice emphasize guarding the dribbler and running at shooters. As much as any previous year, the team has the personnel to execute the schemes well. Long guards who close out quickly help control the perimeter when the Mavs extend their zone: opponents have shot barely 27% from three-point range. Their point guard's speed also causes issues for opposing ballhandlers.
"Erick Neal is a guy that can really badger the ball and create chaos because he's the quickest guy out there," Neal's coach said, while also praising the work of the post players.
"I'll give a guy like Jorge Bilbao a lot of credit. He's our toughness and grit. It starts with him. He has no backdown from anybody he plays against."
Cross also cited the contributions of Bilbao's backup, Nick Pallas.
"Those two guys have really anchored our defense."
Eventually, one does have to score to win ballgames. Cross wants the aftermath of a successful defensive possession to generate offense. Pushing the ball up the floor can create easy baskets when other shots aren't dropping.
"We play fast. The last five years, we've had a top-fifty tempo team in country," Cross said of the role the transition game plays for his team. "I do give our guys freedom offensively to play fast."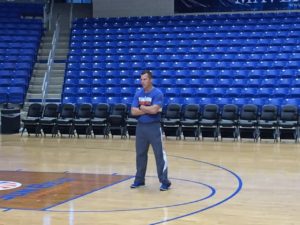 Cross guided the Mavericks to the only NCAA Tournament berth in the program's history in 2008. He feels that the true benefits of the big wins they've had before Christmas will come as St. Patrick's Day approaches and the games get more meaningful.
"The biggest thing is just giving our guys confidence, You go into a season and you feel like you can play with anybody, but there's always that doubt until you knock one of them off," said Cross. "I think that confidence will help us throughout the season."
The team may not have reached its ceiling yet. If the shooting improves to match the defense, they could accomplish a lot. But what if the defensive intensity dips? Over his ten years as UTA head man, Cross has developed methods to ensure that doesn't happen – methods that involve alarm clocks.
"I started a hustle point chart. We keep track of offensive rebounds, defensive rebounds, deflections, dives on the floor, loose balls, charges, and whether we give up and-ones, us versus the opponents. If we lost the hustle points and lost the game, we woke them up at six in the morning and did extra conditioning," he explained. This year's team had a taste of what Cross euphemistically calls "championship conditioning" after a scrimmage loss.
"They didn't like it," he noted.
This group of UTA student-athletes may not like early mornings, but they have to feel pretty positively about their early season results. If they keep them up, their rewards will include a run to the postseason, as well as a more collegiate approach to sleeping habits.