Randy Rogers Band's Nothing Shines Like Neon
Some of the best country and western songs feature Texas cities: "Abilene," "Amarillo by Morning," "Galveston," "El Paso," and "Does Fort Worth Ever Cross Your Mind," to name .00001 percent. Few Texas municipalities receive more title mentions than the Alamo City, including "San Antonio Rose," "San Antonio Stroll," "(Is Anybody Going To) San Antone," and "San Antonio Girl." Writing something better than Bob Wills' "San Antonio Rose" is damn near impossible, but Randy Rogers might have just nabbed the No. 2 spot with "San Antone," the first track on his excellent new album.
"San Antone" is catchy, melodic, and ear-wormy. The musicians are spot-on, particularly fiddler Brady Black and lead guitarist Geoffrey Hill. The lyrics describe the city's pull by trotting out a Texas legend: "You gotta go when you gotta go / Like Crockett to the Alamo," sung with understated ease in Cleburne-raised Rogers' aching voice. Written by Texan-turned-Nashvillean songwriter Keith Gattis, the song is an instant classic and serves notice that Nothing Shines Like Neon isn't another yawner in the tired old Red Dirt genre that Rogers and others helped spawn a dozen years ago –– a genre that devolved into superficial, exploitive, drunk-taco-pickup songs geared toward mankind's lowest common denominator, a.k.a. the numbskull frat crowd that doesn't have the sense God gave a chigger.
Thankfully, Rogers serves up 10 modern country songs with heaps of genuine emotion and sincerity. An 11th tune, "Taking It as It Comes," veers dangerously close to Red Dirt crapola, but pioneering Outlaw singer Jerry Jeff Walker is featured on duet vocals, so it's forgivable. Rogers also sings a duet with the angelic Alison Krauss on "Look Out Yonder," although her voice is so inexplicably low in the mix that she's unrecognizable.
Nobody's going to mistake Rogers for Bob Dylan, but good lines frequently pop out of the speakers:
"You're at the top of my list of things I need to quit."
"He has no use for silver because his heart's as pure as gold."
"Kill me slowly like these cigarettes."
"The rent's as high as Willie."
"Pour one for the poor one."
There's a dearth of good lyrics in this genre these days. Clichés abound. Rogers almost defends the process in "Old Moon New" –– "Girl, I wrote you a letter / A thousand old clichés / But it's what I wanted to say."
Fortunately, he seldom goes that route in his music. Rogers doesn't dumb things down, nor does he try to unveil overlooked universal truths or invent new words and languages. He simply strings together simple words in unique ways or performs songs written well by others. Add some great musicians to the mix, and you've got yourself an album.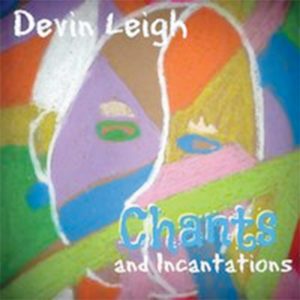 Devin Leigh's Chants and Incantations
The gnarly beat of a bass drum and powerful hemorrhage of a bottleneck slide on a resonator guitar kicks off in fine style this third album by Fort Worth's Devin Leigh. The singer-songwriter is a one-man wrecking crew at live performances, and his new set of bluesy self-penned songs provides plenty of opportunity to show off his instrumental wizardry. I imagine people have heard Leigh playing in bars over the years and thought, "Man, this guy is good. Why isn't he a star?" Leigh plays with finesse and fury, blows a simple but mean harmonica, and keeps things mostly uptempo and grooving –– factors that generally play well to drunks in smoky bars. He sings rather sweetly and in a high range, which sometimes conflicts with the gutbucket blues he's playing. But most of the time this creates a nice yin-yang effect.
A studio recording is a different animal than music performed live in a bar. I can't count how many times I've been blown away by bands at clubs, bought the album, and then listened to it the next day and thought, "This sure sounded better when I was half drunk at the roadhouse."
Chants and Incantations swept me up with the opening lick of the first song, "100 Miles from Home" and kept me interested until the end with its growling vibe. But a problem arose on my second listen –– when I started honing in on the lyrics. They say little of anything new, relying on well-worn themes and phrases. He's walking down the road. He's boozy. He wants to get home. He's blue. And, damn it, that woman's going to miss him when he's gone. People have been walking down this same musical road for decades if not centuries. You'd think they'd find their homes eventually.
Things get happier on "Fine Wine" but no more distinctive musically or lyrically. Then, a funny thing happens on the way to my disenchantment. I hear somebody whistling. The sound segues into an intriguing, haunting minor chord progression on a guitar, setting the mood for a story song. With a narrative! Plot! Details! Leigh is mesmerized by a señorita who seems to be a witch in a sketchy border town. Not much really happens, but it's a start.
The momentum is temporarily quelled by "Sunshine and Rain," a pretty song but another predictable set of lyrics put to a familiar arrangement. "Prosperity" includes a fantastic tone on his harmonica and cool distortion effects on his vocals.
"As Long As We Go" sounds more country than the other songs and features warm harmonies to nice effect, while the instrumental "A Beautiful Mistake" closes the album in random, meandering fashion. This collection of songs works best as background music while I'm barreling down the road with something on my mind, rather than when I'm nerding out on the lyrics. After all, putting poetry to blues isn't as easy as Leigh's songwriting hero, Townes Van Zandt, made it sound.