If you visit Surprise, Arizona for Rangers spring training, you probably won't find yourself needing to source several bags of whole pecans. You likely won't find yourself at the mall seeking the cheesiest temporary tattoos you can find. And you almost certainly won't have to haul a drum kit, keyboard, and complete horn section to the visiting clubhouse. But should one of the above circumstances arise, let me know. I may be able to help you.
From 2001 to 2012, I attended every Rangers spring training, primarily for the purpose of gathering video and audio elements to create commercials and other media productions for the team. The Rangers ran a pretty lean shop, so as the producer/writer/director of the spots, I typically also served as prop master,
When we shot in Arlington, I knew plenty of places to buy, borrow, or shoplift props. The ballpark had a whole store full of them downstairs. A closet in my old room at my parents' Fort Worth home became known as "the prop closet" after I raided it multiple times in search of old baseball cards and other sports memorabilia needed for commercials.
Digging up unusual items presents more of a challenge in remote locales, and you never know what a given concept will require. The first time I found myself in need of spring training props beyond bats and balls came in 2002 in Port Charlotte, Florida. In the offseason, I had run across a list compiled by the prestigious National Hot Dog and Sausage Council of hot dog-eating dos and don'ts. I built a series of commercials around these official guidelines. It turns out you aren't supposed to eat hot dogs off fine china, so I was faced with needing to find some dishes we could abuse in a tiny Florida town. I turned to a staple of prop people everywhere, the local Goodwill store. Soon enough, we had a tea set and plates to use in Michael Young's first career commercial. We ended up not destroying them, and I had no intention of stuffing them into my luggage, so I donated them back to the store. Somewhere, someone is eating off the same second-hand plates a future All-Star did.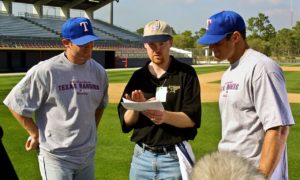 I can tell you where the Goodwill is in Surprise, Arizona, too. I found an owl sculpture for a Park Place Dealerships Triple Play spot that former third baseman Hank Blalock found hilarious. Later, we would put it in random people's offices at the ballpark. It is probably still floating around up on the fourth floor somewhere. Goodwill was no help, however, when it came to finding whole pecans.
The ad campaign in 2011 revolved around Texas symbols like bluebonnets, longhorns, and, in this case, the state tree. The premise of the spot was that Nolan Ryan (team president at the time) had planted a pecan tree in the ballpark. Texans know shelling pecans can be a difficult task, so power-hitter Nelson Cruz had supposedly been recruited to help by mashing them off a tee, assisted by then-hitting coach Thad Bosley. I needed pecans still in their shells, and Arizona is not the pecan haven North Texas is. I finally found some in a co-op grocery down in Tempe and Cruz scattered them around the batting cage.
We had used the same batting cage in 2005 for applying temporary tattoos. For that project, I needed to scour the local mall for a selection of the goofiest looking ones. I didn't write the commercial this time. The idea came from first baseman Mark Teixeira, and he scripted it with input from Young and Blalock. Blalock had attained some notoriety for his body art, and Teixeira and Young amusingly imitated him with limited success.
I returned to Tempe for some custom wardrobe for a 2012 spot. We couldn't schedule the shoot until the last minute and needed custom t-shirts done lickety-split. A college town seemed like the place to find what we needed, and Brand X Custom T-shirts delivered them. For this particular spot, I also shipped out the entire stock of prop clothing I kept at the ballpark for use in videos. We needed a lot, because the premise of this spot was that for Nolan Ryan t-shirt day, we would actually be giving away Nolan's own shirts. His wife had ostensibly tired of them cluttering the closets and was getting rid of all his ratty old tees. The crafty Hall of Famer had snuck out an old favorite, however, and worn it to game with his grandkids (the spot did co-star some actual Ryan grandchildren). The piece had five alternating endings, which meant Nolan had to change five times to get all the shirts in. As he trudged upstairs to change for the third or fourth time, he said to me (jokingly, I am pretty sure), "Why'd I agree to do this again?"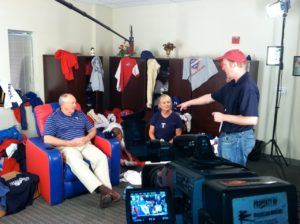 The bulkiest haul I had to track down came for a spot in 2005. In an effort help Spanish-speaking fans identify with the ballclub, a TV spot was to suggest that Rangers baseball moved with a Latin Rhythm. We wanted to shoot it music video-style with all the Latin players. Some friends at local studio Dallas Audio Post helped me track down a backline company in Phoenix to supply a drum kit, keyboards, horns, and everything we needed to supplement my own guitar, bass, and amps (brought on the van from Texas). We mostly just let the players pretend to jam as the spot's music cut played, while our videographers Eric Koski and Tim George, plus then-team photographer Brad Newton, gathered images. In putting the script together, I had scoured the dictionary for words that might apply to both music and baseball, and it turned out that we could make wordplay off the words for drumming and hitting, That worked great, since the hitting coach at the time, Rudy Jaramillo, spoke Spanish. He finished off the spot, and we also made an English version out of it, plus a longer music video. The players apparently enjoyed it, because in 2010 Frankie Francisco asked my Rangers colleague Hugo Carbajal and me to recreate the video. He had missed the first shoot rehabbing an injury but thought it would be a good bonding exercise for the players. We got to do it all over again and it was a blast just like the first time, only now in high-definition thanks to advances in technology over the years.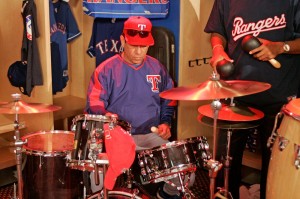 I probably can't be as helpful navigating Surprise as I could have back in, say, 2009. My favorite wine bar closed and who knows if the fish taco place and the Greek restaurant still exist. But if you need unshelled pecans, a rental trombone, or a t-shirt reading "Chicks Dig the Fastball," I might be able to assist.