The name "March" sounds like a military PT regimen. The sports phrase most associated with the month implies a certain mad-as-a-March-hare kind of crazy. And most April Fool's Day pranks are planned during its 31 days. Any way you look at it, March is a funny sports month. Here are five reasons why.
Football-free
It's typically the only month of the year with no American-style football. The Arena League doesn't start until April. NFL and CFL training camps remain a ways away. The long-defunct USFL and XFL tried it, and organizations like Major League Football might give it a try again, but it has generally remained unfootballed. We do get to watch professional Association Football, as the Major League Soccer season starts this week and European leagues continue.
The Biggest International Events Avoid It
It's not quite cold enough for Winter Olympics, but not quite warm enough for the summer games. In fact, no Olympic Games, FIFA World Cup, or Rugby (Union) World Cup has ever been held in March. The World Curling Championships have traditionally taken place during the third month, though, so there's that. MLB has also staged the World Baseball Classic every three or four years in March, but it hasn't really risen to the level of the other big global events. When held in the southern hemisphere, the iCC Cricket World Cup probably comes the closest to putting the month on the global stage.
No Playoffs
No major U.S. league holds playoffs in March. The period joins July, August, and September as the postseason-less season, what with the World Series stretching into November now and the MLS Cup pushed to December. We don't have any All-Star Games this time of year, either. Pro hockey and basketball certainly have compelling games as teams jockey for playoff position, but you also have some squads playing out the string after February's trade deadlines.
Spring Training
No other sport gets so much traction out of its ramp-up period. Major League Baseball plays a whole schedule of preseason games, charges normal prices for them, and nobody minds. The national pastime has it sweet that respect. The home fans don't complain that meaningless games were included in season ticket packages, the franchises make additional money when those fans travel for a snowbirding experience, and they also get to sell tickets and t-shirts to the natives of whatever Cactus or Grapefruit League municipality built them a charming ballpark.
Plus, because no regular season games are played in March, baseball teams will sometimes celebrate the month's most noteworthy holiday later in the year. A number of teams do "Halfway to St. Patrick's Day" promotions for September 17th games. You've really got a month figured out when you can make money off it 20-something weeks after it ends.
March Madness
Well, yeah, Month 3 does get wild sometimes. Certainly, the United States' most heated March sporting event comes from the college ranks. The month inspires substantial passion among college basketball fans and those of you who chose the right upsets in your office bracket pool.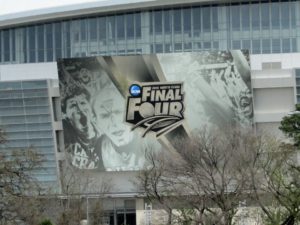 March ostensibly comes in like a Lion (Bobby Layne vintage) and goes out like a, well, Lion (Dan Orlovsky vintage). In reality, it's pretty laid-back throughout, reflecting more anticipation than finality. Even March Madness now concludes in April.
For the most part, March seems to be the spring break month for students and sports fans. It's a chance to chill out and maybe read a good sports blog post or two before baseball home openers and Stanley Cup Playoffs and Champions League Finals demand your most urgent attention and some face-painting, chest-bumping intensity. See you on the beach.