Left Arm Tan is a country-and-Western band, although its adventurous members sometimes defy that categorization. There's plenty of heartbreak to go around on Lorene, the fourth album in six years by this Fort Worth-based quintet. A pedal steel guitar whines in the background here and there. The vocals are delivered smoothly and the lyrics pronounced clearly, trademarks of country music.
But you're just as likely to hear someone reeling off slide licks on a fuzzy electric guitar or spicing up a chorus with jazzy passing chords rather than familiar majors and sevenths. Album opener "Gonna Find Me a Rock" begins with a bass lick that makes listeners wonder if they're about to hear a remake of "Whole Lotta Love" by Led Zeppelin.
Troy Austin (vocals), Daniel Hines (guitar), Brian Lee (keys, vocals), Tim Manders (drums), and Jeff Scroggins (bass) like to do things their own way, including finding inspiration. The muse behind the album's title song came from an obscure story told on a public radio talk show. A guy heard about a phone booth in the middle of the Mohave Desert, miles from civilization or even pavement. The guy, Doc, began calling the phone booth every day. Something about a phone ringing in a desolate area with only coyotes in hearing range intrigued him. He became obsessed. Finally, after weeks of calling, he got a busy signal. Somebody was using the phone!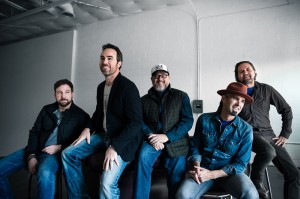 Doc called back incessantly until the busy signal was replaced by a ring. And then … a woman answered. She was a cinder miner named Lorene. She and other miners sometimes used the phone booth for outgoing calls. Doc later traveled to the desert, found the booth, and texted a friend of his to call the number. Doc wanted to hear the phone ring in the barren desert.
"I was listening to NPR while driving home one night and thought, 'That would be a cool song,' " Hines said. "It's about a guy who calls a girl who is never there."
Country with a twist. That's how Left Arm Tan likes it.
"If you are in Texas and play anything with a twang to it, people say 'country,' " Hines said. "We're OK with that. What we're aiming for is to not be included in the Red Dirt scene, singing about I-35 and empty whiskey glasses and naming every city in Texas. There are a lot of bands in that genre that we like and respect. That's just not our aim."
Radio stations playing Left Arm Tan typically report to the Americana charts, Hines said, and spin discs by artists such as Drive-By Truckers and Bonnie Raitt rather than Dierks Bentley and Florida-Georgia Line.
"Americana is a catch-all," Hines said.
The record's first single is "Freedom Bus," a protest song that stops just short of being flat-out rock 'n' roll. Americana singer Walt Wilkins and Old 97's guitarist Ken Bethea pitch in to make this perhaps the album's catchiest song.
"That one was inspired by our current political environment, the Ferguson riots, the fact we're kind of sick of both sides of the political spectrum," Hines said. "It wasn't intentional, but it seems to be pretty timely with the upcoming election."
Wilkins told the band, "You guys are like country but smarter," Hines recalled.
Lorene is smart but from the heart as well.
"We took all of 2015 to focus on this album," Hines said. "We've been focusing this year on getting back into playing shape. We're just kind of warming up and getting ready for a full year of playing."
The members wrote all of the album's 16 songs and included alternate mixes of "Gonna Find Me a Rock" and "Freedom Bus" as bonus tracks. Multi-instrumentalists Milo Deering and John Ginty added their expertise, along with Becky Middleton on harmonies. The band spent five days tracking at TreeFort Studios in Austin with producer Salim Nourallah (The Old 97's, Rhett Miller) and then mixed the tracks at Nourallah's studio, Pleasantry Lane in Dallas.
Fans will get to hear songs from Lorene soon –– the CD release party is Friday at Shipping & Receiving Bar.
"We had a warm-up show at Love and War-Plano this past weekend," Hines said. "We're about to get busy."