Dan Lam didn't break Instagram after she began posting photos of her colorful and unique drip sculptures last summer. Fewer than 1,000 people followed her back then. But the 28-year-old artist kept posting pictures, and her bizarre creations demanded attention.
A lot of attention.
"People saw my work, and it was different enough that they were re-sharing," Lam said. "That brought more traffic to my account. And then it just kind of blew up starting in the fall of last year."
By January, she was up to 10,000 followers. That number tripled by March. Then Lam noticed comments on her page saying that pop superstar Miley Cyrus had begun following her.
"That was exciting," said Lam, the Dallas-based artist who is preparing for her first Fort Worth show to be held in August at Fort Works Art.
The excitement grew when Lam was relaxing at home one evening in late March and Cyrus direct-messaged her on Instagram. The pop princess, an aspiring visual artist herself, was creating an art installation in her home on the West Coast. Rather than open the exhibit to the public, Cyrus hopes to convince a national magazine to share the artworks via a photo spread.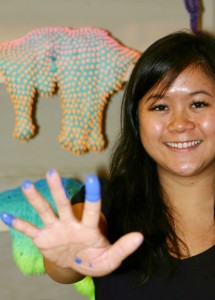 "She has this room, and all these artists are collaborating and bringing stuff in," Lam said.
To verify her story, Lam showed me the string of texts she exchanged with Cyrus but asked me not to print or excerpt from them since they were intended as private messages. Cyrus's texts were funny, complimentary, and casual. She described her ideas for the exhibit, included her mailing address, and asked Lam to send a sculpture. The pop star even mentioned a party she was having later this summer and invited Lam to attend.
Lam creates lightweight sculptures using polyurethane that she molds by using gravity and imagination. She pours them into shapes, lets them dry, and then adorns them with tiny hand-made spikes or horns. After everything hardens, Lam paints and varnishes them into alien-looking creations. Some are designed to rest on shelves or tables and appear as if they are dripping over the edges. Other pieces hang on walls.
Local artist Lauren Childs, co-owner of Fort Works Art, is a fan of the bright artworks that goad the imagination while teasing the eye.
"The questions it provokes are probably what interest me most," Childs said. " 'What is it?' 'Can I touch it?' Everybody asks questions. They respond very strongly for her work or very strongly against her work. I like that as well. That's a perfect example of good work, something that either offends people or they have to have it."
Lam's pieces currently sell for between $500 and $1,200 depending on size. Galleries in California, New York, and New Mexico currently sell her work.
Lam sent one of her largest and most colorful sculptures to Cyrus in April.
"Miley is very colorful," Lam said.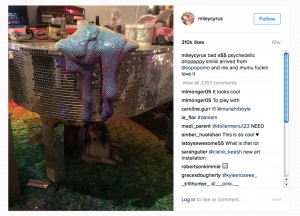 Cyrus placed the piece atop a glitzy piano next to her collie, MuMu, took a photo, and posted it on Instagram along with this note: "bad a$$ psychedelic dripppppy shiiiiii arrived from [Lam], and me and mumu fuckin love it."
So far, 309,000 of Cyrus' followers have liked or shared the photo, and more than 2,000 have commented. The most common remark seems to be, "What the heck is that?" The mysterious appearance of the sculptures is part of their charm.
Other celebrities have reached out to Lam, including an elite NFL quarterback. Lam prefers not to reveal customer names, however, unless she gets permission.
Lam's Instagram account boasts 65,000 followers now. Childs has begun referring to Lam as "Insta-star."
"The work, for being so simplistic and abstract, is still very culturally impactful, and that's difficult" to pull off, Childs said.