Diane Rimert wasn't a great mother. Being great isn't necessarily easy while battling mental illness. Rimert was bipolar. On good days, she would take her twin sons fishing in Montana, moments that the now-adults cherish. On other days, she would pull butcher knives on them or their sister or throw hot water in their faces. Glen and Greg Frausto know all about their mother's shortcomings. The twins still don't think she deserved to die the way she did: while under the care of Adolphus Ray Lewis.
The Fort Worth doctor –– along with Texas Health Harris Methodist Hospital and several other healthcare providers –– is facing a malpractice lawsuit filed in 2012 by the Fraustos. A jury trial is set to begin in November.
This won't be Lewis' first time in legal trouble.
******
Lewis has worked in the nursing home industry for more than 30 years or for most of his professional life. Before becoming medical director at 10 homes (nine in Fort Worth, one in Grand Prairie) concurrently, he had a private practice on Lancaster Avenue on the East Side, not far from his childhood home on Willie Street. That's where he grew up with five brothers and four sisters. He graduated from Dunbar High School when it was still segregated.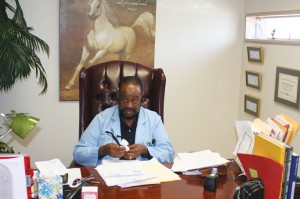 "I usually joke and tell people that we didn't grow up in the projects, but we lived a street over," Lewis said.
He served as a medic in the Vietnam War. Upon his return home, he attended Texas Wesleyan University, which marked the first time Lewis ever sat inside an integrated classroom. Lewis received his medical degree from the University of North Texas Health Science Center's College of Osteopathic Medicine in 1986. In the '90s, he became a member of the board of Stop Six Community Inc., an organization devoted to healthcare for East Fort Worth, an area that Lewis said is traditionally lacking in healthcare resources and that is underserved.
In the late 1990s, the group pulled together a coalition to establish the JPS Health Center-Stop Six Clinic, whose doors opened in 1997.
Throughout his career, Lewis has been accused by the Texas State Board of Medical Examiners of over-prescribing medications to residents. In one case, according to a complaint, a woman with a history of prescription pill abuse overdosed and died. Lewis, according to the complaint, prescribed at least one of the three drugs implicated in her death.
Lewis said situations can go awry when dealing with his residents, who are often elderly or mentally ill or suffering from dementia. Before becoming residents, Lewis said, some are homeless, alcoholic, or drug dependent.
In a 2008 malpractice lawsuit, a jury in a Tarrant County district court found Lewis 49-percent responsible for the death of one of his nursing home residents. The nursing home where she lived, according to court documents, shouldered 51 percent of the blame. The jury awarded the family $1.2 million in punitive damages against Lewis, court documents show. Neither Lewis nor the nursing home appealed the decision, and Lewis was not disciplined.
The Fraustos say they miss their mother dearly and are determined to strip Lewis of his medical license.
The other day, Greg began to cry as he remembered his mother and recalled her treatment while in Lewis' care.
"You only have one mom in this world, and when she's taken away from you, there's nothing that can replace it," Greg said. "I hurt every day when thinking about her treatment."
It started in 2009, the Fraustos said, when Rimert signed a "do not resuscitate order" while being treated for assorted health problems in Fort Worth at Pennsylvania Rehabilitation, where Lewis serves as medical director.
Greg and Glen fought the validity of the order. Glen said that his mother was on so many medications for her mental disability that there was no way she would have been able to comprehend what she had signed.
That same year, Rimert also signed a medical power of attorney document allowing Doris Jernigan to make decisions about her medical care. Glen said that his mother had known Jernigan, a neighbor, no longer than six months.
During an unannounced visit in 2012, a representative from the Department of Health and Human Services found Rimert lying in bed at Texas Health Harris Methodist with her lunch tray out of reach and her food untouched. The representative asked a staff member to check Rimert for incontinence. When the staff member rolled her over, Rimert had defecated and was sitting in a "large amount of feces," according to the report. "The pad under her was wet with brown/yellow rings. Her bottom was dark red with creases and indentations. The pressure sore on her bottom appeared open."
An employee was asked why Rimert had not eaten her lunch and replied that the patient was asleep.
Lewis believes the Fraustos are more concerned with "profiteering" from their mother's death than grieving.
******