When Pouring Glory opened late last year, I was impressed by the versatility of its craft beer growler station. Here was a place you could stop by to top off a growler with suds in the afternoon and come back for quality dining in the evening. It was also a laboratory of sorts where cold-press coffee, kombucha, and beer could be blended in creative ways.
But arguably the most novel offering at Pouring Glory is the beer-infused menu. Brews like the Collective Brewing Project's Petite Golden Sour are reduced to make a complex and slightly tart aioli sauce, while Panther Island Brewing's delicious malt-forward IPf'nA has recently been added to batter for a new fish and chips dish.
When Pouring Glory co-founder Kevin von Ehrenfried partnered with Scott Glover to open the station, food was high on their minds.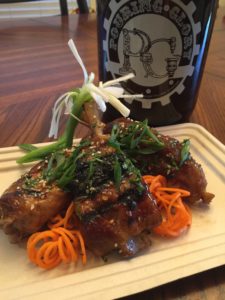 "We've been watching this craft beer movement for 15 years," Ehrenfried said. "When I opened an Arlington-based brewery in 1995, people said I was crazy. [Glover] and I are both food guys. We visited a couple of growler stores and wondered, 'Why aren't these people doing food?' For us, food is the kicker. We always wanted to have food and infuse the beer into the food because not many people are doing it. It enhances the overall experience of Pouring Glory."
Coming up with new beer-infused recipes requires a lot of trial and error, but Ehrenfried and his staff begin with a "basic sense of each beer's flavor profile and how it might compliment" a dish.
Breweries and customers are loving the concept, Ehrenfried said. Thursday nights are usually reserved for pint nights that highlight one brewery. Having a menu that incorporates that company's beers makes the night all the more special.
Ehrenfried credits Glover with developing the Petite Golden Sour aioli. Each tablespoon of reduced PGS begins as a pint of ale before being reduced over the course of an hour. Unlike many similar sauces, there's no lemon, lime, or other juices added. The idea is that when customers order the Grilled Ahi Sandwich, for example, the sour ale's profile remains prominent.
Pouring Glory's staff is always experimenting, Ehrenfried added. Newcomer Wild Acre Brewing is joining the list of local breweries whose suds are infused with the station's culinary offerings. With 54 taps running natural sodas, cold-press coffee from Avoca, nitro beers, and craft suds, there's no end to the fusion possibilities.
You can view Pouring Glory's full, mouthwatering menu here.
Don't forget to follow On Tap in Fort Worth's Facebook page.
On Tap this Week:
Legal Draft at Pouring Glory
July 29 (Friday) and 30, enjoy a pint night from Arlington's only production brewery. Event details here.
2016 Fort Worth Weekly Homebrew Throwdown.
The Weekly is proud to announce its second annual homebrewing contest as part of North Texas Beer Week. We are still finalizing details, but now would be a good time to start planning for the November event.
Rahr & Sons Brewing Company and Rabbit Hole Brewing win big.
Fort Worth's most veteran craft beer company was recently recognized as one of the top 10 breweries in the country at the 2016 U.S. Open Beer Championship. Rahr & Sons won medals for three brews: The Regulator (gold medal), Summertime Wheat (gold medal), and Blonde (silver medal).
The good folks at Justin-based Rabbit Hole Brewing took home medals for two beers: 10/6 English Pale Ale (gold medal) and Rapture (bronze medal).
Congrats to Rahr & Sons and Rabbit Hole Brewing.