I like to think of myself as a good dancer. In my mind, and after multiple drinks, I feel like I am the best dancer in the world. That myth is often debunked when I trip over my own feet while trying to do a simple 'grapevine' in a workout class.
So when one of my best friends suggested I come to her favorite workout class, Twrk, a slightly naughty dance workout at Force Fitness gym in North Richland Hills, I was all over it. I had no idea such a class existed.
I'm not sure when the twerking craze started, but people's reaction to it reminded me of how old folks back in the '40s reacted to a young Elvis Presley. Modern curmudgeons may have a little bit of a gripe. Twerking pretty much just involves bouncing your bottom lasciviously to a beat and relies on sexual innuendo that's about as subtle as a truck stop glory hole – or so I thought.
There's nary a hip-hop video these days that doesn't have at least some light to moderate butt bouncing. Now the trend has spread to country club MILFs after Miley Cyrus made the dance safe for college freshman who grew up watching the Disney star turned pretend bad grrrl. It only makes sense that the dance is now the basis of a workout. It has the same allure of stripper poll fitness, but you don't have to install any set pieces.
As I found out, there's a lot more to twerking than just miming wild sex. It actually turned out to be pretty uplifting, not to mention a great, fun workout.
I always wondered how those twerkers can get their butts to do that. My ass is big. Why can't I do that? I use to stand in the bathroom and practice gyrating, but I could never get gravity or my glutes to cooperate.
A few weeks ago, I arrived at class wishing I had thrown back a couple of adult beverages beforehand. All of a sudden I was shy and looking around for my friend. Aubree Blomgren, owner of Force Fitness, walked over, threw her arms around me and welcomed me to class –– a gesture that might seem awkward, but not from Blomgren, who seems to radiate positivity and a genuine friendliness.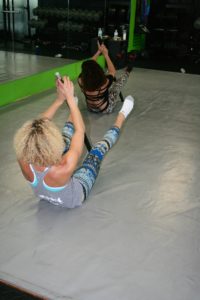 Blomgren is a petite, gorgeous woman with long, wild brunette curls and a rocking body. She could tell I looked nervous as I started making jokes about it being my first time –– I asked her to take it easy on me. She explained to me that the motion of the pelvic tilt, aka twerking, which is very common in tribal cultures, is not something that is taught much stateside. In fact, most girls are shamed for dancing in such a provocative manner, she explained. And, while it may feel uncomfortable and unnatural at first, she promised I wasn't going to break my pelvis during class.
She walked over to a stereo, hit play, and Jason Derulo's "Wiggle" filled the room. We picked up these special twerk sticks, stood up, and started shaking, gyrating, and wiggling around. I was so lost trying to keep up and follow choreography, I didn't have time to feel embarrassed or worry about how I looked.
The workout mostly consisted of what I would consider stripper moves. And they were fun. And hard. Really hard. Strippers… y'all are strong. I'm impressed.
Some of the moves you will learn are: The Blender, Booty Clapping, Dribble, Eagle, Bluebird, Humming Bird, Bunny Tails, Pleasure Cruise, Humpsters, Panther, Froggy, Bird of Paradise, and many more. I found them all difficult, especially the hilariously named Shake Your Meat and Rainbow.
That move involves lying on your back with your feet straight up in the air, touching. As you "make your rainbow" (move your feet in opposite directions towards the floor), you are instructed to "shake your meat" a.k.a. jiggle those legs. That was not easy. Go ahead. Try it. I'll wait.
The class was challenging, and I could not stop laughing. It was also empowering. I felt like the moves had nothing to do with being slutty, but it did make me feel like I should audition for Bey's next music video. And every time I mastered a move, the other women around me would say stuff like, "Get it girl!" or, "Now you got it!!" And when you were struggling, Blomgren would tell you to relax your vagina. To which I replied, "That usually takes a couple of drinks."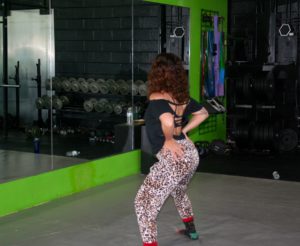 After class was over and I had mopped my sweat off the floor (you burn between 500-800 calories per class), I asked Blomgren why she decided to start a Twrk class?
"I have been in the fitness world for 15 years, and this is what I am absolutely certain of  –– women, all of us, never reach our full fitness potential because we do not move with our total physiological capabilities," she said. "We are socially allowed or encouraged to tone our bottoms and legs with squats, lunges, and dead lifts, side leg lifts, while avoiding lifts and tucks of our pelvis (what we now refer to as a twerking motion). In fact, we have been discouraged to move this way since we were young girls.
"I believe because of this, we stay weaker, heavier, and more critical of ourselves. And because of that, I made a safe, fun, motivating, challenging, confidence-boosting, informational, transformational class that harnesses our great powers and celebrates them. Your butt and legs and abs will look stronger and more toned then they ever have. Ever."
Well, she sold me. There is also a Twrk 101. For a complete schedule go to www.forcefitnesstx.com. Blomgren plans to bring Twrk to Fort Worth this fall. Until then, go see her in North Richland Hills.
Force Fitness is also available for parties, so you can get a group of girls together for a fun night out, a bachelorette party, a divorce party, a birthday, or any occasion you want to make fun.