At a recent event, a youngster got to meet his basketball idol, someone he's loved watching perform on national television.  The pro provided the up-and-comer some useful knowledge about making his game better, although in this case, the advice didn't have to do with how to avoid blowing layups or getting one's hands up on defense. The guidance instead involved when to blow his whistle and put his arm up to call a foul.
The young man in question, Jaden Mills, aspires to become a referee. His father, Jeremy, the boys head basketball coach at Grapevine High School, took him to San Antonio recently to meet veteran NBA arbiter Joe Crawford at OfficiateTexas Day. The boy admires Crawford's style the way many kids do that of their favorite athletes.
"He's the best. He's been doing it for so many years, Jaden Mills said. "Even though he's retiring, he is still good on his mechanics and everything."
Mills got to do more than meet Crawford. He got to learn from him in teaching sessions conducted by Crawford and fellow NBAers Jason Phillips and Monty McCutchen. Officiating luminaries in a number of sports shared knowledge with their brethren who work Texas scholastic sporting events.
"OfficiateTexas was brought about because we wanted to take time out to say, 'Thank you for what you do,' and give them an opportunity to continue their growth," explained University Interscholastic League  Executive Director Charles Breithaupt, whose employer hosted the event along with the Texas Association of Sports Officials and other state officiating organizations.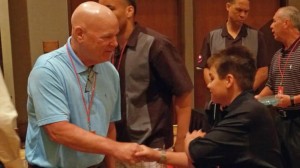 While most of the officials in attendance had plenty of experience beyond the pickup games where Jaden Mills currently hones his skills, they all came expecting to pick up knowledge from some of the world's top game callers.
"A lot of officials are really curious about management of games," Former FIFA Women's World Cup referee Margaret Domka said. "How do I talk to players and how do I use my body language and how do I use my whistle and what are the extra things, besides making the decision, that's going to make me really a strong official?"
Sandra Serafini helped Domka conduct the soccer sessions. She also has officiated at the sport's highest levels, but found interacting with grassroots officials beneficial to her as well as them.
"We all started in the same place, she said. "They don't have support staff that get some of those things done for you, and so it's a great reminder for us to kind of get back to the fundamentals, get back to the basics and remember what it's like – that ultimately you have to be responsible for everything that's going on in your particular game."
"I do open gym in the summer two nights a week and scrimmages," Jaden Mills said about how he is starting out his own refereeing career. Former NFL Vice President of Officiating Mike Pereira gave the opening keynote address at OfficiateTexas and helped conduct some of the football breakouts. The former NFL side judge explained that he found his own officiating passion calling Pop Warner football games in California. His message to the officials went beyond advice on how to spot penalties. He also wanted them to feel good about their profession and, with officiating participation numbers down in recent years, to pass along that enthusiasm to more kids like Jaden Mills.
"I want them to know that they're special, that they do is not easy, and that those that criticize them the most have no idea of how difficult it is," Pereira said. "And figure out some way that you can contribute to getting the numbers up."
Having a full complement of well-trained officials at games helps more than just the men and women in the striped shirts, Breithaupt noted.
"The beneficiary is the individual student who participates and the schools that he or she represents," he said.
Jaden Mills certainly left OfficiateTexas with added enthusiasm for his chosen pursuit. If you find yourself in a game he's calling, he's learned from the best, so don't think for a minute you'll get away with anything just because of his age. That advice applies even if you're his dad – it wouldn't be the first time Jeremy has earned a technical foul from his son.
"Yelled, like, across the court," he explained about how his father has gotten T-ed up before. "I'm on one side of the court, he's yelling at me (when) I'm calling a foul."