The entire Dallas Mavericks roster hit the court in full uniform for the first time Monday. I'm here to provide you some exclusive insight into how their season will go based on what I saw. When you're watching games deep into April and beyond next year, you'll think about what you learned in this blog post.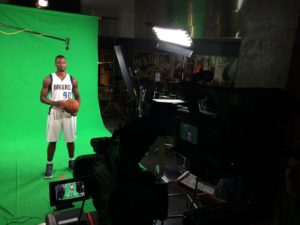 Now, unfortunately, today's insight doesn't involve how well the players shoot, dribble, pass, foul, dunk, travel, flop, move the ball, defend the three, or draw illegal defense calls. It has to do with how they did on their Fox Sports Southwest liner reading.
The work they performed Monday will indeed affect Mavs fans all season. Having signed a multi-year deal with the franchise to carry most of the team's games, the network – unlike a player – can't get traded or placed on the inactive list. So count on seeing the recordings they made of the Mavericks' smiling, surprised, or dancing faces on the air all season long.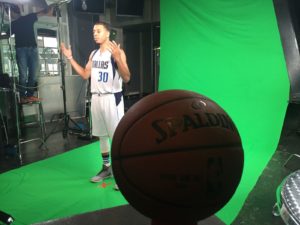 Yes, I said dancing. Fox Sports Southwest producer Stephen Hill got several of them to at least attempt a dance move or two. Their female counterparts at the Wings seem to always be moving in rhythm. Hill told Dirk Nowitzki of his teammates, "They all said they don't dance." The Big German could only shrug. If Hill manages to put a promo together, you can judge their shimmying acumen for yourself.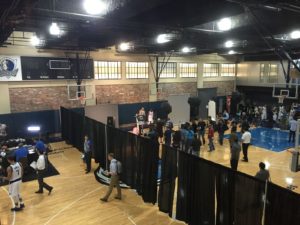 The day consisted of each member of the roster visiting various stations around the American Airlines Center to get photographed or interviewed. For the most part, the players at the Fox emplacement in the Jack Daniels Old No. 7 Club needed to say lines to camera for various creative video projects.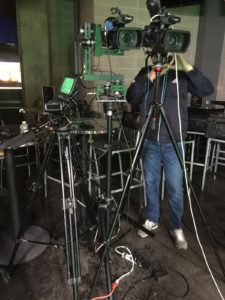 My crew's gig involved setting up the green screen, lights, and video cameras. The Barea-to-Mejri height variance of an NBA team makes for certain challenges in camera placement. Director of Photography Dave French came up with the idea of using a tall speaker stand and a robotic camera control so that he could focus and pan at normal-person height while the Panasonic cam remained level with the player's face.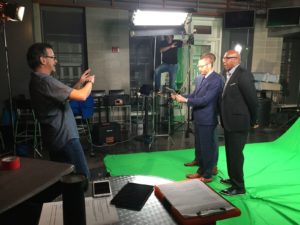 We started with the team broadcasters. Jeff "Skin" Wade showed up with a change of clothes, avowing that he could not get out of his suit fast enough. Skin was also relieved to discover said suit did not contain any green that might make him green-screen unfriendly.
Wade, Mark Followill, and Derek Harper cruised through their liners pretty quickly, because they're, you know, professional broadcasters.
Most of the uniformed personnel, beginning with Justin Anderson and concluding with Qunicy Acy, handled their scripts pretty well, too. I've had colleagues from overseas tell me they believe American athletes are better on camera than those from other countries, perhaps because more of them have had at least some post-secondary education or because they just get more chances. In this case, the players needed to inform viewers about important facts like that FSSW is the TV home of Mavericks basketball, that MFFL (Mavs Fan For Life) parties are the best, and something about the network offering viewers a free Pomeranian puppy if they watch a certain number of games (okay, I might have made the last one up).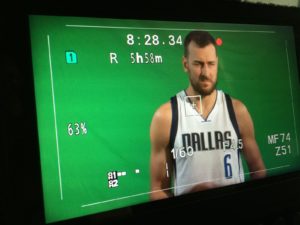 Anderson was especially animated and Andrew Bogut's Australian enunciation added a unique element. Devin Harris, a veteran, didn't even have to wait for Hill to finish giving him his "Only on Fox Sports Southwest" line – he'd done these media days before. Rookie A.J. Hammons, on the other hand, had a great smile but required a couple more takes. He'll be fine once he's got a few more of these under his belt.
The best chance for self-expression came as the group did the promos for streaming Mavs games via the Fox Sports Go app. The players needed to hold a mobile device and pretend to watch a game on it. Harrison Barnes pretended to exhort his teammate to "Make a shot, Dirk!," while Wesley Matthews added some self-serving play-by-play : "One more pass – you don't see Wesley open in the corner right now?!"
By the way, Dwight Powell delivered an emphatic "Get Fox Sports Go." line to camera. If you don't have the app, you WILL immediately download it after the big power forward instructs you to do so.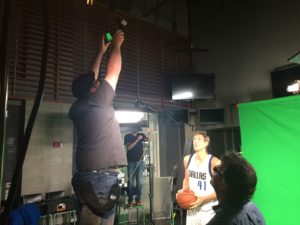 The most ambitious shot of the day consisted of French perched on a chair with a camera on a gimbal to get what will hopefully be a cool angle on Nowitzki's signature fadeaway. Actually, we already consider the move a success since the DP didn't fall off the chair.
So now you know the scoop on the 2016-17 Dallas Mavs. The advanced stat geeks have yet to weigh in on whether a successful media day can build momentum for a big season. But if the Mavericks go on a deep run, we'll happily take the credit – and watch these promos extend their airdates for a few more weeks.
Disclosure : As you might have guessed, Fox Sports Southwest paid me to help with their production on Mavs Media Day