Three years doesn't seem long, but for local craft breweries, Rabbit Hole Brewing is one of the elders. When the Justin-based business opened in 2013, only 17 breweries called North Texas home. Now, that number is topping 60. Rabbit Hole brewmaster Matt Morriss took a break from brewing to tell me about the big anniversary event this Saturday.
"The brewery is finally 21 in dog years," he said with a chuckle. (I could feel a joke coming on.) "So, if the brewery were a dog it would be old enough to drink its own beer now."
One of the biggest draws Saturday will be the release of Hole Lang Syne, a Belgian golden strong ale made with blackberries and raspberries.
"Lots of breweries do Christmas beers," Morris said. "New Year's only gets one week, so we wanted to do something special. It is a champagne-style beer. You'll get lots of fruity notes with a crisp finish."
Which other Rabbit Hole brews will be on tap? Pretty much everything, Morriss said. In addition to the brewery's core line, kegs of seasonal beers, barrel-aged Rapture, and Midnight Snark (Dark Snark aged in a 1792 whiskey barrel) will be available.
Tailgaters BBQ and peanut vendor Lord Nut Levington will be satiating partygoers' beer munchies while Bobby Duncan and Martin Brothers are providing live music. And don't worry about the cold. Rabbit Hole has ordered patio heaters.
A lot has changed over the last four years. Rabbit Hole now distributes to Austin, and the brewery began canning last year. Growing consumer demand has Morriss mulling the possibility of expanding his brewspace next year. But the overall impression I got from Morriss is that he and his staff are content doing what they're doing in a part of North Texas that's far from saturated, craft brewery-wise.
"It feels weird having our third birthday and that being a mark of being an elder," Morriss said. "We haven't tried to become a world-wide juggernaut. We're happy doing what we're doing back here, making the beers we want to make and keeping things a little different for our customers."
For ticket and event information to the anniversary click here.
Second Annual Fort Worth Weekly Homebrew Throwdown
Big thanks to everyone who came to our Homebrew Throwdown at Panther Island Pavilion's Shack last November 20. Eight breweries participated by pouring suds. Our All-Star Q&A panel included brewers and owners from Big Bend Brewing, HopFusion Ale Works, Rabbit Hole Brewing, Rahr & Sons, and Wild Acre Brewing. Shane Smith placed 1st and 3rd while Cliffton Ellis placed 2nd. We look forward to bringing this unique homebrew competition/beer festival back next year as part of North Texas Beer Week.
Peticolas Brewery Lawsuit Back in Court
For anyone following the lawsuit between three breweries (Peticolas, Revolver, Live Oak) and TABC, the recent ruling in favor of craft breweries has been appealed. The case is now headed to the Texas Third Court of Appeals. For background on this story and other Texas brewery lawsuits visit here.
Don't forget to follow On Tap in Fort Worth's Facebook page.
On Tap this Week:
HopFusion Ale Works now Open
Fort Worth's newest craft beer brewery is open for business. Friday, Saturday, and Sunday (2-11pm), you can visit the spacious Near Southside brewsite, purchase a flight ($5 to $6), order grub from nearby Pouring Glory, take in the live music, and watch a sporting event.
Panther Island Brewing 2nd Anniversary Party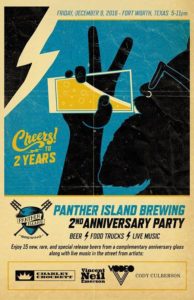 Peticolas Rings in the New Year with its Five Year Anniversary
From Peticolas: Peticolas Brewing Company will celebrate its five-year anniversary on December 31. The two-part event coined "5 Year New Year" will take take place at the brewery with sessions from 12-3pm and 4-7pm. Those in attendance will be the first to try "Turn out the Lights," an Irish Dry Stout. The five-year anniversary beer will be poured alongside 33 other beers Peticolas brewed over the last five years. Tastings from three casks will also be available. Shotgun Friday will provide live music.