The Dallas Cowboys are sitting pretty at 11-2 with a two-game lead in the NFC East.
Still, I sense angst. I smell panic. Twenty years of playoff failure will do that to fans. We're like abuse victims, flinching every time someone tries to hug us.
We felt bullet proof for a while with QB Dak Prescott and RB Ezekeil Elliott slicing up defenses like a pimp cuts a mouthy ho — woah, that analogy was hardly appropriate for a Christmas week column. I should have said, like a pimp cuts three hos.
I could have said Prescott and Elliott are slicing up defenses like dear old dad cuts the baked ham on Christmas Day. That sounds cheery if you don't think about the fact that somebody stunned that pig with a bolt to the skull, severed his carotid arteries to bleed him out, skinned him, yanked out his entrails, and carved out that piece of ham with a butcher knife.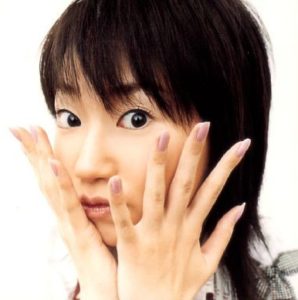 Fans are getting those crazy cow eyes now that Prescott has played poorly in his last two outings. He looked particularly awful last week when the New York Giants whipped the Cowboys 10-7. Prescott posted a season-low 45.4 passer rating. That's Brandon "The Ginger Cringer" Weeden territory. Fans wonder if Prescott has lost his mojo. Have NFL defenses figured him out? Is his limited playbook knowledge hogtying the offense? Will the Cowboys stumble in the last three weeks of the season and lose their first-round bye in the playoffs? Will pigs, which are really smart, figure out a way to overthrow their human tormentors who have decided that baked ham is the perfect Christmas dinner?
For answers, I call Joe Hemming, a friend of mine who raises pigs in Springtown.
"I don't watch football, so I can't answer most of those questions," he said, speaking to me on Skype in his backyard while sitting next to a kiddie pool filled with empty beer cans and watching his pit bulls have sex, which will create a litter of puppies that he can sell to generate enough money to buy a new deer rifle because he currently owns only 27 others.
"I can state with authority that pigs ain't nearly as smart as folks think," Joe continues. "One of my pigs once unscrewed the hinges to remove my back door to sneak inside and make a pimento cheese sandwich. He could have just gone through the doggie door."
"That's what folks in the big city call 'Dad humor,' " I say.
"My dad was a funny SOB," Joe says. "He had two sex changes. He claimed to have invented radishes. He insisted on being buried in a ballerina outfit that was five sizes too small. And he wasn't even dead. He was more peculiar than funny."
"I better let you go," I say. "I've got to write my Cowboys column."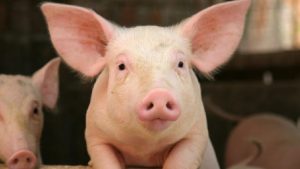 "Wellsur, if you describe a football player as sweating like a pig, you will have embarrassed yourself," he says. "Pigs have no sweat glands to speak of. That's why they like mud."
"Good tip," I say.
"Also, pigs will eat humans," Joe says. "I had an uncle who dropped dead of a heart attack while feeding his pigs. By the time my Aunt Kazoo found him, the only thing left was his dentures."
"You have an Aunt Kazoo?"
"Nope. She's dead, too. The chickens ate her."
After consulting with Joe, I have exhausted my admittedly short list of sports experts that I rely on to make Off Asides the most lauded Cowboys column this side of Sulphur Springs and possibly the world. I will have to watch the game to get answers to the questions that I no longer care about and whose specific nature I've already forgotten.
Questions, by definition, are implied commands for action. Sundays are my day off. I don't do questions.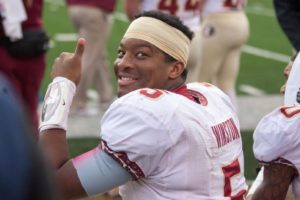 The Cowboys are playing the Tampa Bay Buccaneers at Jerry World in front of a national audience on Sunday Night Football. This is big time. All I know about the opposing team is that the city of Tampa Bay is a crime-ridden cesspool, buccaneers are bloodthirsty pirates, and second-year QB Jameis Winston (the No. 1 pick in the 2015 draft) is playing great and has won his last five games. I would ask my trusty research assistant for more background material, but I can't use her this week. Per our contact, a $100,000 bonus kicks in if the aforementioned character appears in more than 14 of my columns a season. I can't afford to pay a hundred large. I've had to increase my budget for haircuts recently. The thinner my hair becomes, the more often I need haircuts. Life is nothing if not ironic. And sad in a chrome-domey kind of way.
Pregame cameras show the Bucs players gathered in a circle and getting psyched for the game. Winston is intense, wild-eyed, ready for war. The cameras show the Cowboys warming up, and the team is chill. Prescott is poised, confident. I like the cut of his jib (a jib is a breed of pig).
Finally, the game is about to begin. I've used up most of my 2,000-word quota already, but sometimes I fall asleep early in the game and the column just ends. Things will work out.
The Cowboys get the ball first. Elliott pops off a good run, and another, and then Prescott hits WR Dez Bryant for a first down, and more Elliott and back to Bryant and boom boom boom down the field. But then a holding penalty followed by a sack kills the drive. Kicker Dan Bailey is about to try for a 56-yard field goal when the Bucs call for a timeout.
This is so silly. Teams try to "ice" opposing kickers by calling timeouts, providing opportunity for self-doubt and bad thoughts to creep in. But icing never works. It's stupid.
Except that Bailey misses his kick. And I forget something important that I was about write.
Wow. The Bucs pulled off a rare "double ice."
The Bucs get the ball in good field position at their own 46. They push the ball all the way to the 5. A bad feeling overcomes me: That brilliant timeout not only iced Bailey and Off Asides, but it turned the momentum of the game completely around and put a curse on the Cowboys that could linger for the rest of the season and cost us the Super Bowl.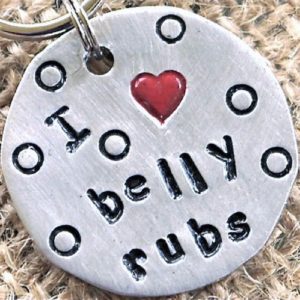 I'm a wreck. I would run my fingers through my hair but I'm afraid it will fall out faster. Instead I rub the belly of my unnamed research assistant. She smiles in the way dogs do. I feel better instantly. In fact, I am certain that the belly rub has counter-acted the curse.
Sure enough, the Cowboys hold the Bucs to a field goal, get the ball back, and — boom boom boom — go get a field goal of their own. Then, the defense forces Winston to fumble, the Cowboys recover the ball, and Elliott punches it into the end zone. Cowboys 10, Bucs 3.
Belly rubs can be truly magical things.
The Cowboys have a comfortable 17-6 lead in the third quarter. I feel so good about the game that I allow myself to lie down on the coach and rest my eyes during a commercial break. My unnamed research assistant licks my hand and rolls over, seeking a belly rub. But I'm tired. I ignore her.
Boy, that was a mistake. Next thing I know, the Bucs are leading 20-17. The curse is back.
I rub Hazel's belly furiously. Mentioning her name just cost me $100,000. But it works. The Cowboys tie the game 20-20. Hazel's belly is rubbed raw by the time I stop with the Cowboys leading 23-20 in the fourth quarter.
Immediately, the Cowboys fumble the ball and the Bucs recover. I look at Hazel.
"Please, no more belly rubbing," she whimpers. "I'll give you the $100,000 back if you will just not touch my belly anymore. It hurts."
OK, OK. I give the belly rubs a rest. The Cowboys will have to determine their own fate this evening.
Sure enough, the Cowboys man up and win the game. The curse is dead!
The quarterback controversy is dead, too.