Along with a rising tide of breweries, craft beer festivals, and pubs in the 817, interest in homebrewing is growing. Two years ago, Chris Bart decided to be a part of that growth, turning his passion for homebrewing into a new supply business, BrewHound.
When I entered the 1,000-square-foot store I was greeted by a four-legged employee named Maisie. The mild-mannered pooch, Bart said, wandered into his store, apparently abandoned. Now she works for belly rubs.
Before opening BrewHound, Bart said homebrewing was his weekend escape from a demanding corporate job. Breaking from that world was only the first step in a long path of choices he would have to make.
"I wanted to be in Fort Worth," he said. "Fort Worth is growing so fast, especially in the southwest area. I drove by this spot initially and blew it off. Then I got home and thought, 'Everyone in Fort Worth knows Camp Bowie Boulevard.' "
Bart puts in a lot of overtime these days, meaning networking at breweries or craft beer events isn't easy or even possible most of the time.
"Once we opened, I was here initially seven days a week," Bart said. "I knew I wanted to have good hours. I wanted to be open in the morning and open late."
While many homebrewers opt to order supplies online, Bart says there's no replacing the personal relationships and resources that a local business offers.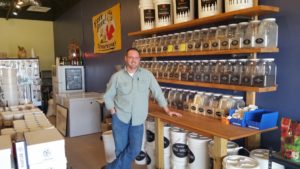 "I try to carry local stuff," he said. "Raw honey is a good example. I work with a guy from Weatherford, so I truly have local honey. Someone who makes mead wants it raw and unpasteurized. Some online places filter honey to take the bee pollen out, while others pasteurize it. Both processes take away from the quality of the honey."
Bart loves helping customers navigate the complex world of beer brewing.
"Making beer is highly consultative," he said, referring to the need for homebrewers to have expert advice from time to time. "One customer asked how to add graham crackers to his recipe. I had helped a customer who entered the [Fort Worth Weekly Homebrew Throwdown] make something similar, so I was able to help."
Bart is frequently reminded how adventurous and knowledgeable the local homebrew community is. It's just one component of a growing craft beer scene.
"I think we're benefitting from the craft beer movement," he said. "More people are getting away from the college party-type beers. Palates are changing, and beer is following that."
BrewHound, 8808 Camp Bowie Blvd, FW, 76116, 817-615-9551
Don't forget to follow On Tap in Fort Worth's Facebook page.
On Tap this Week:
Martin House Brewing Company releases Hibiscus Saison

An old favorite returns Jan 28, 2-5pm at Martin House. Entry is $10 and includes three beers and limited luau-themed glassware. Food from Islanders Food Truck will be available for sale as well as merch from Thesoulfulgypsy Boutique.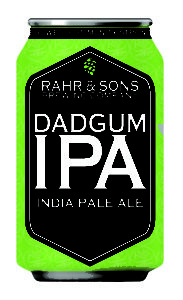 From Rahr: Rahr & Sons will begin transitions from bottles to primarily cans this year. Canned craft beer is a growing trend due to the many attributes of cans, which include portability, environmental friendliness, and preventing light and oxygen from affecting the taste and freshness of a beer.
Rahr & Sons' new cans will feature a shield design to streamline the look and feel across the company's year-round and standard seasonal releases. The brewery will debut a new beer, Dadgum IPA, in the spring which will feature this new look.