What do beef and a roadhouse have to do with sports? Well, when the roadhouse is located a few steps away from a PRCA rodeo, the meat is named after a baseball Hall of Famer, and the vittles are being prepared by a big league team's head cook, I figured there was an angle there.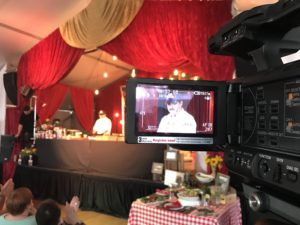 For the last few years, Texas Rangers Executive Chef Cris Vazquez has spent a couple of Saturdays in the Fort Worth Stock Show's Coors Light Roadhouse showing audiences new ways to prepare Nolan Ryan Beef. They brought my colleagues and me in to coordinate video within the room and so I was able to secure a chat with Chef Cris (as his colleagues refer to him) before the second show. Watch the video to learn about what he does in the demonstration, a little scoop on cooking at the ballpark, and how I got to know him.
In the video, I reference a couple of Rangers/Nolan Ryan commercials Vazquez helped me produce back in the day. Here are the links if you want to check them out (someday I'll write a column about why they might be the favorite spots I ever produced) :
English
http://m.rangers.mlb.com/tex/video/topic/39898066/v25180925
Spanish (watch this one even if you don't speak the language – trust me)
http://m.rangers.mlb.com/tex/video/topic/39898066/v25181223
Vazquez and Nolan Ryan Beef will conduct two more demonstrations this Saturday afternoon at 12:30 and again at 4:30. The company has a cookbook out and if you buy one, Vazquez will autograph it. Perhaps the best part is that they hand out free samples as the seminar is going on, so you'll taste the yumminess for yourself. I took undue advantage of my backstage privileges and had seconds – please don't tell Nolan.