Along with cowboy culture and world-class museums, the Rahr & Sons brand has become an integral part of Fort Worth's identity. While most craft breweries are just starting to write their story, the Rahr family brewing and malting legacy goes back nearly two centuries. And that's if you only count the history on this side of the Atlantic Ocean.
In 1847, William Rahr (great-great-grandfather of Rahr & Sons owner Fritz Rahr) and his wife boarded a ship bound to the New World. Choosing to leave their home of Wesel, Germany must have been a difficult decision. Family records hint at one possible motivation. Rahr, highly respected in his community, was an outspoken critic of the German king. His public speeches may have placed his life in danger.
Soon after settling in Manitowoc, William founded Wisconsin's first brewery, Eagle Brewery. To supply his operations, he built a small malting facility. As breweries opened nearby, the Rahr malting plants supplied those as well. William died from injuries incurred during fall in 1880. His three sons continued to operate the brewery and malting business under the name William Rahr Sons' Company.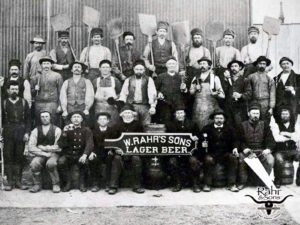 "During that time, two nephews from William's brother's side of the family" moved from Germany to Wisconsin, Fritz said. "Henry and Charles worked at the family company before opening Rahr Green Bay and Rahr Oshkosh Company. By the turn of the century, my family had three major breweries in Wisconsin and three major malting facility all under the Rahr name."
Anticipating prohibition, William's three sons sold their brewing equipment and focused on malting and grain milling. The family business name changed again, this time to Cepro Corporation.
"After prohibition, they still had the malting equipment," Fritz said. "So they went back to making malt for beer under the name Rahr Malting Company. That is what the family business is called today. We're celebrating our 170th anniversary. My understanding is that it's the oldest company in the country that has been continuously held by the same family."
Today, Rahr Malting Company is managed by Fritz's cousin William Rahr. Headquartered in Minneapolis, Rahr Malting Company is the world's largest such facility held in one location.
"Growing up, most kids go on vacations to islands or go skiing," Fritz said. "A lot of my vacations were spent going to beer conventions. So I grew up in this industry. I made my first batch of beer when I was young. It was something I always wanted to do."
The Rahr brewing legacy is now part of Fort Worth History. Rahr & Sons Brewing Company recently celebrated its 12th anniversary.
Don't forget to follow On Tap in Fort Worth's Facebook page.
Rahr & Sons Transitions from Bottles to Cans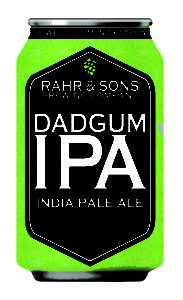 From Rahr: Rahr & Sons will begin transitioning from bottles to primarily cans this year. Canned craft beer is a growing trend due to the many attributes of cans, which include portability, environmental friendliness, and preventing light and oxygen from affecting the taste and freshness of a beer.
Rahr & Sons' new cans will feature a shield design to streamline the look and feel across the company's year-round and standard seasonal releases. The brewery will debut a new beer, Dadgum IPA, in the spring which will feature this new look.