Before the night began, media members did interviews. The program officially started with the national anthem, as many sporting events do. The lights illuminated a pair of basketball goals, and Hall of Famers paraded past them as the crowd applauded.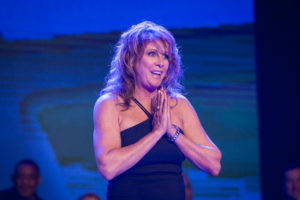 Those assembled had not come to see a game, however. Monday night's happening was a charity gala. Six years ago, a steakhouse could accommodate it. These days, they hold it at a concert venue and it is attended by nearly 800 well-coifed people.
The attendees included, by my count, nine members of various Halls of Fame (assuming you include Pudge Rodriguez, who was elected to Cooperstown this year and will be formally inducted this summer – any Rangers fan would concede that). One of those Hall of Famers directs her name, effort, passion, connections, and just about everything else you could think of toward making the affair a success. I was fortunate enough to try to help her make her Nancy Lieberman Charities Dream Ball a memorable one. This article offers a few highlights that you as a fan of sports or philanthropy or Deion Sanders in a jaunty hat may enjoy.