Before the night began, media members did interviews. The program officially started with the national anthem, as many sporting events do. The lights illuminated a pair of basketball goals, and Hall of Famers paraded past them as the crowd applauded.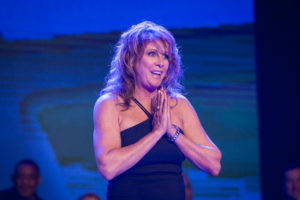 Those assembled had not come to see a game, however. Monday night's happening was a charity gala. Six years ago, a steakhouse could accommodate it. These days, they hold it at a concert venue and it is attended by nearly 800 well-coifed people.
The attendees included, by my count, nine members of various Halls of Fame (assuming you include Pudge Rodriguez, who was elected to Cooperstown this year and will be formally inducted this summer – any Rangers fan would concede that). One of those Hall of Famers directs her name, effort, passion, connections, and just about everything else you could think of toward making the affair a success. I was fortunate enough to try to help her make her Nancy Lieberman Charities Dream Ball a memorable one. This article offers a few highlights that you as a fan of sports or philanthropy or Deion Sanders in a jaunty hat may enjoy.
The Red Carpet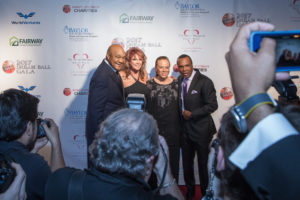 Pretty much everybody who comes in gets to greet Ms. Lieberman. Ben and Skin broadcast their radio show live and local TV stations cover it as well. Some inside scoop – we let a number of student photographers infiltrate the working press to make it feel even more big-time for the regular guests.
The Emcee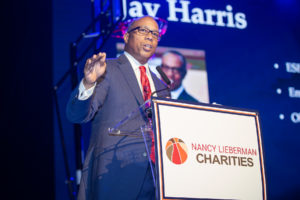 Jay Harris from ESPN used to work with Nancy at the network. He has attended a number of these events, but had never drawn emcee duties before. He was fantastic to work with behind the scenes and just as good on stage. He improvised with aplomb whether things went right or wrong and when he read the script, he made it his own. His most impressive performance might have come during the live auction. Harris interacted with auctioneer Tim Willett as if they had hosted SportCenter together for years. The banter back and forth was flawless, and hopefully helped make the charity a few more dollars.
Michael Irvin and Roger Clemens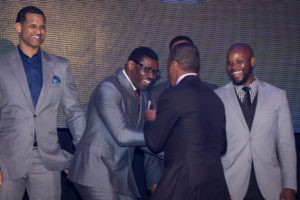 Neither the Hall of Famer nor the seven-time Cy Young winner were scheduled to speak at the event. Both did to spur the crowd to contribute funds to the cause. Irvin took over the podium during the Heads and Tails game (where people buy a chance to win airline tickets) to announce he was buying some chances and to encourage others to do the same and also have a good time while doing it.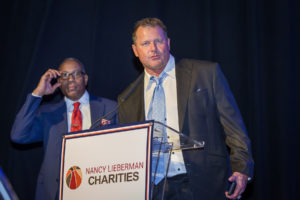 Clemens had already contributed a day of batting practice at his house to the silent auction. He addressed the crowd to announce he would also add a suite at an Astros game and a jersey autographed by a favorite Rangers or Astros player.
Stomp Wars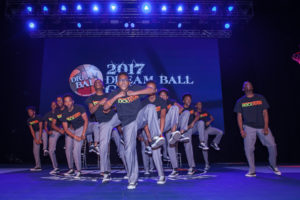 Nancy Lieberman Charities partnered with Rock-T from the Rickey Smiley morning show to create a mentoring program, and Rock-T also was able to bring some adept step dancers to the program. Their performance was tight, but they had already impressed me before the show even started. As I went over the show with our DJ Poizon Ivy (who also does the Mavericks and Wings and is a tremendous collaborator and spinner of tunes), two boys who would be performing came up to us unchaperoned. They went over cues and music like they were industry veterans. There is hope for the youth.
David O. Brown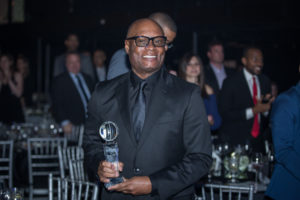 The night's first award went to the former Dallas police chief. We had pre-produced a video in which his colleagues praised him for his emphasis on enabling officers to engage with the community (and one of those initiatives involved building basketball courts with Nancy Lieberman Charities). Dallas Mayor Mike Rawlings introduced him and quickly quieted the room when he soberly reminded everyone of the tragic events of last summer and how Brown had handled them. When Chief Brown took the podium, he delivered powerful messages about coming together. Keep an eye on that guy.
Muhammad Ali
The late champion's presence permeated the night. Nancy Lieberman considers him one of her greatest influences and friends, and the gala's second award went to his wife Lonnie. One of the evening's most poignant moments came when the evening's namesake stepped forward to put a hand on Lonnie's shoulder and weep with her as they shared the emotion of remembering a friend and husband.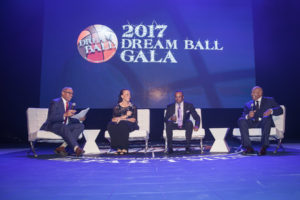 The night culminated with a roundtable discussion featuring SportsCenter anchor Harris moderating Lonnie Ali, Sugar Ray Leonard, and George Foreman in a discussion of the G.O.A.T.'s legacy. Harris navigated it smoothly, with favorite moments coming via amusing stories from the two former boxers that led Lonnie Ali to smile at the memory of the man she loved. We streamed this portion of the program live and it has been archived at Nancy Lieberman Charities' Facebook page. The former Cassius Clay meant a lot to each panelist in his or her own way, and the idea that we would be able to get them all together at one time to discuss his impact seemed incredibly compelling. It may never happen again.
The Bottom Line
Between table sales, donations, auction items, sponsors, and other revenue streams, the event grossed a million dollars, the vast majority of which will fund programs designed to improve kids' lives.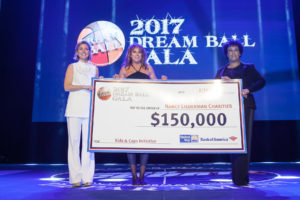 Disclosure : Nancy Lieberman Charities has sometimes paid me to produce elements of their events