There is so much more madness in March than we even realize.
If you think you have to wait for the CBS Selection Sunday Show this coming weekend to start picking a bracket, or for the women's hoops equivalent on ESPN the following day, you should investigate further. The NCAA basketball playoffs started Friday, and they played a regional in Dallas- Fort Worth.
No, the governing body didn't add even more play-in games to the Big Dance. It's just that the NCAA runs more than one dance card. They have multiple divisions, and we had the opportunity to see the Division III women's tournament get underway locally.
I found myself at a second-round game Saturday between my alma mater, Trinity University, and Claremont-Mudd-Scripps. They played in a regional held at the University of Texas at Dallas. CMS had defeated the hosts the previous night after the Tigers had beaten Hendrix College in the evening's first game.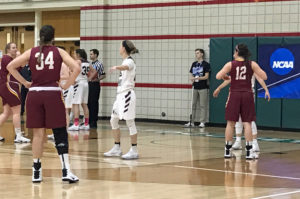 The DIII draws (women's and men's) include 64 teams each and not one of them features a player on an athletic scholarship. At this level, students pay their own way or find other forms of financial aid. While they don't have hype or pedigrees, they otherwise share a great deal with their counterparts who will fill your office pool next week.
These teams won their respective conferences and they know how to compete. Before the tip, I noticed Trinity's Mollie Hughes sporting a black left eye and CMS's Quinn Glosniak wearing a large bandage on her right eyebrow. Hughes had gotten hers going for a rebound in an earlier game and said she had gotten called for a foul on the play, apparently having somehow hacked an opponent with her cheekbone. Glosniak's cut had required stitches, with the team's athletic trainer preferring to leave the covering in place rather than reapply the stitches when the player inevitably took another blow there. Based on that evidence, one might have expected a physical game, and we got one.
"One of our goals was to get the ball inside this game," said CMS senior Aly Young, whose team-high 17 points came mostly via a variety of post moves. There was plenty of up-tempo play, too, with Trinity running a full-court press from the get-go. The combination made for an intense contest.
Indeed, the atmosphere felt like you would expect a playoff game should. Claremont-Mudd-Scripps represents an amalgam of three schools whose campuses adjoin each other in Southern California. The Athenas brought a couple of dozen fans, and they made themselves heard. San Antonio-based Trinity filled a good portion of the home side (they also wore the white jerseys and got to have their points recorded as "Comets" on the UTD scoreboard). The Tigers' head coach, Cameron Hill, even spotted some players from other teams in their conference having come to support their rivals.
If the stakes weren't enough, the game itself effectively caffeinated the gym. Trinity got out to a strong start, but the Athenas pulled to within three at halftime. The second half went to-and-fro until the Tigers forced some turnovers late to pull away. The 77-66 win put Trinity into the Division III round of 16.
Hill said afterward of his now 28-1 team, "The key to this whole thing is there's just not a lot of panic in this group. There's no doubt in their mind that they can figure out a way to stay competitive and give themselves a chance to win."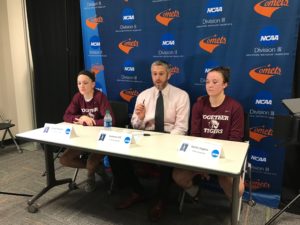 Staying calm in tension-filled situations; self-confidence; problem solving – all abilities that carry over well to the business world these students will shortly enter. What should matter the most in college athletics is the student-athletes and how the experience pays off for them in future endeavors. Any competitive sport experience should provide those benefits, but raised stakes accentuate the pressure and the payoff.
"They sacrifice a ton of stuff, especially Division III student-athletes, so the fact that they get this experience is the best part, besides the team,." said Claremont-Mudd-Scripps head coach Kristen Dowling. "The team is the best part, but the experience in the national tournament is absolutely a reward for their hard work all year."
The Athenas' six seniors made their fourth NCAA tournament appearances this year.
"They're the best memories I have. There's nothing like going to a postseason tournament. The excitement, I mean, it's so incredible to be able to play," said Young. "There's nothing that brings us together more than making it this far."
Turning shared memories into longtime friendships is another benefit of a university experience. The longer your team lasts, the more of those you get to make. Last season, the Athenas were the ones who denied the Tigers that opportunity, defeating them in a first-round matchup in Tyler. This year, it was Trinity who got to prolong the adventure.
"It's just a really, really nice feeling to know that we get to have practice on Monday," said Hill.
"Our chemistry is like no other team I've ever been on, said TU junior Micah Weaver, who contributed 17 points in the second-round win after scoring 31 in the first round against Hendrix. "I'm just excited to have another week with them."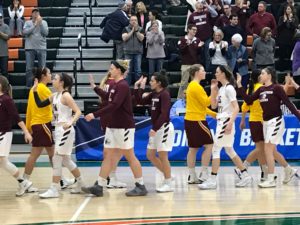 The Tigers will attempt to extend their season another weekend when they play Whitman Friday in Saint Paul, Minnesota. Expect the same intensity, passion, and ultimate payoff as those other games you may watch on the big networks. So whom do you have in your bracket? I've got Trinity.