It's hard to imagine a world without North Texas Beer Week, Dallas Brew Scene, and the Dallas Brew Bus.
Luckily, we don't have to because Matt Dixon created all those things and more. Those early projects recently became his full-time gig. With NTXBeerWeek still several months away, Dixon is focusing on teaching craft beer classes and organizing his popular beer-infused excursion: Dallas Brew Bus.
At least once a month, Dixon rents a school bus and takes dozens of beer fans on a joy ride that includes an average of three breweries. On the first trip he organized four years ago, most participants said they hadn't been to a craft brewery before. Now, he's hardpressed to find anyone who hasn't been to one.
"There are more breweries in the [United States] than before prohibition," he said. "No matter where you live there's probably a brewery within a few miles of you. It's important for people to check out what is going on."
Between stops, Dixon gives impromptu chats about the North Texas beer scene, waxing poetic on the difference between brewpubs and breweries or giving historical tidbits about individual breweries. With several years of experience, he's been around long enough to recall the openings of most of the area's breweries.
"I like to talk about our laws and" how it affects the craft beer industry, he said. "I don't get into how beer is made. It's more about the local scene."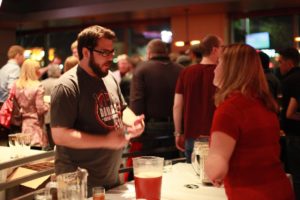 By the end of this year, if not much sooner, Dixon plans to start a bus route from Fort Worth that will tour Dallas. Possible departure points include HopFusion Ale Works or Wild Acre Brewing Company. Two upcoming Fort Worth tours from the Big D will visit Panther Island, Wild Acre, HopFusion, and Martin House Brewing, he added. In the years to come, Dixon sees the Brew Bus having a daily route that beer revelers can use at their leisure.
"Our mission is to cultivate and grow the craft beer scene in Texas," he said. "The classes I teach and the Brew Bus are born out of a passion for local beer. I want other people to be passionate about it to."
Don't forget to follow On Tap in Fort Worth's Facebook page.
Big Texas Beer Fest. March 31 through April 1.

The sixth-annual Big Texas Beer Fest is a must-visit for craft beer fans. Held at Fair Park Automobile Building, the festival featured 120 breweries and more than 500 beers last year. Live music and food vendors round out the experience. I recommend purchasing VIP tickets. You'll get in earlier, and you'll have first dibs on the rare stuff.
Collective Brewing BBQ Class
From Collective: The Collective Brewing Project is hosting another BBQ Pit Master class on Saturday, April 8th at their brewery from 11am-2pm. Our special guest Pit Master is Billy Woodrich from Billy's Oak Acres BBQ. Billy will be teaching how to prepare and smoke some of his favorite BBQ proteins along with some great side items as well. Everyone who attends eats a ton of great food prepared by Billy for lunch and four rounds of craft beer from The Collective Brewing Project!