Fort Worth has a sports niche. It's a legendary, bighoss-sized one.
We saw it on display this weekend at Texas Motor Speedway, home to the gargantuan video screen known as Big Hoss TV. TMS hosted automobile races in NASCAR's two top classifications. The world's best stock car drivers and crews all assembled in north Fort Worth to compete on a beautiful Texas spring day.
They'll return in November for another set of races. In between, the Verizon IndyCar Series and the Camping World Truck Series will visit June 9 and 10 (the trucks will also run again in November). For fans, these weekends represent a major event, with the campers and RVs parked across the speedway's infield and external lots representing a testament to the amount of time and resources they devote to attending. I saw a man wearing a shirt that read Saskatchewan Roughriders (a Canadian football team) on its front. We can't know if he truly visited from Regina specifically to watch (mostly) American race car drivers, but many attendees no doubt come from outside the area (including UK rocker Ozzie Osbourne and his son Jack, who instructed the drivers to start their engines Sunday).
The races also bring in national broadcasters, with Sunday's contest carried on the Fox Network. Events that feature all the best competitors in a given sport draw audiences from beyond the areas where they happen, kind of like all-star games. For some sports, mostly individual ones, they play on a neutral site every week (notwithstanding TMS's positioning itself as "Your Home Track"). One can make a case that these sorts of events have become Cowtown's forte.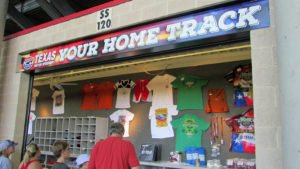 While it doesn't attract the big four broadcast networks any more, the rodeo held every winter in conjunction with the Fort Worth Stock Show features world-class PRCA cowboys and WPRA cowgirls. For someone in the region who wants to see the top steer wrestlers or barrel racers, the FWSSR offers the best way to do it.
May's DEAN & DELUCA Invitational annually supplies North Texas (and a nationwide TV audience) the world's top male golfers. At one time, Colonial Country Club also hosted a top-flight men's tennis tournament.
Fort Worth has put on a few one-off big events, too, like the NCAA Gymnastics Championship and even tennis' Davis Cup final in 1992. What it hasn't staged a lot of lately is professional team sports.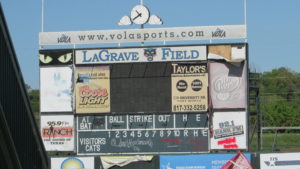 LaGrave Field has descended into disrepair and it looks like it will be a while before the city sees Fort Worth Cats baseball again. The minor league hockey teams that tried to make the Fort Worth Convention Center home are gone, too. The Arena Football League lasted only the 1994 season before that franchise disappeared. The golf tournament, on the other hand, has survived more than 70 years. Texas Motor Speedway has made it 20+. The rodeo, as they say, is legendary.
Team sports aren't totally dead in Cowtown. Soccer's Vaqueros seem to be making a go of it and TCU draws sustainable crowds for a few of its programs. The Frogs' biggest draw, though, is its football program, a sport that plays only half a dozen home games yearly with many of those coming against opponents with regional appeal.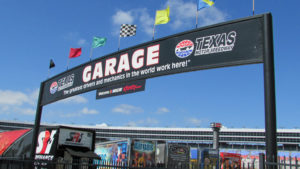 Municipalities love to bring in visitors to buy hotel nights and purchase meals and tip local musicians. Only sports teams playing at the highest levels attract visitors and national media outlets to their cities, and even then only in limited quantities. Since existing arena deals, sales tax caps, and perhaps basic economics indicate Fort Worth won't induce the local big league franchises to relocate from Dallas, Arlington, or Frisco any time soon, Fort Worth will likely have to stick to its sports niche.
That niche is the single big event. Given the quality of the racing Sunday (Jimmie Johnson steered his way to a win that featured drama and strategy all the way to the end) and the tens of thousands of people who watched it, that niche can be both exciting and substantial. Legendary, even.